To the editor: Stop the brain drain by reviving a successful program
3/8/2018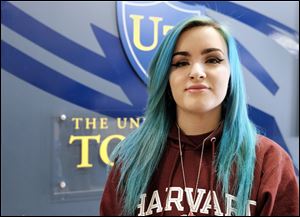 Toledo must find ways to attract talented young people, like Harvard-bound Zoe Flores, back to the city.
I read The Blade's March 5 editorial, "Work to stop Toledo brain drain," with great interest. Twenty-eight years ago, I retired as a human resources executive of a major Toledo company and this editorial has prompted me to respond with a suggestion on one way to deal with the brain drain problem.
EDITORIAL: Work to stop the Toledo brain drain
In the 1970s and 80s, the Toledo Area Chamber of Commerce sponsored a program designed to offer employment to college students from the Toledo area. Many of these students attended college throughout the country and were usually home, on break, between Christmas and New Year's Day. This was an ideal time for the Chamber program "Operation Native Son & Daughter," which was designed to coordinate interviews with Toledo area companies and nonprofit organizations. Employers posted job openings and students scheduled interviews.
The net result of this was that many of these students — but admittedly not all of them — found Toledo area employment. I had the privilege of chairing this program on more than one occasion and I believe it was, and still can be, successful. All it takes is for the Chamber and the City of Toledo to organize and implement such an event.
TED JENKINS
Creek Run Drive
Click here to submit a letter to the editor | View the Behind The Readers' Forum series
The jail should stay put
The jail should stay right where it is. It was designed to add additional floors when it was built. The city sold us on that idea at the time.
Our Lucas County commissioners should have properly maintained the facility and we would not be having a discussion of spending hundreds of millions of dollars on a new facility near homes and businesses.
CRAIG SPEAR
305th Street
Follow @BladeOpinion on Twitter.