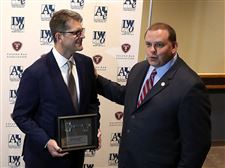 University of Michigan's Jim Harbaugh, left, is presented the key to the city by Mayor Wade Kapszukiewicz on May 10.
THE BLADE/KURT STEISS
Enlarge | Buy This Image
There has been a flap over the city of Toledo's decision to award Michigan football head coach Jim Harbaugh a key to the city. It seems to me that everyone is overlooking the obvious solution.
Mayor Wade Kapszukiewicz should invite both Urban Meyer and Jason Candle to speak at a benefit dinner for the charitable organization of their choice and they, in turn, should challenge their supporters to out-raise Mr. Harbaugh. This would be competition with a purpose, rather than the meaningless competition on the football field. Everyone benefits.
Who knows, we may even be able to raise Toledo's profile with some national media coverage regarding the "competition." We should be happy about presenting a key to the city to anyone who raises over $100,000 for charity in Toledo, not petty.
THOMAS VERNER
Waterville
Click here to submit a letter to the editor
Two choices for water
One may look at the regional water issue from any perspective they wish, but the issue ultimately comes down to who controls the water department, its expenses, personnel, and pricing. The water department has been the dumping ground for city government for years. If you want to bury expenses, charge the water department. If you want to keep your friends on the payroll, transfer them to the water department. If the administration does not get along with some suburb communities, raise their water rates.
If Toledo wants to continue the practice of using the water department as a dumping ground, ignore the true cost of running the city, and continue back-room politics, the city should keep the water system and just lease it.
But, if the city wants transparency, to get a real handle on the costs of operating city government, and to stop back-room politics, it must sell the water system.
NICK WICHOWSKI
Perrysburg
They've made up their minds
People of Toledo — remember when you voted for the Toledo Sports Arena to stay in East Toledo? Now the city wants you to vote for a new jail.
They already bought the property, so no matter how you vote, the Democrats will get what they want and tell you where you can stick your vote, just like they did with the Sports Arena.
FRED GIBSON
Perrysburg
Help the American Legion serve veterans
It's May, so American Legion volunteers and auxiliary members will be distributing poppies. What does it mean and why do they do this?
After World War I, returning veterans remembered the battlefields of France lined with wild poppies. Lieutenant Colonel John McCrea, a Canadian physician, wrote a poem called "We Shall not Sleep" — now known as "In Flanders Field" — as a tribute to all the soldiers that he could not save on the Battle of Flanders. The poppy then became recognized as the flower that honored the sacrifice the soldiers made.
Moina Belle Micheal, often referred to as the Poppy Lady, introduced the poppy to the war secretaries in 1918. This was the first group to wear the poppy in memory of our soldiers that had died. In 1920, the Georgia Department of the American Legion adopted the poppy as its flower. This idea was taken to the national convention, where it was adopted as the organization's memorial flower.
Today, the red crepe-paper poppies are handmade by veterans who reside at the Ohio Veterans Home in Sandusky, Ohio. The veterans earn a small wage, which helps supplement their income and makes them feel more self-sufficient. The poppies are distributed, never sold, and will be held in the Toledo area on Saturday, May 25.
Donations collected by the volunteers are used to support veterans, often through the local VA clinic. These funds also go to the veterans' hospitals in Ohio, and locally for items for veterans and their families, as well as active duty service men and women.
When you see a Legionnaire or auxiliary member standing near a business, please be kind.
JANE ANN BRENNEMAN
South Toledo
Editor's note: Jane Ann Brenneman is the American Legion Auxiliary First District President.
Help our country flourish
I sympathize with Keith Burris' May 20 column, "To be a conservative: Five principles." Mr. Burris sought to show a different side of conservatives, many of whom are good and principled. They are our relatives, friends, neighbors, and co-workers. Unfortunately, they are not the conservatives wielding power in the federal and state governments. Those are radical conversatives.
At the federal level, Cabinet members have turned the executive branch into a kleptocracy. They have passed an obscene tax law, raising the debt and giving the finger to ordinary working Americans. A majority of Americans also believe the "Dreamers" deserve a path to citizenship, while these nativist conservatives in our federal government endorse actions which deny immigrants due process of law.
In every state where these conservatives hold sway, they gerrymander and use voter suppression laws to prevent people who might vote against them from voting. Notably, they target people of color and pass laws outlawing women's reproductive choices. They pass union-busting laws and laws to take away collective bargaining — a right works have had for nearly 100 years. And despite the Supreme Court recognizing that the LGBTQ community is entitled to the same rights as the rest of us, in states all across our land, people can be denied a job, or even fired, because of their sexual orientation.
We need real conservatives to join with real liberals to help our country flourish for everyone.
LEO NAGORSKI
Pittsburgh, Pa.
Guidelines: Please keep your comments smart and civil. Don't attack other readers personally, and keep your language decent. Comments that violate these standards, or our privacy statement or visitor's agreement, are subject to being removed and commenters are subject to being banned. To post comments, you must be a registered user on toledoblade.com. To find out more, please visit the FAQ.