Life lessons: Wisdom from local mothers
5/12/2018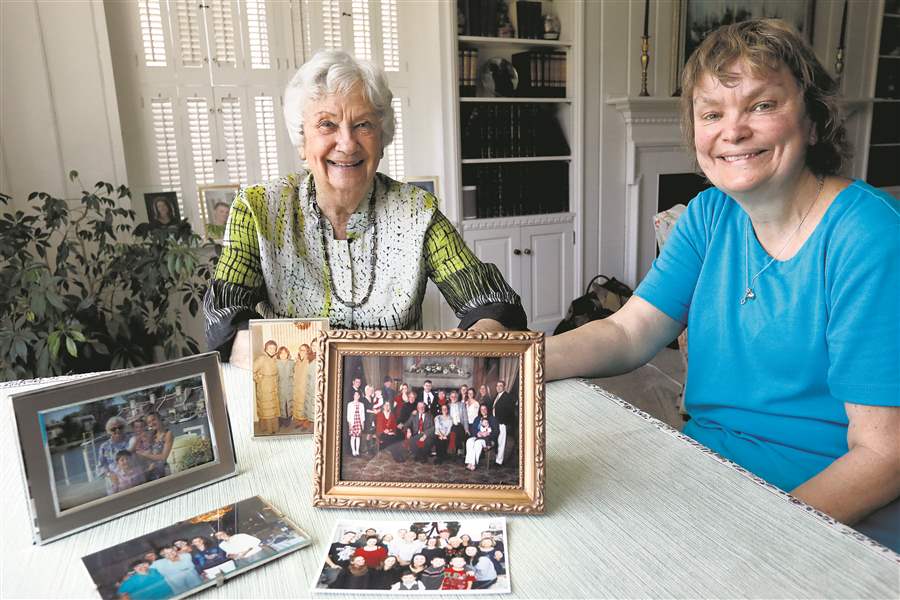 "People thrive when they're loved. Probably that's the most important thing I learned," Lois Churchill, 89, left, said of motherhood. Mrs. Churchill and her daughter Leigh Tremp shared memories and photographs of their extended family at Mrs. Churchill's home Monday, April 30, 2018, in Perrysburg.
The Blade/Katie Rausch
Buy This Image
Modern Moms
Mother's Day traces its roots to 1908, when Anna Jarvis of West Virginia initially proposed a day to honor perhaps the most important women in our lives. Within a decade, by 1914, Congress established Mother's Day as a national observance on the second Sunday in May. But mothers of the past look quite a bit different than the mothers of today:
26
The average age of a first-time mother
80%
of women ages 40 to 44 with a Ph.D. or profession degree are mothers
70%
of moms with children younger than 18 are working
40%
of mothers are the primary breadwinners for their families
Facts 
about moms
■ Women today are waiting longer to have children.
■ Highly educated women are more likely to have children. They're still less likely than less educated women to have children.
■ Women today are having fewer children. The average mother today is more likely to have two children than she is to have three or more.
■ Mothers are more likely to remain in the labor force.
A child is welcomed, and a woman's identity fundamentally shifts: Now, in addition to whoever she was up until that point, she's a mother, too.
It's a job that changes but never ends. When the diapers no longer need to be changed, there are school lunches to be made. When there are no more soccer games or tennis matches to cheer, there are moving boxes to pack and phone calls to field from newly independent adults. And, through it all, there's a lifetime's worth of wisdom and advice to share.
What do these moms learn along the way?
Quite a bit, according to several of the area's most recognizable mothers, grandmothers, and great-grandmothers. In the days leading up to Mother's Day, they shared with The Blade the most valuable things they've learned as moms.
Lois Churchill
Walt Churchill's Market
"Mothers need to give tough, but unconditional, love. Every human is unique. All need a healthy dose of patience."
Anita Lopez
Lucas County Auditor
"The most valuable thing, for me, is to know that you're developing these precious boys to be young men. They're very independent and extremely confident in being different from each other. I think it was probably the best thing I could have seen, from birth now to teenagers, how we've supported them in being different and individual and confident.
"[Motherhood] has made me be a better person. It's changed my entire life, in terms of what my priorities are. I think that's the most important thing: Once you become a mother, you realize it's not about you anymore. You're willing to sacrifice anything for their betterment."
Pat McKinstry
Bishop, Worship Center
"The last 48 years of parenting have taught me many lessons. The most valuable lesson for me is FORGIVENESS. We have experienced the hurt and pain of our children disappointing us. However, we must also remember that they have experienced disappointments from us as well.
"As I reflect back to how I would sit and talk to my son, the conversation always was about my generation. I did not realize that he needed to be prepared for his generation. Remember, mothers, God has a plan for each of our children. We must learn to step out of the way and allow God's perfect will to be done in them. God continues to show and teach me how to embrace and love my son for following HIS purpose.
"Today, my son Luther McKinstry is the pastor of Worship Center in Atlanta, Georgia. His oldest daughter will graduate with a Ph.D. in leadership from Bowling Green State University next month. I am proud of motherhood!"
Diane Larson
Co-anchor, WTVG-TV, Channel 13
"I didn't know at the time, but having a child is, like the author Elizabeth Stone said, deciding 'forever to have your heart go walking outside your body.' My daughter has taught me about unconditional love and how there's not enough room in the sky let alone my heart for all the love she's brought to my life, or as she would say, 'all the feels.' "
Robin Reese (center, holding grandson Peete Reese V) stands with her family (front row, from left) Levi Parker, Ah'Milo Gaston, Andrew Baker, Jr., (back row, from left) Pete Reese IV, Tierra Parker, and Roxanne Reese.
Robin Reese
Director, Lucas County Children Services
"I am a mother and a grandmother. But I'm also the de facto mother to almost 1,000 children in the care and custody of Lucas County Children Services. I love all my children deeply and I pray the blessing of the Lord over them.
"Now that I am a seasoned woman, I have come to a place in my life that I totally understand the power of love, because love always protects and never fails.
"Recently I came across a quote from the late former First Lady Barbara Bush that encapsulates my sentiments about family: 'Fathers and mothers, if you have children, they must come first. You must read to your children, you must hug your children, and you must love your children. Your success as a family, our success as a society, depends not on what happens at the White House, but what happens inside your house.' "
Sarah Weglian
Wife of Toledo Mayor Wade Kapszukiewicz
"The most valuable thing I've learned as a mother is to enjoy my children at every stage of their lives. I loved my kids when they were babies, but I'm not one of those parents who wants them to stay young forever. I've enjoyed watching them grow up, too. They have unique personalities and interesting perspectives on the world. It's been fun to watch that develop as they've gotten older."
Tina Skeldon Wozniak (second from right) with (from left) husband Russ, sons Joey and Aaron, granddaughter Annie, daughter-in-law Margaret, and son Sam Wozniak.
Tina Skeldon Wozniak
Lucas County Commissioner
"I have experienced that no two days are alike and things don't always go according to plan. No greater love and no greater reward! (And always keep enough snacks around!)"
Lisa McDuffie
President and CEO, YWCA Northwest Ohio
"The most valuable thing I've learned as a mother is live each day as a walking testimony, modeling how we treat others, talk with others and pray for others. Even as babies, our children watch and imitate our behavior. Knowing how children absorb what they see and hear helped me to be the person I wanted them to grow up to be."
Wendy Gramza
President and CEO, Toledo Regional Chamber of Commerce
"As I reflect on my journey as a mother, the most valuable thing I have learned is that you can't always be there to protect your children and you can't fix everything for them. What you can do (must do) is be there for them, set an example, and give them the tools to be successful. The most important thing you can instill in them, especially a daughter, is self-respect. I am blessed to have two wonderful children and being their mother is the most rewarding thing I will ever do. Happy Mother's Day!"
Contact Nicki Gorny at ngorny@theblade.com or 419-724-6133.