Touring entertainers and their entourages face many logistical challenges, but hunger isn't one of them at Centennial Terrace in Sylvania.
Two days before bluegrass and country singer Alison Krauss' June 14 concert at the 24-year-old venue, a team of cooks-in-training and chefs gathered at the Penta Career Center in Perrysburg to spec out a menu for the show.
Jim Rhegness, instructor in the culinary arts department, led a group of his students preparing breakfast, lunch, and dinner for the musicians, roadies, stage crew members, and others associated with the tour.
Penta has provided the catering crew for Centennial Terrace concert performers for about seven years.
A former student had been hired for the job, Mr. Rhegness said, "but it turned out to be more than he could handle." So Mr. Rhegness was asked to help out and thought it would be a good opportunity to get the kids involved. This aspect of catering provides "great real life experience" for the students, he said. Menu planning, food preparation, logistics coordination, and customer interaction are just some of the professional skills required.
VIDEO: Jim Rhegness, Penta Career Center
Advance work was done at the Penta campus. "That's our commissary," said Mr. Rhegness, where the kids perform initial tasks such as butchering meat, chopping and blanching vegetables, and harvesting herbs from the school's own garden. Final preparations are then handled on-site in the kitchen at the performance venue.
For breakfast on Ms. Krauss' performance day, Penta had set up an omelet station where the students made "eggs to order," Mr. Rhegness said. Other offerings, served on a buffet table, included baked French toast with local maple syrup, an egg casserole with colorful peppers and spinach, bacon and sausage, potatoes, and fresh fruit.
Lunch brought sausage-and-beef lasagna, stuffed shells with creamy alfredo sauce, and also roasted vegetables, grilled chicken, and meatballs. Garlic bread, of course, was on the menu. And dessert was a selection of cookies and brownies.
Ms. Krauss' team had requested some vegan items, so the Penta students prepared a hearty pasta salad with grape tomatoes and snow peas. The salad bar let diners choose from an enticing array that included green and red onions, broccoli florets, sliced banana peppers, cucumbers, multicolored cherry tomatoes, and even chow mein noodles.
Still not done, the hard-working students also made and served dinner before Ms. Krauss' evening performance. The two entrées were hand-cut fillets of grilled beef and halibut steaks baked in a zesty tomato and pepper sauce. Rice pilaf, fingerling potatoes, and a vegetable medley rounded out the meal.
An assortment of sweets included Oreo truffles and a creamy almond-crusted mascarpone cheesecake. A perennial favorite, home-style strawberry short cake at the peak of its season, sent everyone to the stage with smiles on their faces.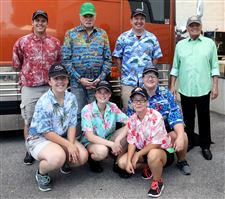 Two of the Beach Boys pose with Penta students and instructors: (top, from left) Austin Halterman, a culinary arts instructional aide with Penta, Mike Love of the Beach Boys, chef Jim Rhegness, Bruce Johnston of the Beach Boys, (bottom, from left) Angela Elliott, Brie Plotner, Lexus Perkins, and Beccah Cowell.
Blade/Kurt Steiss Enlarge
When the Beach Boys were in town for their July 18 concert, it was fun, fun, fun for the kids to dress in Hawaiian shirts to match the band.
But there was still a lot of work to do, despite only needing to prepare one meal. "We've got about 40 people" to feed, said Mr. Rhegness. And they would be eating dinner in shifts between 5 and 7 p.m. before the 7:30 p.m. show.
Again, the students had started their prep work in the kitchen at Penta. But "my A team," as Mr. Rhegness called the first-shift students, had to arrive at noon on show day to prepare for the evening service.
While snacks provided in a break room were brand-specific, from the barbecue potato chips to the spring water ("They know what they like," said Mr. Rhegness), there was more freedom to create the main meal, which had a Mediterranean theme.
On the menu was an array of eight salads and vegetable dishes, including a standard Greek salad and one featuring quinoa with roasted peppers, zucchini, and cauliflower. Orzo was mixed with confetti-like bits of vegetables in yellow, red, and green, while a chickpea salad showcased crisp fresh cucumbers, tomatoes, and red onions. There were also pans of quickly cooked bright green beans, baked sweet potatoes, and a simple caprese salad letting summery tomatoes and basil shine.
"I went in the kitchen — the knives were chopping, the spoons were stirring," said Beach Boys drummer John Cowsill admiringly. (He has played with the Beach Boys for 18 years.)
The entrées this time were fragrant Greek halibut smothered in Kalamata olives and tomatoes and a lemony chicken with potatoes and assorted vegetables. These were accompanied by herb-topped foccaccia and gluten-free dinner rolls.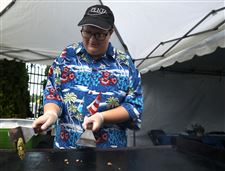 Beccah Cowell prepares a falafel in the backstage area before the Beach Boys' July 18 concert at Centennial Terrace.
Blade/Kurt Steiss Enlarge
Once everything was set out at 4:45 p.m., incoming senior Beccah Cowell took a moment to rest on the steps by the patio. "That's, like, the first or second time I've sat down all day," she said.
Moments later, she got up to stand at the flat top and prepare freshly cooked falafel patties (traditional chickpea-based or black bean and quinoa) served with parsley salad, tahini, garlic sauce, hummus, mixed greens, olives, and pita triangles.
Mike Love, one of the Beach Boys' founding members, accepted Ms. Cowell's invitation to make a plate for him.
"I don't think there's anything awful about 'em," he joked, making a play on the word "falafel" as she put the finishing touches on his serving. (He admitted he has "a corny sense of humor.")
Students in their final year at Penta are invited to work at the concerts, though some recent graduates — like Brie Plotner and Lexus Perkins — join in, too. They enjoy the opportunity to further hone their talents.
"I even had a former student make a special cake," said Mr. Rhegness.
"They know hot rods front to back," said Joanna Tyler of Cakes by Chef Jo, a pastry chef who graduated from Penta in 2004. So she spent three days creating an edible '32 Little Deuce Coupe out of marble cake and shimmery blue buttercream frosting.
Rounding out the dessert table were giant brownies and some pumpkin truffles that Mr. Cowsill thoroughly enjoyed.
"I ate two," he said with a smile, though he'd initially taken three. "They were so rich," he said.
Austin Halterman, a culinary arts instructional aide at Penta, said that in addition to these two catering opportunities, the students had fed the bands and crew members for Johnny Lang and Buddy Guy on July 15 and will also serve on Thursday when Styx comes to Centennial Terrace.
"I enjoy seeing [the kids] from where they started to where they grow and blossom" in venues like this one, Mr. Halterman said.
"They're great," said Mr. Rhegness once the dinner service was over and the nearly nine-hour work day was almost done. "How many kids, at that age, would volunteer just for experience?"
Ron Matter, superintendent at Penta, stopped by the dining patio before attending the Beach Boys concert with his wife. With pride, he said the students do such a great job that they often "get asked if they can go on the road."
"They always come up with something fantastic," he said of the meals, which hit just the right notes for bands. "The artists are always blown away that high school students do this."
Contact Mary Bilyeu at mbilyeu@theblade.com, and follow her at facebook.com/​thebladefoodpage, bladefoodpage on Instagram, or @BladeFoodPage on Twitter.
Guidelines: Please keep your comments smart and civil. Don't attack other readers personally, and keep your language decent. Comments that violate these standards, or our privacy statement or visitor's agreement, are subject to being removed and commenters are subject to being banned. To post comments, you must be a registered user on toledoblade.com. To find out more, please visit the FAQ.