Dorm essentials keep comfort in mind
8/19/2018
Heather Lammers, an incoming freshman at Bowling Green State University from Leipsic, Ohio, leaves Target with her dorm supplies.
THE BLADE/JEREMY WADSWORTH
Buy This Image
Incoming Bowling Green State University freshman Heather Lammers of Leipsic, Ohio, shops for dorm supplies with her mother Christa Lammers and sister Samantha, 5.
When freshman Heather Lammers arrives at her new home Thursday at Bowling Green State University, she will bring her favorite blankets and pillows. She will bring essential oils and her new bedding in colors of black, gray, and white, with a tribal flower pattern.
If her mom, Christa Lammers, has anything to say about it, photos of and mementos from Heather's five siblings will also be tucked in her packed items.
"You want her to get there and enjoy the experience. You don't want her to be homesick or miserable, or feel like she is living in a box," said Christa Lammers, who is sending her first child off to college this week. "She is away from home for the first time, and this will be her home now. As much normalcy as she can have, she will have."
By The Numbers
■ Nationally, total spending for school supplies, dorm furnishing, and clothing for K-12 schools and college students combined for the upcoming school year is estimated to reach $82.8 billion, according to the National Retail Federation.
■ College and graduate school students are expected to spend an average of about $942 each. They will spend about $229 each on electronics, followed by about $153 for clothing and accessories, and about $109 for dorm or apartment furnishings, according to the NRF.
Heather is one of more than 3,300 incoming freshmen at BGSU who, according to university policy, are required to live on campus the first two years unless they are commuting from home. The University of Toledo has the same requirement.
That means dorm life for most. And that also means making sure you have everything you need to not only make it livable, but also to give it that home-away-from-home feel.
"I've talked to students about bringing a favorite stuffed animal, a picture book, picture frames … don't be afraid to bring those personal items because that's what's going to make the place feel like home," said Stephanie Brinkman, spokesman for the BGSU Office of Residence Life. "Some students do it really well, and some are just learning to decorate, and they figure it out as they go along."
College students this year plan to spend an average of $942.17 each, which works out to more than $55.3 billion nationwide, according to the National Retail Federation. They will spend the most on electronics, with clothing and dorm and apartment furnishings following closely behind on the list.
This is your home for at least the next year; don't forget the things that will keep you afloat in day-to-day life, experts say.
"Building the bed is the first place we like to start. The bed is most important because that is where they will be doing their studying and spending much of their time. And they need their sleep," observed Simone Marshall, a district customer service trainer for Bed Bath & Beyond stores in Toledo and Columbus.
Ms. Marshall said that when future students come into the store with questions, employees talk to them about bedding, toppers, and mattress pads that they might be used to at home.
BGSU has offered bedding that fits its beds through its Residence Hall Linens Program in an online market for more than 20 years. Fifteen percent of sales from the program goes back to residency programs for the students, Ms. Brinkman said.
At IKEA stores, retailers offer dozens of complete dorm-room layouts in their showrooms to help freshmen visualize how they might want their living spaces to look, said Derrek Shively, loyalty manager for IKEA Columbus.
"Everyone is unique and has their own personality. We provide the lifestyle options to bring out those personalities," he said. "It's all the items together so they can see how it looks, feels, functions."
Incoming students should bring shower essentials, including a caddy and shoes, as they likely will share a shower with either a roommate or an entire hall of students. Laundry supplies, nonperishable food items, and organizational items for the desk are other must-haves.
The nonessentials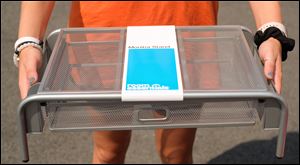 Incoming Bowling Green State University freshman Heather Lammers of Leipsic, Ohio, bought a computer monitor stand for her dorm room at Target in Rossford.
For dormitories, a rite of passage for many of this nation's college-going youth, there are things that just shouldn't be left behind. Purchasing fun items or bringing things from home to make it your own is also a must, retailers say.
Photos of beloved pets, family members, and friends can be tucked into picture frames or collaged into a wall hanging.
IKEA sells LED smart-lighting systems that have a Bluetooth connection, Mr. Shively said.
"They allow you to bring different levels of lighting to the room and some change actual colors, so you can add a unique little flair to fit your mood," he said.
Ms. Brinkman said students are not allowed to put nails in dorm walls but can bring framed photographs and 3M tape to hang pictures, posters, and colorfully designed tapestries.
A hammock that can hang under a lofted bed is a fun way to brighten a dorm, she said.
Duvet covers, wall tapestries, and accent pillows with cute sayings and vibrant colors can liven up a room.
"They can get fun and creative with the pillows and they don't take up much space," Ms. Brinkman said.
The no-nos>
Students should not bring any type of cooking or warming device with an exposed heating element, such as a hot plate, toaster, or grill, Ms. Brinkman said.
Portable air conditioning units are also against campus policy, as are candles and extension cords, she said.
Floor lamps with flexible arms and lights with halogen bulbs are not permitted. Neither are pets (except fish) and weapons.
"We have pretty much seen everything and anything, but to avoid an infraction, they should follow the list as closely as possible," Ms. Brinkman said.
For a full list of packing don'ts, go to bgsu.edu/​residence-life/​move-in-guide/​packing-list.html or utoledo.edu/​studentaffairs/​reslife/​packing.html.
Space?
Jeff Thibert of Toledo, whose son, Gabe, 18, is attending John Carroll University this fall, reached out to other parents who have had similar experiences.
"I think the best advice I received is less is more. You're going to be working in a small space," he said.
His son wanted a "cool basement man-cave feel," so they collaborated with Gabe's future roommate and hunted down a futon that would fit underneath the lofted bed area, Mr. Thibert said.
At BGSU, rooms come in 17 layouts and range in size from 10-by-14 square feet to 12-by-16 square feet.
"We definitely see that whenever a family rolls in with a moving truck, they are probably going to be loading half of it back up because there's just not enough room," Ms. Brinkman said. "They are not living in their rooms for the most part … their lives are lived outside the room."
Totes that slide under beds and double-hang closet rods offer extra space, Ms. Marshall said. Stools with lids that also serve as seats and storage space, and desk-drawer organizers are also good options.
The Lammers, who live about 45 minutes away from BGSU in Leipsic, Ohio, started their shopping lists as early as November and looked for deals as often as they could. As of last week, they were still hunting down last-minute items.
"This was not just putting things in a bedroom, this was pretty much stocking a small apartment," Heather Lammer's mother, Christa, said. "It has been very eye opening. Who knew so much could fit into such a little space."
Contact Roberta Gedert at rgedert@theblade.com, 419-724-6075, or on Twitter @RoGedert.