A generation later, zesty sauce recipe wows judges again
9/7/2013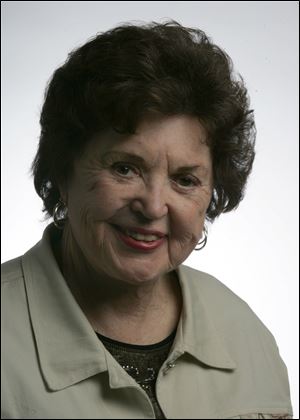 Never doubt that some of the best recipes have come from Blade recipe contests. Back in 1969, Tom Watson of Sylvania won first prize in The Blade Outdoor Recipe Contest for Zesty Chicken, a basting sauce.
Forty-four years later his son, Tommy Watson of Columbus, won first prize at the Specialty Gas Contest using his dad's recipe and competing against 25 other outdoor cooks.
The elder Mr. Watson, retired Sylvania High School band director, and his wife, Helen, attended the Aug. 24 contest along with a large contingent of family support. Part of the fun was being able to taste Tommy's entry.
"It was absolutely delicious," the proud father said.
According to Tommy, Zesty Chicken had the highest score of any recipe in the history of the Columbus meet.
Tommy, 47, is employed as an actuary for an insurance company. He plans to retire the famous family recipe until his 7-year-old son Michael is ready to compete.
I well remember the more than 550 recipes that were submitted in The Blade contest that summer in '69 and going through them one by one before the finalists were submitted to our judging team that decided, hands down, the sauce with the unusual ingredient twist was the best of all the rest.
The ingredients in the mix that make it perfect for basting chicken are rose wine, soy sauce, ginger, and garlic. Mr. Watson prefers chicken quarters for his sauce, but Tommy uses boneless chicken breasts.
Mr. Watson still cooks outdoors often and until recently was using the gas grill he received as the grand prize.
"I just recently got a new grill," Mr. Watson said. "The one I had for 44 years finally gave up the ghost. The new one has all the bells and whistles. It's propane. I think it cooks more slowly."
Tom Watson's Zesty Chicken
¾ cup rose wine
¼ cup soy sauce
¼ cup salad oil
1 crushed garlic clove
1 teaspoon oregano
1 tablespoon brown sugar
3 broiler fryer-chickens, cut into halves or use chicken breasts
Combine all ingredients except chicken. Place chicken, skin side up, on rack 6 inches above hot coals. Brush with wine mixture. Grill 45 to 60 minutes until chicken tests tender. During cooking, turn chicken and brush frequently with sauce.
Green bean salad
Karen Sunderman's Quintet Vegetable Salad recipe didn't strike a bell until I happened to park beside Willard Lamb's truck in the Market House parking lot in Hudson.
Mr. Lamb is best known in the area as the water softener man, but that day he opened the truck window, reached behind the seat, pulled up a plastic bag, and asked, "Do you like green beans?"
Before I had a chance to say, well, not really, he handed me what had to be a five-pound bag of fresh green beans; "just picked" he said.
As cooking luck would have it, the day before I had received two recipes from Mrs. Sunderman of Deshler, Ohio, who not only loves to cook but also enjoys developing recipes at this time of year using seasonal produce. One recipe she shared is for Pure Gold Cake that brings grated yellow summer squash to the mixing bowl with crushed pineapple in a buttermilk cake batter.
The other recipe was for salad quintet. It calls for two cups of cooked green beans, and believe me, at my house fresh green beans are fully cooked and not just dipped into hot water as they are in many restaurants. Ever since we learned the translation of al dente for Italian pasta, chefs have been practicing it with green beans and other fresh vegetables The Italian meaning is "to the tooth" or that the food is cooked until it offers a slight resistance, but is not raw.
Karen Sunderman's Quintet Vegetable Salad
2 cups drained, cooked, and cooled fresh green beans
1 tablespoon minced onion
½ cup diced cucumber
2 tomatoes, diced and seeded
2 tablespoons vinegar
4 tablespoons salad oil
½ teaspoon salt
½ teaspoon garlic salt
¼ teaspoon pepper
Combine all and chill. Serves 4 to 6.
Mary Alice Powell is a retired Blade food editor. Contact her at: mpowell@theblade.com