Shredded wheat is simply delicious
6/22/2014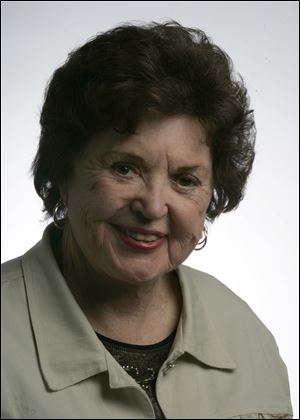 Mary Alice Powell.
Sunday night supper and what will it be? How about the old favorite that goes down easily and is packed with nutrition?
No, not a bowl of vegetable soup or a grilled cheese. The answer is shredded wheat.
For supper?
Why not? Cold cereals are often just the ticket to take the edge off in the evening, and shredded wheat rings the bell on all counts, just as it often does for breakfast and even lunch.
I am not referring to the mini wheat squares, plain or coated with sugar and gelatin, that carry the shredded wheat label. I mean those old-fashioned, big biscuits that were on the market long before the avalanche of cold cereals that fill supermarket shelves.
To make a choice from the hundreds of cereals available must be overwhelming to consumers who like to try different brands and combinations. My only frustration is finding Post Old Fashioned Shredded Wheat among all those boxes. Twice recently I panicked when I couldn't find it.
When I asked the department managers at two large stores, neither one knew what I was talking about.
I explained that the pillow-shaped biscuits are two by four inches and so large that to eat them properly you crush each biscuit with your hands into the cereal bowl. I added that some people pour boiling water over the biscuits to soften them.
Finally, in a third store, a young woman said, "Oh you mean this kind?" There was only one box of my wonderful crunchy biscuits, so I worry that it could be disappearing from the market as the newer cereals that appeal to young eyes and appetites take shelf space.
Compared to newer cereals with multiple ingredients (including long words we don't understand), the ingredient information on Post Shredded Wheat is simple: whole grain wheat. It is followed by the explanation that "to preserve the natural wheat flavor, Bht is added to the packaging material."
Touted as a food to help reduce the risk of heart disease and to maintain heart health, it provides 47 grams of whole grain per serving of two biscuits. The calorie count, before milk, is 160 for two biscuits.
Here's a tip. It's even better with fresh blueberries and half and half, any time of the day.
It's not surprising that creative home cooks and company home economists have developed recipes using the shredded wheat product other than as a cereal. The mini cereal often appears in snack mixes and the biscuits are ingredients in fruit crisps and other desserts. I even read a recipe using the biscuits in macaroni and cheese.
Henry Perky of Denver invented the machinery to shred the wheat for the cereal in 1890. It was soon noted for its healthful qualities. Mr. Perky sold it to vegetarian restaurants and the publication Chicago Vegetarian recommended that the biscuits be used as soup croutons.
C.W. Post introduced his company's commitment to nutrition in 1895 with Postum, a cereal drink. The successful enterprises of Mr. Post and Dr. John Harvey Kellogg and Will Keith Kellogg, founders of the W.K. Kellogg Co., gave Battle Creek, Mich., the title of Cereal City.
Each year the city celebrates with the World's Longest Breakfast Table, a citywide festival when tables are set up throughout the downtown for free breakfasts served by hundreds of volunteers.
Had Dr. Kellogg not been so critical of Mr. Perky's product it may have been a part of Kellogg's Corn Flake Co. earlier than it was.
After tasting the shredded wheat he said he was not interested in the patent because it tasted like a whiskbroom. Later when he changed his mind, it was too late, Mr. Perky assessed.
The shredded wheat was introduced to the public at Chicago's World Columbian Exposition in 1893 and it was off and running nationwide. After Mr. Perky's death in 1908 and the patent expired in 1912 Mr. Kellogg obtained a patent in 1915 and introduced Kellogg's Shredded Wheat. Kellogg now makes a variety of fruit-flavored mini wheat products.
The year 1915 is about the time my Uncle Vance Powell began his daily dose of shredded wheat. I doubt that it's my favorite cold cereal because of his influence, but he did live to 105, so it is a definite consideration.
Mary Alice Powell is a retired Blade food editor. Contact her at: mpowell@theblade.com