Is Alaska on your bucket list?
Mine too.
But good sense and January temperatures tell us to shelve dreams of strolling through the coastal villages, seeing glaciers up close, and maybe even riding in a small plane. They say that everyone in Alaska has a plane in the garage to get from A to B.
I have been honing up on Alaskan cruise information and even toyed with driving to the 49th state since the wonders of a trip there several years ago years ago whetted a desire to return to see and learn more about America's largest state.
In the meantime, here's an idea that keeps us safe and warm at home but still recognizes Alaska in a stunning edible showstopper.
Baked Alaska is not only a spectacular dessert that is sure to bring compliments, but it is easier to make than it appears.
It was invented by Charles Ranhofer, chef at Delmonico's in New York, in 1867 in celebration of America's purchase of Alaska from the Russia. It did not become the official 49th state until 1959.
The cake and ice cream dessert, blanketed in golden brown meringue, is a classic dessert that is often lighted for special effect. Once upon a time, it was a hallmark at banquets at the Commodore Perry Hotel in Toledo when the banquet room lights were dimmed and waiters marched in carrying the flaming creation.
It also became a tradition on cruise ships as a memorable presentation at the last dinner on board. Originally, Alaskas were lighted by candles, but they were replaced by sparklers because of the danger of fire.
The last dinner on the Canada/ New England Royal Princess cruise in November was highlighted by a parade of 40 waiters and cooks. Each carried an Alaska glowing with a lighted sparkler as they marched around the dining room to loud applause before serving one to each table, extinguishing the sparkler, and slicing each Alaska into rainbow slices.
I didn't march around my dining room, or even have a sparkler to light, when an Alaska was prepared and served as an appropriate dessert for a birthday celebration during this harsh winter spell.
Like clothing in winter, Alaskas are layered. First, there is the layer of cake, then the ice cream, and over all thick meringue that is browned in a very hot oven.
Putting the ice cream in the hot oven can be scary, but it works because the meringue, if applied properly, acts as insulation for the ice cream. Besides, the Alaska doesn't stay in the oven but a few minutes.
The choices of cake and ice cream flavors can very, according to favorites. Some people like to match them: strawberry cake and strawberry ice cream or chocolate cake and a chocolate cream. My choices were simply a 9-inch layer yellow cake made from a mix, topped by a half gallon of Neapolitan ice cream.
The toughest part of making the Alaska may be separating the eggs to gain enough whites with not a smidgeon of yolk escaping. When the great chef guru, the late James Beard, was in Toledo for a demonstration, he cracked and dropped the whole raw egg into his widespread hand and let the white slide through his fingers. Of course we must be sure our hands are clean to try this trick from the master, but its works.
I used six whites with a half cup of sugar and a smidgeon of cream or tartar for enough meringue to fully cover the cake and a half gallon of ice cream.
It may seem like a lot of sugar, but it is essential to the meringue structure. Cream of tartar is the white powder in the little can in the spice cupboard that can be used for many household things, but we tend to only dip into it when beating egg whites.
A byproduct of the winemaking process, the acidic value of cream of tartar stabilizes the egg whites and adds volume and thickness.
The rule is one-eighth teaspoon cream of tartar for every two egg whites in meringue. It is said to also be used for laundry stains when made into a paste with lemon juice and left to set for an hour before laundering. And a half-teaspoon to a teaspoon added to boiling vegetables keeps the natural color.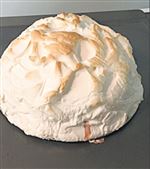 Golden brown Baked Alaska right from the oven.
THE BLADE/MARY ALICE POWELL
Enlarge | Buy This Image
Frigid Ohio Baked Alaska
1 9-inch round baked cake layer
1/2 gallon ice cream
6 egg whites, best at room temperature
1/4 plus 1/8 teaspoon cream of tartar
1/2 cup sugar
Place cake on oven-proof pan. Let ice cream soften just enough to spread on cake.
Form the ice cream into a dome shape. A spatula works well.
Immediately prepare cake and ice cream for freezer by wrapping it securely with plastic and/or wax papers, making sure it is well covered.
Freeze at least two hours, or longer, before adding meringue.
To make meringue, beat egg whites with cream of tartar in deep bowl with electric mixer, first on medium speed until whites are foamy, may take 2 minutes. Slowly increase speed to high as the whites increase in volume. Add sugar very, very gradually while continuing to beat on high speed until the meringue is glossy and stiff peaks form when the beater is lifted.
Remove cake and ice cream from freezer. Spread the meringue over the ice cream, swirling it into peaks that will make it more attractive when browned. The meringue should be spread thicker over the ice cream at the dome, and be sure the meringue seals the edge of the cake. Serves 8 to 10.
Wrap meringue-covered Alaska well in plastic/wax papers and return to freezer for at least three hours. Do not scrimp on the wrapping.
Preheat oven to 450F or 500F. Remove Alaska from freezer and the wrappings. Place in center of oven 4 to 6 minutes until the meringue is nicely browned.
Serve immediately sliced into wedges.
If desired, omit freezing Alaska with meringue in the last step above. Instead, apply the meringue to the frozen cake and ice cream immediately when meringue is finished and brown in oven 4 to 6 minutes.
Mary Alice Powell is a retired Blade food editor. Contact her at poseypowell@aol.com.
Guidelines: Please keep your comments smart and civil. Don't attack other readers personally, and keep your language decent. Comments that violate these standards, or our privacy statement or visitor's agreement, are subject to being removed and commenters are subject to being banned. To post comments, you must be a registered user on toledoblade.com. To find out more, please visit the FAQ.