Father's Day may not come with as much hoopla as the maternal equivalent in May — no brunch or bouquets to be found. But the occasion and, especially, the men it honors still clearly hold a very special place in our hearts.
Jane Vaughan of Delta, Ohio, wrote about her family's tradition.
"My mother would always fix strawberry shortcake as our Father's Day dinner. That would be our whole meal. She would fix a big pan of shortcake [even larger than a 9-by-13-inch baking dish] and clean about 6 quarts of strawberries. It would depend on how many of us kids and grandchildren were there."
Ms. Vaughan's mother was an instinctive baker who didn't need any written instructions to create this classic.
"She had it all memorized," Ms. Vaughan said. "I just use Jiffy mix and make up my own because we never got her recipe before she passed away in 2017."
Amy Meiring tries to "make a batch of my chicken salad for my dad every Father's Day," she wrote. Her father, Bob Dunning, is reluctant to share this favorite, which contains green onions and dill weed, but he "grudgingly" lets her mother enjoy some, too, she said.
Mrs. Meiring, from a family of lifelong Toledoans, also said that her 15-year-old son Matthew bakes ginger snaps for his own father and for his maternal grandfather using a recipe from his paternal great-grandmother, Florence Hazelbaker. Mr. Dunning "drops bold hints to Matthew and me throughout the year about his ginger snap and chicken salad withdrawal symptoms."
Judy Weaks of Rossford wrote: "Although this year marked the 50th anniversary of my father's death (seven months before I was to wed), I have fond memories of a father who was stern but always loving and supportive."
The family's Father's Day tradition is to prepare potato pancakes, plain or sautéed cabbage-stuffed. Starting one week ahead, "we watch the weather reports for that Sunday observance very carefully," Mrs. Weaks said. "If it's to be a good weather day, then our plans swing into action." First they hand-peel 10 pounds of russet potatoes. Then they shred these "on a specially designed grater my mother used;" mix in onions, flour, eggs, and salt, and cook them "outside using an electric frypan (doesn't mess up the kitchen)."
If the weather isn't cooperative, "the whole family will proceed to restaurants providing other men-friendly foods," Mrs. Weaks said. But she senses an "undertow of disappointment," because "the true desire for potato pancakes surpasses EVERYTHING."
Several other readers offered their own remembrances and recipes. We share them with our very best wishes for a happy, relaxing, and delicious Father's Day.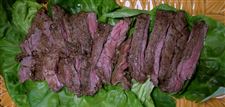 Flank Steak on the Grill
THE BLADE/LORI KING
Enlarge | Buy This Image
Flank Steak on the Grill
"This is one of our favorites," writes Judy Bashforth of Springfield Township about this dish that "will be on the menu for Father's Day this year." Her husband, Chuck, often does the cooking, though the recipe has already been passed down to their son, Chip.
1½ pounds flank steak
Soy sauce
Salt and pepper to taste
1 teaspoon dried thyme
Put flank steak in a flat pan or dish. Brush both sides of flank steak with soy sauce and sprinkle with salt, freshly ground pepper, and dried thyme. Let stand for an hour or more.
Brush again with soy sauce and grill over high heat for 3 to 4 minutes on each side for rare steak. Let sit for a couple of minutes. Carve with sharp knife in thin slices on the diagonal, then serve with rice pilaf, a vegetable, and/or a salad.
Yield: 4 servings
Source: Judy Bashforth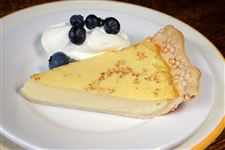 Custard Pie
THE BLADE/LORI KING
Enlarge | Buy This Image
Custard Pie
Nancy Geiser Patterson, who splits her time between Toledo and Arizona, wrote that "Father's Day would not be complete without custard pie." Her dad, Raymond Geiser, grew up one of 12 children during the Depression, and custard "was frequently the main and only entree for supper," thanks to the family's cow and chickens providing the ingredients.
Ms. Patterson has baked many pies for her dad, and one was always served on Father's Day. "Dad passed away a few years ago," she wrote, "but I still bake a custard pie every Father's Day. I savor every bite remembering joyous times that we had together. I pass these memories onto my daughter, Alice Patterson, who is learning to be the next custard pie baker."
4 extra-large eggs
½ cup sugar
½ teaspoon salt
¼ teaspoon nutmeg
2 cups low-fat milk
1 5-ounce can evaporated milk
1 teaspoon vanilla
Pastry for 9-inch one-crust pie
Heat oven to 450F.
Beat eggs slightly with whisk. Beat in remaining ingredients. Pour into pastry-lined deep dish ceramic pie plate. Bake 20 minutes. Do not open oven door. Reduce oven temperature to 350F. Bake until table knife inserted halfway between center and edge comes out clean, 15 to 20 minutes longer. Do not over-bake as weeping will occur.
When pie has cooled, enjoy! Refrigerate leftovers.
Editor's note: Ovens can vary greatly. I baked the pie initially at 400F and then for another 40 minutes or so at 350F.
Yield: 1 pie
Source: Leslie Patterson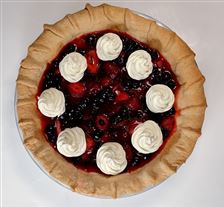 Triple Berry Pie
THE BLADE/LORI KING
Enlarge | Buy This Image
Triple Berry Pie
"My dad used to get mad if I made this for other people [and] he didn't get any!" wrote Robin Hansen of Elliston, whose father, Merle Harder, passed away in 2012 right after Father's Day.
¾ cup sugar
3 tablespoons cornstarch
1½ cups water
4 ounces Jell-O, any red flavor
1 cup each blueberries, raspberries, and sliced strawberries
1 9-ounce baked pie crust
2 cups Cool Whip, for serving
Mix sugar and cornstarch in medium saucepan. Gradually stir in water until smooth. Stir constantly over medium heat until it comes to a boil. Boil 1 minute and remove from heat. Stir in Jell-O until completely dissolved. Cool at room temperature until quite thick.
Stir in berries and fill pie shell. Refrigerate 3 hours or until firm. Slice and top with Cool Whip as desired.
Note: Robin speeds up the cooling by placing the pan into a shallow dish of ice cubes. She has used both strawberry and raspberry flavors and also a mix of the two. She has also used sugar-free Jell-O, a low-fat crust, low-calorie topping, and/or sugar substitutes, and sometimes added blackberries. It's "always delicious," she said.
Yield: 1 pie
Source: Robin Hansen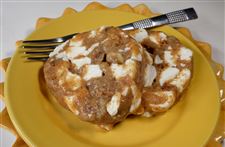 Marshmallow Roll
THE BLADE/LORI KING
Enlarge | Buy This Image
Marshmallow Roll
"My parents ran off and got married when they were teenagers," writes Dolores Pahl Adams of Swanton. Her mother died at age 54 and her father, Carl Judson, never remarried. "He bached it until he was almost 89, when his heart gave out .... I miss him every day."
Her dad "became quite expert at cleaning house and cooking simple meals" for himself, Ms. Adams said. "But he always loved big family dinners, and he really did justice to them! He was in a jolly mood on holiday occasions." This was Mr. Judson's favorite dessert.
½ cup Eagle Brand sweetened condensed milk
¼ cup water
½ pound (about 32) regular-sized marshmallows, cut into quarters
½ cup coarsely chopped nut meats
½ cup finely-cut dried dates
½ cup (about 30 crackers or 5-1/2 ounces) fine graham cracker crumbs
Whipped cream, if desired
In medium-sized mixing bowl, blend together condensed milk and water. Stir in remaining ingredients except cream. Shape into a roll about 3 inches thick and 6 inches long. Wrap and refrigerate at least 12 hours. Cut roll into 10 equal slices. Garnish with whipped cream.
Editor's note: I placed the marshmallow roll in the freezer overnight to firm up.
Yield: 10 servings
Source: Dolores Pahl Adams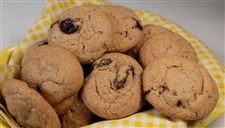 Raisin Cookies
THE BLADE/LORI KING
Enlarge | Buy This Image
Raisin Cookies
The original recipe for these cookies was found in Highlights magazine. My 91-year-old father, Victor Garske, says he shouldn't eat them for health reasons, but he never turns them down.
¾ cup raisins
½ cup water
¾ cup sugar
¾ cup brown sugar
¾ cup butter, softened
1 teaspoon vanilla
1½ teaspoons cinnamon
2 eggs
2½ cups flour
1 teaspoon baking soda
½ teaspoon kosher salt
Preheat oven to 350F. Line a cookie sheet with parchment paper.
Place the raisins and the water into a small saucepan; bring to a boil, then lower heat and simmer for 5 minutes. Turn off heat and let cool; the raisins will plump up and there will be a small amount of liquid left.
In a large bowl, cream together sugar, brown sugar, butter, vanilla, and cinnamon. Stir in the eggs. Mix in the flour, baking soda, and salt. Stir in the raisins with the remaining liquid.
Drop batter onto the baking sheet in walnut-sized dollops then roll into balls. Bake for 10 to 12 minutes, until the cookies are golden. Let cookies cool on a rack.
Yield: About 60 cookies
Source: Mary Bilyeu
Contact Mary Bilyeu at mbilyeu@theblade.com, and follow her at facebook.com/​thebladefoodpage, bladefoodpage on Instagram, or @BladeFoodPage on Twitter.
Guidelines: Please keep your comments smart and civil. Don't attack other readers personally, and keep your language decent. Comments that violate these standards, or our privacy statement or visitor's agreement, are subject to being removed and commenters are subject to being banned. To post comments, you must be a registered user on toledoblade.com. To find out more, please visit the FAQ.