OUTDOORS NEWS & NOTES
Maumee Bay facility targets growing archery crowd
8/27/2018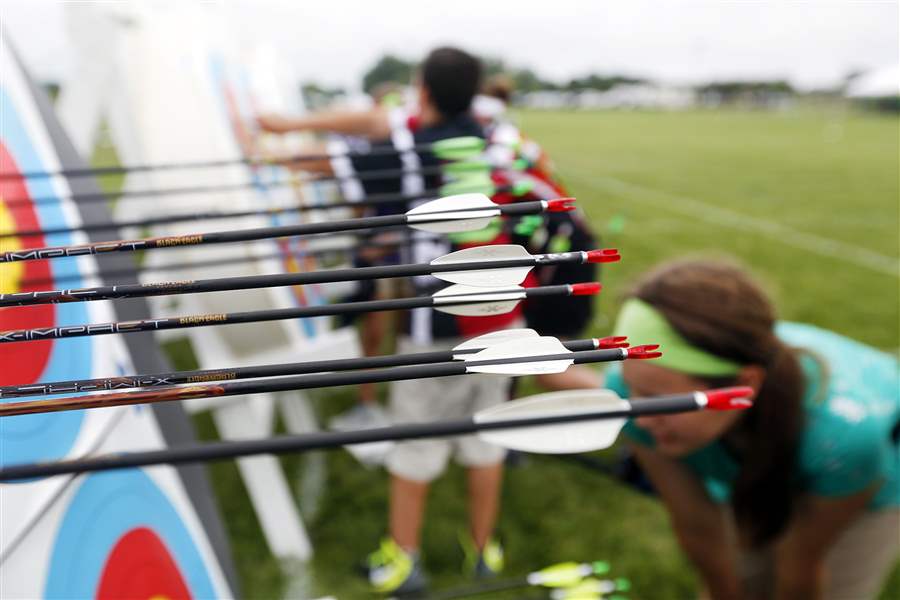 To meet the demand for more archery ranges to accommodate the sport's increasing numbers, two new archery ranges have been opened by Maumee Bay State Park and Metroparks Toledo.
THE BLADE
Buy This Image
The location of the new archery range at Maumee Bay State Park is in red. The seven-lane range is open from sunrise until sunset.
Call it The Hunger Games phenomenon, or credit it to the desire of many people to engage in hunting or target shooting without using a firearm — by either source or both, archery has experienced an explosive growth in popularity. The Sports & Fitness Industry Association's 2017 study estimated there are almost 8 million archery participants in the U.S., and half of them are under the age of 25.
Since the first movie in The Hunger Games series came out in 2012, membership in many archery clubs has doubled. The National Archery in the Schools Program was started just six years ago in 21 Kentucky middle schools — there now are more than 13,500 schools across the country that offer archery for grades 4 to 12 as part of the in-school curriculum.
To meet the demand for more archery ranges to accommodate the sport's increasing numbers, Metroparks Toledo opened a public archery range and 3D archery course at Westwinds Metropark on Geiser Road in Holland. Maumee Bay State Park also recently opened a new archery range. The new range is on the grounds of the sprawling state facility, on Park Road 1 near the park office and across the road from the inland lake. Maumee Bay State Park is located off Cedar Point Road, east of Eagles Landing Golf Club.
The seven-lane archery range at Maumee Bay State Park has a combination of stationary bag targets and 3D targets. The facility will be open every day from sunrise to sunset and there is no charge to use the range. Rules for the range require that only field points are allowed. The use of broadheads is forbidden.
The construction of the new range was completed through a partnership between the Ohio Department of Natural Resources/Division of Wildlife and the ODNR Division of Parks and Watercraft. The funding for the range project came from monies collected by the sale of Ohio hunting and fishing licenses, and funds generated by the Pittman-Robertson Act. The Pittman-Robertson Act, which became law in 1937 under President Franklin Roosevelt, levies an 11 percent federal excise tax on sporting arms, handguns, ammunition, bows, and arrows.
A monarch lands on milkweed in South Toledo.
MONARCHS/MILKWEED: For the next two months, the Ohio Pollinator Habitat Initiative will be collecting milkweed pods as part of the ongoing effort to help strengthen the population of monarch butterflies. Milkweed is the only host plant for the monarch eggs and caterpillars, and therefore is vital to the survival of the colorful butterflies. Many other pollinators also use milkweed as a food source, and as the plant was eradicated or substantially reduced in numbers in recent decades, monarch populations plunged almost 80 percent. Volunteers are urged to collect milkweed seed pods only when they are dry, grey, or brown, and store the pods in paper bags, since plastic bags collect damaging moisture. Mark the bags with the date and county where they were collected, and store in a cool, dry place until they can be taken to a collection site. The Fulton County Soil & Water Conservation District collection site is at 8770 State Route 108, north of Wauseon. For more information, email Marci Lininger at Marci.Lininger@dot.ohio.gov or Lori Stevenson at Lori_Stevenson@fws.gov.
WATCH: Ohio Pollinator Habitat Initiative from WildOhio
CLEAN STREAMS: Volunteers will canvas streams and waters across the region Sept. 22 to remove trash and debris as part of the 22nd Annual Clean Your Streams Day. At last year's event, more than 900 volunteers cleaned local streams at almost 70 different locations, removing 23,789 pounds of marine debris from our waterways. They covered more than 25 river miles and filled 910 bags full of trash and pollutants from the water. Registration for this year's cleanup is at partnersforcleanstreams.org/cys22/register, and individuals, organizations, businesses, groups, and all ages are welcome to take part in this service opportunity. The cleanup begins at 8 a.m. with check-in, orientation, and a free breakfast at one of seven locations. Groups then will disperse in the area and remove waterway debris for the next three hours. After the cleanup, an appreciation picnic starts at noon.
OTTAWA SWCD: The Ottawa Soil and Water Conservation District will conduct its 67th annual meeting and banquet Sept. 26 at the Ottawa County Fairgrounds. Voting will take place between 5:45 and 6:45 p.m. to elect one supervisor, with the banquet starting at 6:30 p.m. The "Cooperator of the Year" award also will be presented to the individual/business/agency that has shown outstanding support to conservation efforts, past or present. Tickets for the event cost $10, with a choice of barbeque chicken or pork chop dinners. Entertainment will be provided by Buckeye Blend Barbershop Quartet. Contact the SWCD office at 419-898-1595 or a board supervisor for tickets.
HICKSVILLE TRAP SHOOT: The Community Memorial Hospital Foundation of Hicksville is hosting a Trap Shoot Fundraiser Sept. 29 at the St. Joe Valley Conservation Club. All proceeds from the fundraiser will go to the CMH Foundation for future hospital projects. For more information or to register, contact Kevin at 419-542-5696 or kwannemacher@cmhosp.com.
Contact Blade outdoors editor Matt Markey at: mmarkey@theblade.com, or 419-724-6068.