Ohio weighs future expansion of Medicaid
10/16/2012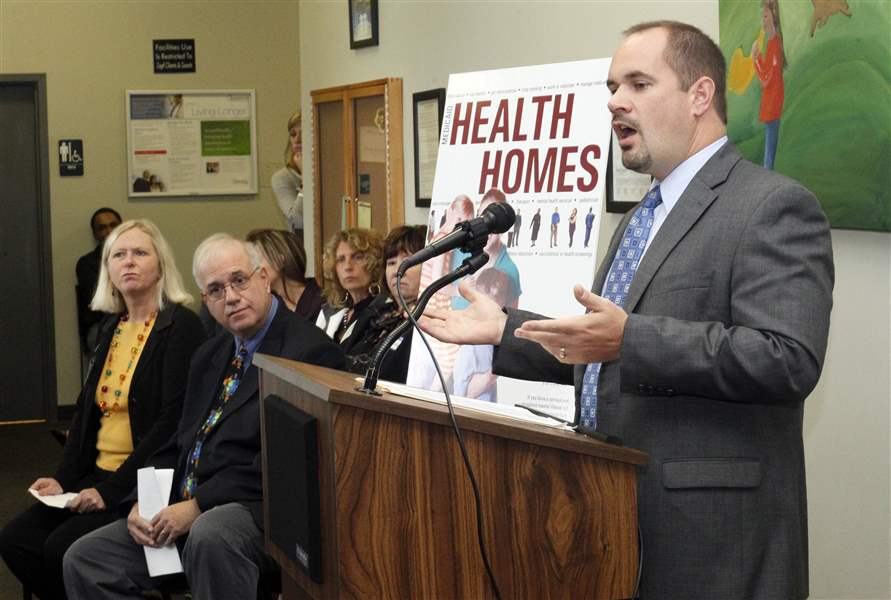 John B. McCarthy, State Medicaid Director, talks about a new benefit option for Ohio Medicaid enrollees with serious and persistent mental illness at the Zepf Center.
The Blade/Amy E. Voigt
Buy This Image
John B. McCarthy, State Medicaid Director, talks about a new benefit option for Ohio Medicaid enrollees with serious and persistent mental illness at the Zepf Center.
Even though it's not yet clear if Ohio's Medicaid program will expand in 2014, officials are examining what could be involved in bringing an additional million Ohioans onto the rolls of the program that provides health care for low-income Americans.
"How do we, in the current budget situation, pay for these individuals that are currently eligible but not enrolled?" said John McCarthy, Ohio's Medicaid director, speaking in a meeting Monday with members of The Blade's editorial board. "That is the part we are focused on now and working through. Then, at the same time, we're looking at all the items around the expansion."
In Ohio, Medicaid's scope is vast - it covers 2.2 million people and is an approximately $18.5 billion program. Another 300,000 people are eligible but notenrolled for a variety of reasons under the current program. Medicaid is the largest payer of long-term care in the state and also covers 38 percent of Ohio's children.
The Patient Protection and Affordable Care Act, commonly called Obamacare, allows but does not require states to expand their Medicaid programs to cover individuals whose income is up to 138 percent of the federal poverty level. Estimates show by 2018, under an expansion of Medicaid in the state, there could be as many as 1.1 million additional Ohioans enrolled in Medicaid.
"We're trying to answer all these questions to present the Governor with our recommendations and with options," said Mr. McCarthy; he said he anticipated offering a recommendation on the expansion issue to Governor Kasich before the February budget deadline.
"Medicaid is a vital program to keep low-income Ohioans healthy. I hope the state will take the opportunity to expand the program as broadly as allowed by federal law," said Eugene King, director of the Ohio Poverty Law Center in Columbus, a low-income advocacy group, in a telephone interview Monday. "We have a huge number of uninsured Ohioans who should have insurance to live healthier, more productive lives. Every person who is uninsured shifts costs to the rest of the population."
Liberal-leaning think tank Policy Matters Ohio has advocated for the full expansion, saying research shows without it, as many as 789,000 individuals in the state could be too poor to qualify for health insurance subsidies under the Affordable Care Act but not eligible for Medicaid. Critics of the expansion have cited the cost, as the federal funding for the Medicaid expansion would decline over time.
Mr. McCarthy was in Toledo Monday with officials from the Ohio Department of Mental Health to announce Medicaid Health Homes - a program that aims to improve physical health care for people with severe and persistent mental illness.
Lucas County is one of five counties statewide where the program is being rolled out now; it will be implemented statewide by July, 2013. Providers in Lucas County include the Zepf Center, Unison Behavioral Health Group, and Harbor Behavioral Healthcare.
Ohioans with mental illness represent about 10 percent of Ohio's Medicaid population but 26 percent of all Medicaid spending, according to statistics from the state's Department of Mental Health. Some individuals with mental illness have chronic conditions such as diabetes or heart disease that can be exacerbated by medications taken to treat mental illness.
The goal of the program is to bring physical health to the place where people go for their mental health services, said Tracy Plouck, director of the Ohio Department of Mental Health who also met Monday with members of The Blade's editorial board.
At the Zepf Center, the program means the center can now be reimbursed for expenses such as transporting individuals to doctor's appointments, providing exercise groups or bringing a primary care doctor to see a patient, said Jennifer Moses, CEO of the Zepf Center.
While the program is called Health Home, the "home" does not refer to a residence but rather a community treatment center, such as the Zepf Center or another community provider.
"It is in essence, your 'home' base, where you get your primary care," said Mr. McCarthy.
The program should save the state money in the long run, said Mr. McCarthy, though he said an estimate on savings was not yet available. However, he emphasized, "Why we're doing this is better health outcomes."
Contact Kate Giammarise at: kgiammarise@theblade.com or 419-724-6091 or on Twitter @KateGiammarise.