Colin and Kate Brewer, both 6, and brother Toby, 10, with their cat Leroy, deal with the sudden death of their father, Gary Brewer, in December.
The Blade/Amy E. Voigt
Enlarge | Buy This Image
Sometimes, when he thinks nobody is watching, he cries for his father who died unexpectedly in December.
When Jill Brewer tries to talk about it to her 10-year-old son, Toby Brewer, he tries to dismiss the show of grief.
"My oldest is taking it the hardest," said Ms. Brewer, referring to Toby. "Sometimes I catch him crying, and he tells me that 'it's something else.' "
"I hurt so bad for my kids. [Recently] my daughter brought home a flyer for a father-daughter dance."
Ms. Brewer of Maumee and her children, Toby, and Colin and Kate, both 6, recently turned to Good Grief of Northwest Ohio, a new Toledo-based organization that provides free support for grieving children and their parents.
The nonprofit organization, which initially will be housed at CedarCreek Church's South Toledo Campus, 2150 S. Byrne Rd., officially will begin offering services in April.
Services will include support groups for ages 4-24, said founder Molly Long, former executive director of the Toledo Children's Hospital Foundation.
In addition to group discussion, interactive activities will be used to help participants process their thoughts and emotions.
Licensed social workers and trained grief specialists will oversee all programming.
It's helpful when children can interact with others who are experiencing similar grief because they realize they aren't alone, Ms. Long said. Unaddressed grief can have long-term repercussions.
"In the past people thought, 'Kids are resilient,' but it continues on," Ms. Long said. "The result is we have all these people with unresolved grief. It's OK to show and talk about it."
Good Grief requires parents of youths younger than 17 to participate in group support. It's important for parents to learn how to deal with their own grief so they can help their children, Ms. Long said.
That's the case with Ms. Brewer, who had been divorced from Gary Brewer only a short time before his death Dec. 9. Ms. Brewer said she's trying to cope with her own feelings, which range from sadness to anger.
"He was a good father and loved his kids," Ms. Brewer said. "It took awhile, but we had become friends. But I need help too. I haven't even been able to deal with [his death]."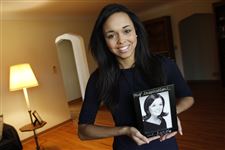 Sarah Stachak holds a photo of her mother, Maryellen Stachak, who died when Sarah was 9. She recalls feeling alone as the rest of her family tried to cope as well.
The Blade/Andy Morrison
Enlarge | Buy This Image
Good Grief volunteer Sarah Stachak, 21, of Lambertville knows from personal experience how difficult it can be. She was 9 years old when her mother, Maryellen Stachak, died from ovarian cancer.
"For a while I was angry with my family because I blamed them for my mother's death," the former Toledo resident said. "I became angry with God.
"At times I blamed myself, but I didn't talk to anyone about it. I felt alone," Ms. Stachak said.
Everyone in the family was grieving at the time, which led Ms. Stachak, the youngest of three children, to believe her feelings were being ignored.
Her family's continued support and her faith in God eventually helped her move forward.
"Good Grief is an awesome program in general," said Ms. Stachak, who is a student at the University of Toledo. "When I was grieving, none of my friends could understand what I was going through.
"I felt so alone. That's what is so great about this program," she added.
Talking about and understanding your thoughts and feelings are vital to healthy grieving, said Karen Smith, a retired elementary school counselor for Toledo Public Schools.
Mrs. Smith worked as a school counselor for 20 years before retiring in 2010. She is lending her expertise to help Good Grief.
When Mrs. Smith was a counselor, she ran a similar peer-support group for elementary students. If a student experienced a death, she would visit that student's classroom and discuss the situation with their teachers and classmates.
Many people avoid those who are grieving because it can be awkward or uncomfortable, Mrs. Smith said. People often don't know what to say or how to act.
During classroom visits she would offer suggestions on what teachers and students could say or do. A simple "I'm sorry to hear that your dad died" is helpful because it acknowledges the griever's loss, she said.
Children who have lost a family member or close friend often feel overwhelmed by their own feelings and the grieving of those around them, Mrs. Smith said.
"They become really swallowed up in grief," she said. "They don't care what's happening in school, they don't care what the teacher is saying, and they don't care about math facts."
A support group like Good Grief provides support and direction.
"Many children have guilt because they don't think they should be laughing or having fun," Mrs. Smith said. "In group they learn that their [deceased] parent would want them to go on with life and be happy."
For more information about Good Grief visit goodgriefnwo.org.
Contact Federico Martinez at: fmartinez@theblade.com or 419-724-6154.
Guidelines: Please keep your comments smart and civil. Don't attack other readers personally, and keep your language decent. Comments that violate these standards, or our privacy statement or visitor's agreement, are subject to being removed and commenters are subject to being banned. To post comments, you must be a registered user on toledoblade.com. To find out more, please visit the FAQ.