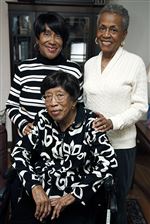 Aleathia Carson, who turned 100 on Jan. 31, is beloved by her daughters Janice Carson, left, and Peggy Coleman, right.
THE BLADE/JEREMY WADSWORTH
Enlarge | Buy This Image
As the matriarch of her family, Aleathia Carson is special to her six children and many grandchildren.
As she turned 100 on Jan. 31, daughters Peggy Coleman and Janice Carson said how thankful they were.
"God has blessed us," the younger Ms. Carson said.
Although Mrs. Carson lives with her daughter, Ms. Carson, in West Toledo, she remains quite self-sufficient.
Mrs. Carson was a clerk at the Mott Branch of the Toledo-Lucas County Public Library. Earlier, she focused on raising her children.
An avid reader, Mrs. Carson encouraged children to read at the library.
"She was just a friend to them," Ms. Carson said. "Because she loved to read so much. They'll see her in the community and they'll talk to her and remind her."
Mrs. Carson has long been interested in gardening and natural health.
"Probably why she's lived to be 100," Ms. Coleman said.
Her mother's interest in natural healing began about 1948 with a vegetable garden. Mrs. Carson said she learned about natural medicine from reading and from her own grandmother.
She professes strong religious beliefs.
"She loves religious programs and she loves the Lord," Ms. Carson said, adding that her mother has attended the same church for 80 years. "Her church family has really been quite a source of encouragement."
Mrs. Carson has an active social life.
"She has quite a few boyfriends," Ms. Carson joked. "The neighbors just love her. She gives advice. Many people come to her for advice and for her counsel."
Mrs. Carson reads the Bible daily and seeks prayers for family.
"I believe that is why today, God has honored her. She is a living memorial to show God's faithfulness," her daughter said.
Her birthday was celebrated Sunday at Third Baptist Church.
But Mrs. Carson said the century mark isn't all that significant.
"Everybody's 100 years old now," she said.
Guidelines: Please keep your comments smart and civil. Don't attack other readers personally, and keep your language decent. Comments that violate these standards, or our privacy statement or visitor's agreement, are subject to being removed and commenters are subject to being banned. To post comments, you must be a registered user on toledoblade.com. To find out more, please visit the FAQ.