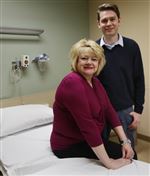 Mary Rabquer received a fecal transplant from her son Brad Rabquer in 2012. The transplant cured the imbalance of C. diff. bacteria in Ms. Rabquer.
The Blade/Lori King
Enlarge | Buy This Image
Organ transplants are well-known, life-saving medical procedures but a Rossford woman said it was the transfer of fecal matter into her colon, donated by her son, that saved her life and ended nearly a year and a half of misery and pain.
Mary Rabquer, 58, said her life is good now but a relentless bacteria, Clostridium difficile, more commonly known as C. diff, took over her colon and she was close to needing radical surgery to totally remove it, when her doctor suggested she consider having a fecal transplant.
Ms. Rabquer is a staunch advocate for this procedure and spends much of her time educating others about it, but her initial reaction to the idea about two years ago was one of disgust.
"All I was thinking in my head was, 'Oh my God, he is going to stick somebody else's poop inside of me.' It was everything I could do not to puke," she said.
Dr. Ali Nawras, gastroenterologist at the University of Toledo Medical Center, the former Medical College of Ohio, said fecal transplants were rarely used until about two years. He said the procedure has been revived because a new and more virulent strain of C. diff is infecting young, healthy people across the United Sates and Europe at an alarming rate.
Once confined to infecting the elderly and people in institutions such as hospitals, in recent years this highly contagious bacteria has become more frequent, severe, and difficult to treat so doctors have rediscovered fecal transplants and are having great success with patients, Dr. Nawras said.
According to Dr. Nawras, there are more than 300,000 reported cases of C. diff infections and 14,000 C. diff-related deaths in the United States each year.
Ms. Rabquer's ordeal began about three years ago when her family doctor prescribed a powerful antibiotic, clindamycin, to treat a case of walking pneumonia that she was suffering through in December, 2011.
"I started having stomach and digestive problems. I remember feeling so bad I didn't even attend Christmas dinner. I thought it was just the antibiotic because sometimes they can make you feel sick," Ms. Rabquer said.
What she didn't know at the time is that the antibiotic was stripping away all the good bacteria which allowed the C. diff to grow and take over her colon.
"C. diff is a normal inhabitant of the gut," Dr. Nawras said. "Once you kill the good bacteria with the antibiotic, then C. diff will become more virulent and excrete toxins."
WHAT IS C. DIFF?
It is a bacterium that causes inflammation of the colon, known as colitis. People who have other illnesses or conditions requiring prolonged use of antibiotics, and the elderly, are at greater risk of acquiring this disease.
Symptoms include:
■ Watery diarrhea.
■ Fever.
■ Loss of appetite.
■ Nausea.
■ Abdominal pain/​tenderness.
To protect yourself from the disease:
■ Take antibiotics only as prescribed by your doctor.
■ Tell your doctor if you have been on antibiotics and get diarrhea within a few months.
■ Wash your hands after using the bathroom.
Source: Centers for Disease Control and Prevention
Ms. Rabquer's 34-year-old son, Brad Rabquer, is an assistant professor of biology at Albion University in Michigan and his wife, Mandy Rabquer, is a physician.
They began to suspect that Ms. Rabquer was suffering from C. diff when she nearly collapsed in the parking lot of a Toledo restaurant in January, about a month after she started taking the antibiotic.
"On Jan. 14 it was my brother's birthday, and we went to the Spaghetti Warehouse and I took one bite of my spaghetti and meatballs and I thought I was going to double over in pain and in fact I did," she said.
Over the next year and a half, Ms. Rabquer saw numerous doctors who kept prescribing costly antibiotics to treat the C. diff. Her medical bills kept mounting but not even the strongest antibiotic available to treat the infections, vancomycin, could fight off the C. diff and restore balance to her system, she said.
She took more than six courses of vancomycin in a year and a half and her out-of-pocket cost after insurance was $1,500 for a 14-day dose.
"It was a grueling regimen. Each time it would kill all the bacteria in her system so she would feel worse at first. After taking the antibiotics, the symptoms would come right back," said her son Brad.
She also couldn't eat very much because of the abdominal pain and cramping. "I existed on baked potatoes and homemade chicken soup," she said. Ms. Rabquer also missed multiple days at work.
"It's very hard when you are going through a chronic disease situation. On the mental side you start losing hope that it's going to get better. She was getting upset and depressed that the doctors didn't have the answers," said her son.
Finally in April, 2012, Ms. Rabquer was referred to Dr. Nawras, who told her that her condition was worsening and she might need a colectomy, a surgical procedure to remove all or part of her colon. He also suggested that they could try a fecal transplant first as a last resort before surgery.
Dr. Nawras said he is the first doctor in Toledo to offer this treatment, and he had performed it twice earlier in 2012 on patients in critical condition at UTMC before Ms. Rabquer sought help.
He said the transplant simply involves taking bacteria from the stool from someone who is healthy and transferring it to a patient suffering from the disease.
"When the doctor told me Brad was going to be the donor, I called him up on the way home from the doctor crying and I told him I can't ask you to do this and he goes, 'Are you kidding me, if you can't ask me who can you ask?' " Ms. Rabquer said.
"I just wanted my life back. I just wanted to be who I was before that. To have energy and go places and not walk into a store and look for the bathroom," she said.
Five days after the transplant in July, she felt immediate relief. Since treating Ms. Rabquer with this procedure Dr. Nawras said he has used it to help 21 other patients with the same problem and his success rate is 100 percent.
"The first time I had one [a regular bowel movement] I started crying and I called up Brad and I said, 'It's normal, it's normal.' He just laughed and said, 'I'm so happy,' " Ms. Rabquer said.
Dr. Nawras said he is very concerned that people don't understand that the overuse of antibiotics in this country has led to problems like the C. diff epidemic. He warns that there has been a marked increase in the number of young children getting this disease and that he is receiving calls from many pediatric gastroenterologists asking for advice on how to administer the transplants.
Ms. Rabquer said she has a friend at work who has a 5-year-old son with C. diff and, based on her advice, he will soon receive a fecal transplant.
"This brought me back to who I was. I would not have made it without this transplant. I know it sounds gross, it is gross, but for me not to talk about it, if I can help one person, this whole embarrassing thing is worth it," Ms. Rabquer said.
Guidelines: Please keep your comments smart and civil. Don't attack other readers personally, and keep your language decent. Comments that violate these standards, or our privacy statement or visitor's agreement, are subject to being removed and commenters are subject to being banned. To post comments, you must be a registered user on toledoblade.com. To find out more, please visit the FAQ.