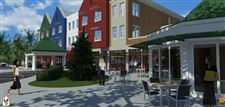 RMHC has submitted a rendering of the new Ronald McDonald House.
Construction of a new Ronald McDonald House, adjacent to ProMedica's Toledo Children's Hospital, will begin in about 30 days and board members plan to kick-off the project with a groundbreaking event at 10 a.m today.
"Donors and members of the community are invited to come and celebrate the milestone," said Chad Bringman, executive director and board president of Ronald McDonald House Charities of Northwest Ohio.
The executive board has raised more than 90 percent of the budget for the new home, or $7.2 million, said Mr. Bringman. The overall goal is to raise $8 million for the project, he said.
Fremont-based Mosser Construction Inc. will oversee the project that is expected to be completed by the summer of 2015.
Initial plans to build a new house in phases at the current location were scrapped in favor of one to relocate across the street to land owned by the ProMedica hospital system.
"We will still be on the corner of Monroe Street and ProMedica Parkway, but on the opposite corner," said Mr. Bringman. He said the move — across the street to the west — will put the house a little closer to Toledo Children's Hospital, and families with children there won't have to cross ProMedica Parkway on foot to get to the hospital.
The planned 38,000-square-foot house will double the amount of space for families from 14 to 28 rooms.
The house also will feature a much larger kitchen with two islands and a prep area for volunteers to use when serving meals to the families. Laundry facilities will increase from one to three and community spaces where families can relax and watch television will be expanded, he said.
Monroe-based La-Z-Boy Inc. plans to donate furniture for the common areas of the new house, Mr. Bringman said. Owens Corning will provide building materials for the construction and Lumber Liquidators Inc. plans to donate flooring.
The Ronald McDonald House began providing lodging more than 30 years ago to parents who travel to Toledo to get specialized medical care for their children. Located in what was a remodeled funeral home, the 14-room house at 3883 Monroe St. is often at capacity, and parents are put up in a local hotel.
Built in 1906 as a farmhouse, the structure operated as a funeral home from 1940 until Ronald McDonald House opened its doors.
The building has undergone several expansions to reach its present 8,000 square feet.
Mr. Bringman said the board has not decided what to do with the current facility after the move. In recent years, ProMedica has purchased and developed many of the properties adjacent to Toledo Hospital, but a ProMedica spokesman said officials have no plans at this time to purchase the land.
Among major donors for the construction include McDonald's Co-op of Northwest Ohio and Southeast Michigan, made up of owners and operators of McDonald's restaurant franchises, which has agreed to give $1.5 million. Toledo Children's Hospital and its parent company, ProMedica, have pledged $1 million, and Findlay-based Marathon Petroleum Corp. will give $300,000.
Also, Ronald McDonald House will use $1 million of its own money for the project.
Contact Marlene Harris-Taylor at mtaylor@theblade.com or 419-724-6091.
Guidelines: Please keep your comments smart and civil. Don't attack other readers personally, and keep your language decent. Comments that violate these standards, or our privacy statement or visitor's agreement, are subject to being removed and commenters are subject to being banned. To post comments, you must be a registered user on toledoblade.com. To find out more, please visit the FAQ.