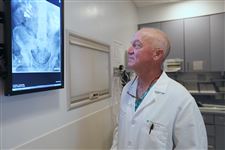 Urologist Dr. Emmett Boyle studies an X-ray of blocked kidneys and stents. He is a member of ProMedica Genito-Urinary Surgeons Inc. in Toledo. The center joined ProMedica in 2013.
The Blade/Jetta Fraser
Enlarge | Buy This Image
Second of two parts.
The Affordable Care Act is fueling rapid changes in the health-care industry that are increasing demands on doctors, while decreasing reimbursement rates for their services, some in the field say.
In the face of these changes, many doctors are opting to leave behind private practice to become salaried employees of major health-care systems such as Mercy and ProMedica in Toledo.
Mercy currently employs 215 physicians, up from 138 in 2012. Mercy has a total of 334 doctors in its network of employed and affiliated physicians. ProMedica has 431 physicians, up from 195 in 2009 and 84 in 2004.
Hospitals benefit from doctors being in their network because it enhances their admission rates, said Sheri Sorrell, research manager for Jackson Healthcare, a company from the Atlanta area that tracks trends in the health-care industry.
"Hospitals right now are being very opportunistic about this. Hospitals say the number one reason they acquired a physician is because the physician came to them and the number one type of physician they are acquiring is primary care," Ms. Sorrell said. She added that family practice doctors are the ones who tend to admit patients to hospitals or send them to the emergency room, so it makes sense that they would send them to the hospital for which they work.
According to 2014 Jackson Healthcare report on Physician Practice Trends, "There is no doubt that the ACA is influencing patient and physician behavior. A new group of patients have access to care, but the sicker ones are requiring more hands-on treatment, which is decreasing physician productivity."
Physicians are seeing decreased reimbursement from Medicare, Medicaid, and private insurance at the same time that the cost of running the business is increasing, Ms. Sorrell said
"What's driving it, frankly, is a lot of fear. [Some are saying] I don't know what's coming in health care and I don't know if I can handle it alone in a small practice without being a part of something larger," said Dr. Kenneth Bertka, vice president of physician clinical integration for Mercy.
Dr. Bertka said the move away from private ownership is affecting all doctors, both primary care and specialists. He used cardiologists in Toledo as an example of the national trend.
Several local cardiologists decided to form Northwest Ohio Cardiology Consultants in order to have more leverage in the new health-care environment, but after a few years they gave up the private practice and joined ProMedica in 2009, he said.
"Within a period of a year and a half. we went from 15 percent of cardiologists being employed and 85 percent being in independent practice to 85 percent employed and 15 percent in private practice," Dr. Bertka said, noting it flipped in just 18 months.
He said what motivated those cardiologists was a decision by Medicare to reduce the payments for tests done in the office, such as echocardiograms that allow a doctor to see how a patient's heart is beating and pumping blood.
Dr. Mark Cockley of Mercy Primary Care Associates sits with his patient John Petty of Perrysburg in his office in Swanton. Dr. Cockley began a private family practice in 2002, but is now with Mercy because of the technology Mercy offers.
The Blade/Jetta Fraser
Enlarge | Buy This Image
Joining a system
"We were a single practice urology group for 35 years," Dr. Emmett Boyle said.
Dr. Boyle and 11 other doctors operated Parkway Surgery Center as a standalone facility in West Toledo on Executive Parkway.
"We were always pretty entrepreneurial. We started the surgery center and we had our own [pathology] lab for a while. The government mandates made it so difficult to maintain any kind of extra income outside of patient care. It's really, really difficult," he said.
The urology practice is in the same building, but is now known as ProMedica Genito-Urinary Surgeons Inc. Dr. Boyle said the cost of providing health care for 125 employees kept going up year after year. They decided to transform from a private practice to one owned by a hospital system in January, 2013, after it became difficult to remain profitable, he said.
"As a group we were down probably $800,000 to $900,000 over a 10-year period, and I think that's happened across the country," he said.
Ms. Sorrell said physicians and physician groups are being asked by the government to jump through more hoops to be reimbursed. They also are being asked to take on additional staff members and to convert all their records from paper files to electronic health records, known as EHRs.
The 2009 Health Information Technology for Economic and Clinical Health Act required hospital systems and doctors to acquire costly computer software that would create electronic medical records with the goal of reducing costs and making it easier for doctors to track their patients'‍ medical histories.
"The Affordable Care Act did some things to accelerate it, but it was already a work in progress," Dr. Bertka said.
The parent company of Toledo's Mercy health system has invested hundreds of millions of dollars in electronic health records, Dr. Bertka said. Physicians who give up private practice to work for Mercy or who join the organization as an affiliated doctor have access to it.
"The alternative paper records are inefficient," he said. Electronic records make it easier for doctors to keep better records, to share information, and to help decrease errors when prescriptions are transferred to pharmacies, Dr. Bertka said.
Gaining resources
When he opened his private family practice in Swanton in January, 2002, Dr. Mark Cockley never thought that eight years later, he would become an employee of Mercy.
His office is now called Mercy Primary Care Associates and has two family practice doctors, one an internal medicine physician and another a nurse practitioner.
Dr. Cockley said one of the reasons he joined Mercy as a salaried employee was the opportunity to use Mercy's electronic system, known as EPIC, at an affordable cost.
"A doctor in practice will never have EPIC. They don't sell that to small groups — it's too expensive," Dr. Bertka said.
Ms. Sorrell said Dr. Cockley and other primary physicians are on the front lines in the battle to improve the nation's health because the goal of the ACA is to increase preventative care.
Many primary doctors are turning to large organizations for additional resources, she said. They are also hiring more nurse practitioners and support staff to help with increased patient loads.
"I think if you are looking to see a physician, the old family doctor that we all remember, it is not going to be like that in the future," she said.
Dr. Boyle agrees. His daughter and son-in-law are finishing up medical school and he said they have no desire run a private practice.
"They want scheduled vacation. They want to know what they are going to make. They don't want the hassles of running a practice," he said.
Contact Marlene Harris-Taylor at mtaylor@theblade.com or 419-724-6091.
Guidelines: Please keep your comments smart and civil. Don't attack other readers personally, and keep your language decent. Comments that violate these standards, or our privacy statement or visitor's agreement, are subject to being removed and commenters are subject to being banned. To post comments, you must be a registered user on toledoblade.com. To find out more, please visit the FAQ.