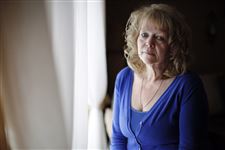 When Tina Jackson was urged by her doctor to get therapy for depression, Ms. Jackson didn't have to go far or wait long to get an appointment with a social worker.
THE BLADE/AMY E. VOIGT
Enlarge | Buy This Image
Toledo resident Tina Jackson, 54, a divorced mother of four adult children, isn't the typical patient with depression, and when she sought help she wasn't offered the typical treatment.
Both major hospital systems in the Toledo area — Mercy and ProMedica — have changed the way they deal with mental health issues: They've formed partnerships with a pair of mental health agencies as part of a move to improve access to services for depression and other illnesses.
Mercy has joined forces with Unison Behavioral Health Group at its new Behavioral Health Institute, which has inpatient and outpatient services under one roof. ProMedica has affiliated with Harbor Behavioral Health to make it easier for its family doctors to transition patients who need mental health services.
Ms. Jackson said she wonders why this didn't happen years ago.
A stereotypical image of a depressed person is someone who sits and stares into space, paralyzed by their pain, she said. But her illness has shown itself in another way. She has always been a whirlwind of action, helping her children, including one with autism, keeping an immaculate home, and being the primary breadwinner as a caregiver for senior citizen residents in the group home she owns.
"I'm high-functioning, and I require very little sleep. My mind won't shut down. People looking from the outside would never think I was depressed," she said.
About three years ago, a confluence of events brought her to a new realization about her condition. First, she found out one of her daughters was depressed and was cutting herself to cope. Then, two group home residents to whom she had grown close died, and she found herself breaking down after the funerals. Ms. Jackson also lost her fiance, who died after a series of surgeries.
It was all too much.
After attending some group therapy sessions on depression with her daughter, Ms. Jackson's eyes began to open to her own condition. She went to a ProMedica primary doctor's office in July seeking medication to help with depression. Instead of just giving her a pill, however, her nurse practitioner, Jennifer Varga, told her she should also talk with someone about her problem.
Ms. Jackson agreed, and because the Harbor office was in the same building, the nurse practitioner walked Ms. Jackson to get an appointment that day.
"Harbor was literally, like, two doors down from me on her first visit and she was able to get in to see someone fairly soon," Ms. Varga said.
When you look at the research on change, when a person is motivated you have to act on that right away, said Doreen Pant, the social worker who is helping Ms. Jackson.
Ms. Pant said Ms. Jackson's transition to therapy was handled immediately and with the help of her doctor.
"I think that was key in keeping her motivated," Ms. Pant said.
Ms. Jackson's official diagnosis was major depression, generalized anxiety disorder, and post-traumatic stress disorder, Ms. Pant said.
"She has really made a lot of strides. She's improving her coping skills," Ms. Pant said.
Khan
Fighting stigmas
Ms. Jackson said she initially had reservations about speaking so openly about her mental health condition, but she decided to tell her story to try and erase some of the stigma that exists about her illness. Stigma and shame still prevent people from getting help, she said.
"People need to realize that without professional intervention it's going to get worse. You get to the point that without intervention, you will sink," she said.
Offering help to people right in the doctor's office when they first mention they may be struggling with a mental health issue is one way to combat the stigma issue, Ms. Varga said.
"The way I explain it to a patient, I say talking about your mental health is no different than talking about diabetes. I would not tell you to wish away diabetes, so you can't wish away depression," she said.
ProMedica now has its doctors and Harbor mental health professionals together in three of its buildings, including the new Health and Wellness Center in Sylvania. The health system also plans to extend the program to other facilities.
In a four-week period between Jan. 22 and Feb. 19, 64 mental health referrals were made to Harbor's office at the ProMedica Health and Wellness Center. Of that group, about 66 percent have completed an assessment, scheduled a counseling session, or both. ProMedica officials consider those numbers to be a great improvement over former follow-through rates.
Hamme
Staving off crises
The collaborations between mental health agencies and hospital systems are an attempt to keep people from falling through the cracks in the system, said John Sheehan, president and chief executive officer of Harbor.
"Our job is to prevent people from getting to the point that they have to be admitted to a crisis unit," he said.
Helping mental health and substance abuse patients before they reach a crisis point can also help ease the cost of health care overall, Mr. Sheehan said.
In 2015, more than 3,000 emergency department visits were made at ProMedica Toledo-area hospitals for mental health issues, including substance abuse, which resulted in $64 million dollars in hospital charges.
This stress on collaboration and saving health-care dollars is partially driven by the Affordable Care Act, or Obama-care, Mr. Sheehan said.
The Centers for Medicare and Medicaid Services are providing incentives for hospitals to find ways to keep mental health patients from coming back to the hospital repeatedly and being admitted to expensive inpatient units for days and weeks, Mr. Sheehan said.
Closing revolving door
Mercy's collaboration with Unison may result in addressing this problem of mental health patients being admitted for repeated long-term stays.
Like ProMedica, Mercy is embedding mental health professionals in its family physician practices. But Mercy is the first in Toledo to consolidate its inpatient mental health services and to provide intensive outpatient counseling in the same facility for those with the most serious mental health issues in hopes of breaking the revolving-door cycle.
The new Behavioral Health Institute opened in October in Oregon on the same campus with St. Charles Hospital. The institute has a 90-bed inpatient unit for people who are having a crisis, including substance abuse issues.
But in this Unison facility, mental health professionals who run the outpatient programs are located there, and they meet with the patients immediately while they are being treated in the inpatient unit.
They get to know the patients and start to build trust with them, said Dr. Tufal Khan, medical director.
Dr. Khan, also a psychiatrist, said the Unison staff helps determine what should happen when a patient is released and if they need more intensive outpatient sessions. After they are released from the inpatient unit, some patients continue meeting with a therapist three to five days a week depending on the severity of their issues. This is a huge change from what is considered traditional outpatient treatment for patients after inpatient stay, he said.
"They come in the morning and stay until 3:00 or 3:30 getting group and individual therapy," said Coleta Schmidlin, chief nursing officer.
Mental health patients who are discharged into traditional outpatient programs are seen once a month or even less, Dr. Khan said.
"Those patients who we feel could relapse if they are discharged to the traditional outpatient setting are engaged while they are in the inpatient unit, and they are seamlessly transferred to the outpatient program where they are seen on the same day they are discharged," he said.
When patients with serious issues were discharged to the community in the past, the likelihood was great that they wouldn't follow up on treatment if they had to wait a week or a month for an appointment, said Larry Hamme, chief clinical officer at Unison.
This would be the beginning of the vicious cycle of patients who go untreated and then end up again and again in a crisis situation, often being brought to an emergency room by family or the police, he said.
Mercy officials said since the institute just integrated the inpatient and outpatient programs together last October, they haven't had time to collect data that could confirm the process is reducing the number of relapses experienced by those patients who spent time in the inpatient unit in Oregon.
Mercy Health, the parent company, however, has other behavioral health institutes across Ohio, beginning with the first it opened in the Cincinnati area in 2012.
Since that time, it has opened other mental health facilities with the same structure in Springfield, Youngstown, and Lorain, with the Toledo area being the most recent.
In all of those facilities, except locally where statistics aren't yet available, the no-show rate — meaning the number of patients who don't return for outpatient treatment after being released from inpatient — has been reduced from 40-50 percent to 10-15 percent. Mercy officials said the integrated approach is responsible for the decrease in the no-show rate.
ProMedica, which has six inpatient psychiatric units in six hospitals, is planning to offer the more intensive outpatient services, such as those offered at Mercy, at its Defiance hospital beginning this month.
Contact Marlene Harris-Taylor at: mtaylor@theblade.com, 419-724-6091, or on Twitter @marlenetaylor48.
Guidelines: Please keep your comments smart and civil. Don't attack other readers personally, and keep your language decent. Comments that violate these standards, or our privacy statement or visitor's agreement, are subject to being removed and commenters are subject to being banned. To post comments, you must be a registered user on toledoblade.com. To find out more, please visit the FAQ.