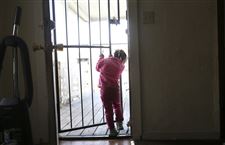 After Mariah Gaston, 3, was diagnosed with lead poisoning a year and a half ago, health officials declared her home too dangerous to live in. However, Mariah's grandmother said she had no idea of the order to vacate.
THE BLADE/KATIE RAUSCH
Enlarge | Buy This Image
Mesha Wallace knew her granddaughter had tested positive for lead poisoning more than a year and a half ago and the health department determined that her home was the likely source.
She made sure Mariah Gaston, now 3, took the recommended vitamins and had a diet full of fruits, vegetables, and iron-rich food. But Ms. Wallace said she had no idea there was a vacate order on her home, or that in the eyes of health officials, it wasn't safe for anyone to live there.
"No one never told me that I was supposed to leave, the landlord or the health department," said Ms. Wallace, 36.
The Ohio Department of Health this month published a list of 540 addresses in the state that have orders to vacate. The orders were issued after children who lived in the homes tested positive for lead poisoning and property owners failed to comply with health department orders to make improvements.
Lucas County has 27 properties on the list, the fourth most of any municipality in Ohio. All are in Toledo.
No one should be living in any of the houses on list, said Josh Niese, who oversees the lead program for the Toledo-Lucas County Health Department, which provided the local addresses to the state for publication.
But people are living in them.
VIDEO: Mesha Wallace
The Blade found more than half of the homes on the list are occupied or show signs of recent occupancy. Several residents — most of them renters — who answered their doors said they were unaware there were orders to vacate, though many were familiar with the property's history of lead problems or the child who had been poisoned there.
Each home on the list has been investigated for lead hazards after a child living at the address registered a blood lead level of 10 micrograms per deciliter or greater, double the Centers for Disease Control and Prevention's threshold for elevated levels. Owners on the list have not complied with orders to make improvements to the properties, prompting the order to vacate.
A placard describing the vacate order should be placed on each home.
Following inquiries from The Blade, Mr. Niese said health department officials are reviewing department policy. He said placards "should have been placed" on every home, but he said there is no way to guarantee that they stay up. The health department could not produce documentation showing when each property had a placard affixed to it or whether each property owner or tenant had been notified of the order.
"We have understood the deficiencies in the current process, and we are doing everything to shore up the process so it is corrected," he said. "We are changing our policies to make sure this doesn't happen moving forward."
Lead poisoning can damage a child's brain and nervous system, slow growth and development, and cause learning and behavior problems, according to the CDC. Lead-based paint, widely used in the United States before the federal government banned its residential use in 1978, is prone to releasing dust and chips that can be ingested.
The lead-tainted houses appear across Toledo. A full list of all properties in the state that should be vacated because of high lead levels is available at odh.ohio.gov/​pbhazproperties.
One woman answering the door with a young child in tow said she had moved in the previous week and knew nothing about lead hazards on the property; at another, a teenager said his family had moved in about a month ago and was unsure about the home's history.
Another said she was told her landlord had done the necessary repairs.
A handful of houses where no one answered the door had signs of occupancy, including cars in the driveway, dogs barking inside, and children's items on porches. The Blade found only a handful of the properties appear to be undergoing repairs.
THE BLADE
Enlarge | Buy This Image
Assessments made
After a child tests positive with a blood-lead level of 10 or greater, the case is referred to the health department for assessment.
"We will typically do a risk assessment of the home," Mr. Niese said. "If we feel the home is a source we can issue orders on the home to have them corrected."
In addition to looking for visual signs of lead hazards such as peeling or chipping paint, inspectors use an X-ray fluorescence gun that detects the presence of lead, he said.
Property owners have 90 days to correct problems and can apply for three, 30-day extensions, Mr. Niese said. After that, vacate orders are placed on the house and are lifted only after a follow-up inspection confirms required improvements have been made.
He said the department is reviewing why so many people continue to live in properties that have been deemed unsafe.
"We are working through ODH to clarify jurisdiction and authority and try to handle it on the local level," he said, adding that they are determining what authority the department has to enforce the vacate orders and whether they will need to seek out additional public health or housing orders.
"The situation we are in right now is unacceptable, so we need to address it and fix it," Mr. Niese said. In the meantime, he said the department will work with property owners and tenants to answer questions. He referred tenants needing assistance to United Way's 211 system for resources.
The orders on homes like Ms. Wallace's are separate from Toledo's lead-safe rental law passed last year, and are on the state's list because a child living there has been poisoned.
The Toledo-Lucas County Health Department is also tasked with overseeing and enforcing the city law, passed by city council in August and amended in April. It mandates rental properties with one to four units built before 1978 and home day-care centers be inspected by independent local inspectors and issued lead safe certificates. Inspections check for visual signs of hazards such as peeling and chipping paint, and test with dust wipes for lead dust concentrations.
Proponents of the law laud it as a preventive measure to keep children from being poisoned like those living in the 27 properties outlined by the state. But the law has met fierce criticism from landlords and some tenants who live in historic neighborhoods like the Old West End, who say it targets good landlords and is burdensome and expensive.
An estimated 30,000 to 50,000 rental units are to be inspected over a three-year cycle with the first deadline next year.
Under pressure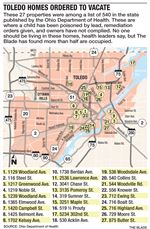 THE BLADE
Enlarge | Buy This Image
After learning her home was on the vacate list, Ms. Wallace said she is working to leave the central city house she's lived in since 2012. She said she's picking up extra hours at her job working on a line at a local factory.
"I am putting in 50 to 60 hours. ... I've been so tired," she said, sighing. "I'm just going to have to do it some type of way. I don't know how. I'm a big believer in God. Something will come through.
"A couple more paychecks and then all my money is going to go to moving. It's going to be rough, but it has to be done. I want to know, if I was supposed to leave here, why didn't nobody tell me?"
Though Mariah no longer lives in the house full time, she still stays there when Ms. Wallace needs to drive her to day care.
Ms. Wallace also worries about the other children in the house — her 15-year-old daughter, 14-year-old son, and 3-month-old grandson, Ozzie.
"I don't want him living here," she said. "The baby is eventually going to start to crawl and hang on the windowsills. I don't want him affected like she was. She had it bad."
Mariah struggles with behavior problems and other side effects from her lead exposure, her grandmother said. The family plans to recheck Mariah's blood lead levels and test the baby.
For his part, the owner of Ms. Wallace's home, Edward Hackett, said he has made improvements to the house but was unable to get a call back from the health department to schedule a follow-up inspection required to lift the vacate order.
Mr. Hackett said he believes the child's lead exposure came from dust and debris from a house on the street that was demolished, but he pointed out painting he had done on the house. Health department spokesman Shannon Lands said their records do not indicate Mr. Hackett has attempted to contact the department regarding work done on the home.
Now feeling the pressure to move out, Ms. Wallace said she worries about what options she and other families living in the affected properties have.
"Time is against us," she said, adding that all affected families "are going to have to make quick, drastic decisions. By hurrying up and trying to move, you're going to end up having to move into another junky place."
'I'd be gone'
Elizabeth Campbell, 29, said she too has never seen a vacate order posted on the North Toledo home she's lived in for three years.
"I'd be gone. I would leave, if I had somewhere to go right now I would go," she said after learning her home was on the list. "I know lead poisoning, I know how dangerous it is."
Her daughter Na'Tani, now 3, was a year old when she was tested for lead exposure during a doctor's appointment. The result: Her blood had 11 micrograms per deciliter, which triggered an investigation with the health department.
"I took action as soon as I found out," Ms. Campbell said, recalling the news her daughter's levels were elevated. When health department officials inspected the home, they found several trouble spots.
"They checked the bathroom, that was a big one, the window sills, out here on the porch, that's lead," she said. She called someone suggested by the health department to do remediation work.
"They said they need the landlord's permission [to do work] but they can't get in contact with him," she said.
Ms. Campbell said she has used cleaners and other products suggested by the health department to minimize hazards, but she has struggled to reach her out-of-town landlord to get any repairs done to her house.
Lucas County property records show the house changed owners twice in 2014 and is now owned by Hamad Alzanki, who has a Rochester, N.Y., mailing address. He bought the property from Ohio Cashflow LLC. Attempts to reach Mr. Alzanki were unsuccessful.
Ms. Campbell's 1-year-old son, Elijah, showed no signs of elevated levels when he was tested, she said, but she worries for him, Na'Tani, and 4-month-old Lathan.
"That just means I need to move, ASAP," she said.
Contact Lauren Lindstrom at llindstrom@theblade.com, 419-724-6154, or on Twitter @lelindstrom.
Guidelines: Please keep your comments smart and civil. Don't attack other readers personally, and keep your language decent. Comments that violate these standards, or our privacy statement or visitor's agreement, are subject to being removed and commenters are subject to being banned. To post comments, you must be a registered user on toledoblade.com. To find out more, please visit the FAQ.