A tiny pacemaker a little larger than a Tylenol sits in the right ventricle of Tom Evans, the first person in the Toledo area to receive the new device that is significantly smaller and without the wires of a traditional pacemaker.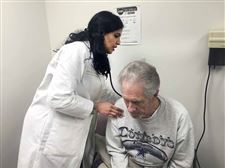 Dr. Kamala Tamirisa, left, uses a stethoscope to check Tom Evans at ProMedica Monroe Regional Hospital. Mr. Evans was the first in the Toledo area to receive a leadless pacemaker, which is smaller and doesn't require the wires of a traditional pacemaker.
THE BLADE/LAUREN LINDSTROM
Enlarge | Buy This Image
Mr. Evans, 82, of Monroe, has needed a pacemaker since the 1980s to regulate a slow heartbeat, but a persistent infection made installing another version of the traditional device risky. So on Oct. 26, he received the "Micra" leadless pacemaker, which does not require wires, or "leads," which can malfunction or get infected.
Unlike traditional pacemakers that have to be implanted by surgical incision, this new device can be placed in the heart through a catheter inserted in the groin. The Food and Drug Administration approved Micra, made by Minnesota-based Medtronic, in April, 2016. Medicare began covering the device in March — a key step to making it available and financially feasible for patients.
"The routine pacemakers we put in wires through the veins, screw them into the heart muscle, and then they are hooked up to a box that goes under the skin," said Dr. Kamala Tamirisa, a cardiologist who performed Mr. Evans' procedure at ProMedica Toledo Hospital. "It's a technology that withstood time, but it had its own pitfalls."
Infection and wire malfunctions are among the most common complications of traditional pacemakers, Dr. Tamirisa said. Instead, the Micra is planted directly in the heart muscle, where it's secured with small hooks and stabilized by scar tissue as it heals.
Mr. Evans, who has needed a pacemaker for 35 years, said his got infected in 2010, resulting in 11 surgeries and a bout of sepsis. He was deemed a good candidate for the leadless pacemaker for this reason.
"It was like a light switch when they turned it on, things changed completely," he said. "The pacemaker has been working great. ... It's been a life saver. I was ecstatic over it. I had to give my doctor a hug I was so happy with it."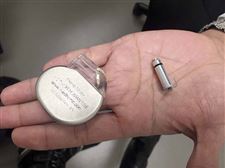 Dr. Kamala Tamirisa shows the difference in size of a traditional pacemaker, left, and a new leadless pacemaker.
THE BLADE/LAUREN LINDSTROM
Enlarge | Buy This Image
Mr. Evans said he needs to take fewer medications, has more energy, and is beginning to get back to his workout regimen.
About 200,000 pacemakers are implanted every year in the United States to treat patients with a slow heartbeat, according to the American College of Cardiology.

The Micra is expected to last longer, Dr. Tamirisa said, with an estimated battery longevity for about 11 years, up from seven to nine years for traditional pacemakers. She has placed three devices so far, starting with Mr. Evans.
"I think 5-10 years down the road this will pretty much become the standard," she said of the leadless devices.
The Micra has previously been implanted in patients at Mercy Health facilities in Cincinnati and Lima, as well as at St. Joseph Mercy Ann Arbor Hospital and the Cleveland Clinic.
Contact Lauren Lindstrom at llindstrom@theblade.com, 419-724-6154, or on Twitter @lelindstrom.
Guidelines: Please keep your comments smart and civil. Don't attack other readers personally, and keep your language decent. Comments that violate these standards, or our privacy statement or visitor's agreement, are subject to being removed and commenters are subject to being banned. To post comments, you must be a registered user on toledoblade.com. To find out more, please visit the FAQ.