ELMORE, Ohio — Christmas has returned to its regularly scheduled time for the Avers family.
The return to normalcy comes after the holiday was delayed last year following Peggie Avers' 16-foot fall through the family's attic and the painstaking recovery that followed. After plunging through the attic, Mrs. Avers, 48, hit a concrete garage floor. It was Dec. 2, 2016. Family members believe she was retrieving Christmas decorations, though they can't be sure because she has no memory of the accident or the month that followed.
Peggie Avers sits in front of the Christmas tree at her home in Elmore on December 18. Avers suffered a serious injury around Christmas last year and spent the holidays in the hospital.
The Blade/Amy E. Voigt
Enlarge | Buy This Image
But one year later, after about 30 days in intensive care in Toledo, six weeks in a Columbus rehabilitation facility, and months pushing herself in physical therapy, Peggie's family and care team marvel at her recovery.
They count their blessings when talking about little things that probably helped save her life.
Son Zak, 24, was home, which was unusual for a Friday. He had swept the garage, and the spot where she crashed through the ceiling did not have the snow plow and other equipment below.
Peggie arrived by ambulance at Mercy Health St. Vincent Medical Center with significant injuries, said Dr. John Leskovan, a trauma surgeon who was part of the team that initially treated her.
"She had some of the worst spinal fractures I'd ever seen," he said. "I remember talking to Steve about how sick she was, just based on the scans and her level of participating, it looked like it was not going to be a good outcome. ... I was trying to prepare the family for at best what I thought would be surely paraplegia and severe [traumatic brain injury] and that was the best outcome."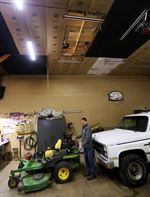 Steve Avers shows where his wife landed after falling through the roof in the garage, which is directly above him and covered with plywood.
The Blade/Amy E. Voigt
Enlarge | Buy This Image
Christmas 2016 was spent in St. Vincent's burn unit, where she'd been transferred because the department had space for her and she was able to get more closely monitored care. Even after her transfer to Columbus, Peggie struggled to communicate, follow questions, or make much movement.
One day in mid-January, she turned a corner.
"It was all at once," husband Steve Avers, 49, said. "The day before she was all over the map on yes and no [questions], and then the next day it was right there. ... It was only a couple days after that that we saw movement in her leg. Then everything was magnified."
Along with that increased awareness came the realization she was missing more than a month's time.
"Then I realized when it was, and I said, 'We missed Christmas!'" Peggie recalled. "But they said, 'Nope, we're doing it when you get home. We're waiting.'"
The family kept the decorations up — the tree, the lights, the stockings carefully spaced across the fireplace. It all stayed put for months, a holiday on hold much like the rest of their lives. They finally celebrated in March once she returned from Columbus.
Fast forward to this December, and the family has resumed many of their old traditions. The tree is up. They gathered on Christmas Eve to sing hymns and worship in a small family service they've held for several years. And Peggie is back to making hundreds of dozens of cut-out cookies which they sell around the holidays.
Steve Avers, left, helps his wife Peggie get out of the truck in the parking lot of their ice cream shop, I-Scream On Your Left.
The Blade/Amy E. Voigt
Enlarge | Buy This Image
Daughter Katy, 22, threw herself into the work last year to make sure the orders were filled, but now Peggie is back to baking and making sure each is decorated uniformly and to her standards. Much of the baking is done in the family's ice cream shop, "I Scream On Your Left," which they plan to sell this year after they decided keeping it proved too much to manage.
There is still progress to be made, the couple said. When insurance stopped covering physical therapy in October, Peggie and Steve started doing it from home.
Steve, who is a machinist, has made several adaptive devices to help her get around and continue her strengthening exercises — models of therapy tools he saw the professionals use but made cheaper and customized for Peggie.
The couple said small goals are key to recovery, little things between Day 1 and "back to normal."
Sitting up in bed for five minutes, wheeling herself across a 12-foot patch marked out on the floor, and taking those cautious first steps were all celebrated milestones. Mrs. Avers is working toward walking unassisted up to the front of the church they attend every Sunday to receive Communion.
"I've come a long way even since I came home," she said, adding that she sometimes discounts small accomplishments because they're skills most people can do. "But then I remember being home and not being able to do that particular movement. I've really come a long way."
Dr. Leskovan agreed.
"To see patients who come in and you anticipate not doing well at all, and then a year later they are remarkably different," Dr. Leskovan said. "That's one of the best parts of my job."
Contact Lauren Lindstrom at llindstrom@theblade.com, 419-724-6154, or on Twitter @lelindstrom.
Guidelines: Please keep your comments smart and civil. Don't attack other readers personally, and keep your language decent. Comments that violate these standards, or our privacy statement or visitor's agreement, are subject to being removed and commenters are subject to being banned. To post comments, you must be a registered user on toledoblade.com. To find out more, please visit the FAQ.