Mercy Health marks World Cancer Day
2/4/2018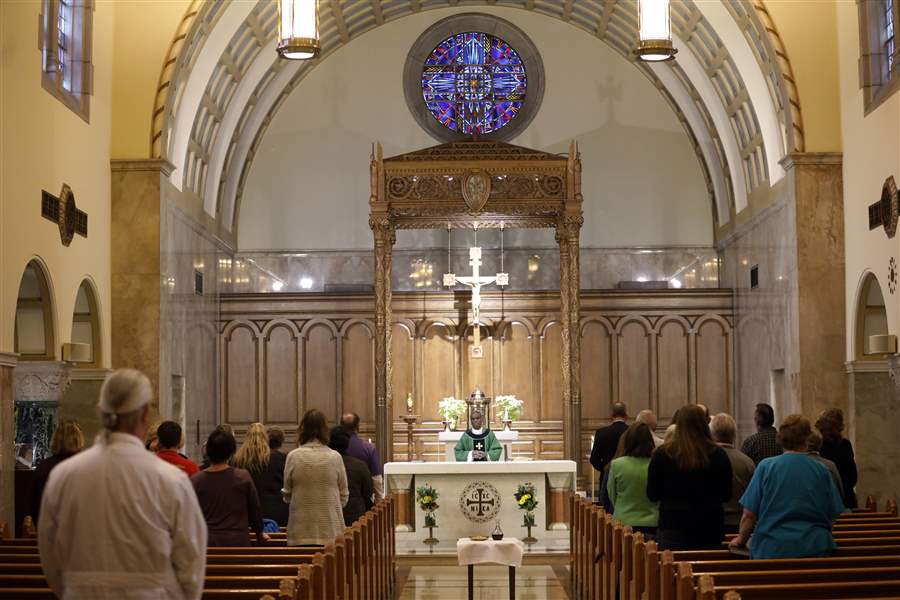 Father Francis Ejimofor, center, celebrates Mass for World Cancer Day Sunday at Mercy Health-St. Vincent Medical Center Chapel in Toledo. About 35 people attended Mass.
The Blade/Katie Rausch
Buy This Image
As the hymns and prayers drifted through the chapel, the Garcia family was giving thanks for good health and praying for others to have the same.
The East Toledo family joined more than two dozen people Sunday to worship during a World Cancer Day Mass at Mercy Health St. Vincent Medical Center's chapel. Eugene Garcia, 59, recently received a clean 6-month scan one year after a kidney cancer diagnosis.
"I was praying for other people who have cancer, hoping that they survive like I survived," he said. "I just thank God that I was cured and that it hasn't come back. I am grateful for everything that I've got now."
Mr. Garcia attended with his wife, Patty, 54, and 17-year-old granddaughter Makayla Fleenor.
Mercy Health staff, patients, and family members marked the day by asking for physical and spiritual healing for those dealing with cancer, as well as for the medical providers, family, and friends who are also affected. Readings and prayers focused on themes of suffering, healing, and God's protection.
The American Cancer Society estimates there will be more than 1.7 million new cancer diagnoses given in 2018 in the United States.
"World Cancer Day takes place every year on Feb. 4 and it's a day that unites the world in the fight against cancer," said Lori Mandery, oncology outreach coordinator for Mercy Health. "We're here today for fellowship and reflection to explore how everyone collectively and individuals can do their part to reduce the global burden of cancer. ... It is for our staff, our patients, their caregivers, families, everyone."
A reception followed the service.
Dr. James Tita, chief medical officer and a pulmonary critical care specialist, said he is often involved in the treatment of lung cancer patients, as well as other cancer patients who develop complications as a result of their cancer.
"There's something about cancer that it's more than just the physical disease," he said. "I think it's important to view each patient holistically and not only attend to their physical needs but also their emotional and spiritual needs. A Mass like this gives us the opportunity to address those spiritual needs as well."
Contact Lauren Lindstrom at llindstrom@theblade.com, 419-724-6154, or on Twitter @lelindstrom.