Toledo-Lucas Co. health department to discontinue many clinical services
2/22/2018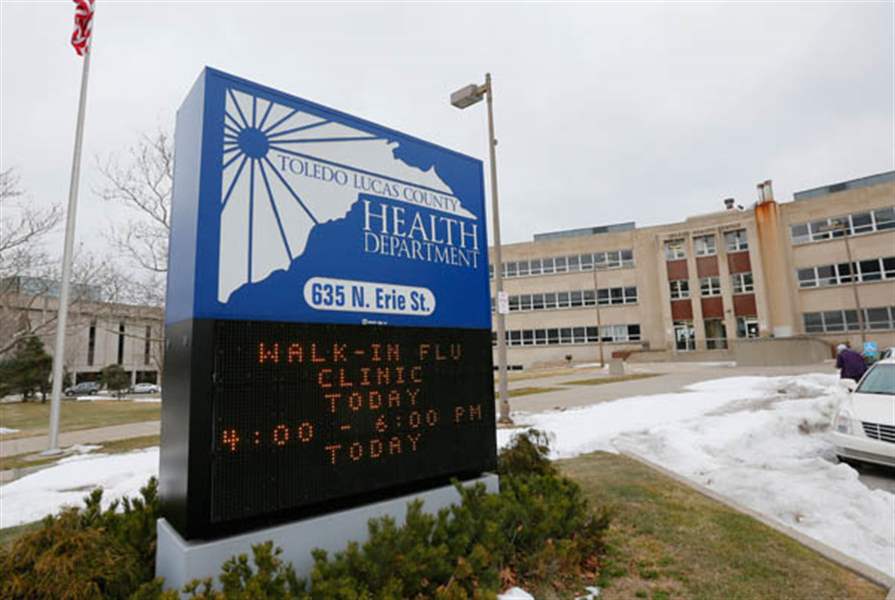 The Toledo-Lucas County Health Department at 635 N. Erie St. The department's board on Thursday voted to discontinue many of its clinical services at this site and its Western Lucas County Clinic and spin them off into a separate entity.
THE BLADE/FILE
Buy This Image
The Toledo-Lucas County Health Department will end many of the clinical services at its downtown and western Lucas County sites following a health board vote Thursday to spin off those services into a separate non-profit entity.
The 10-0 decision to terminate its agreement with the Toledo-Lucas County Health Center means the department will get out of most direct medical services by a goal date of July 1.
Health Commissioner Eric Zgodzinski said finances played a primary role in the decision and told board members Thursday, "It was not an easy recommendation to make."
The department will continue to offer its sexually transmitted disease clinic, child and adult immunizations, mobile vision clinic that visits area schools, tuberculosis testing, and some pharmacy services such as naloxone distribution.
It will drop its dental services, family practice, and obstetrics, which will move over to the new non-profit. Nine to 15 health department employees would be laid off, Mr. Zgodzinski said Wednesday.
The clinics have long been a financial drain on the health department's overall budget, accounting for $1.4 million in 2017 to care for about 5,000 patients who use those clinics as their primary health care provider, he said.
In 2017 the clinics operated at a more than $677,000 deficit; the health board approved transferring money from the department's general fund to cover that loss. The department has been supplementing the clinics from the general fund since 2014.
The department faced a $100,000 shortfall by year's end if nothing changed, Mr. Zgodzinski said.
"Public health really needs to focus on public health issues," he said. "Clinics and individual health is not a part of public health ... it's not a central part of its duty, mission or need to protect the 435,000 individuals who live in this community."
In 2015 the health department entered into a co-applicant agreement with the Toledo-Lucas County Health Center to become federally qualified health center, or FQHC. Under this agreement the department would financially support the center's clinics while operating two separate boards to govern the health department and the health center.
The FQHC will now be spun off on its own, and the health department on Thursday transferred to the new entity the 501(c)3 designation it needs to operate as a non-profit. Jennifer McCloskey, project director for the FQHC, said they are searching for a new location near downtown so patients don't have to move far, as well as space in western Lucas County.
The new entity would have to reapply for the federal designation and funding once it is on its own, Ms. McCloskey said.
Mr. Zgodzinski said the clinics have long been hamstrung by the two-board situation, often having to wait for the health board to make staffing and budget decisions. The clinics make up one of two FQHC designations in Toledo. The other is Neighborhood Health Association.
Joseph Dake, president of the Toledo-Lucas County Health Center board, said during that board's meeting Thursday afternoon that the decision was difficult for staff, but was a way to "take charge of our own destiny" because inaction put them in a worse position.
"This was the part we were dreading when we knew there had to be a decision made," he said. "If it wasn't now it was going to be not too distant down the road that these same kinds of conversations were going to be had... I am more comfortable with this decision than letting the chips fall where they may."
He said he hopes a portion of the laid-off staff can take jobs at the new health center, but position descriptions are still in the works. The board will also need to hire a chief executive officer.
"The decision that was made this morning was what's best for the thousands of patients we see, even though there is a very significant hard time for those staff members who are going to be impacted by this," said Mr. Dake, who is a professor of public health at the University of Toledo.
Despite a loss in health department funding, Mr. Dake said he expects the new center will be financially stable due to structural changes under the new arrangement, including more organizational flexibility and improved billing procedures.
Health department board Vice President Ted Kaczorowski, who chaired the committee to study the clinics, said after Thursday morning's meeting he was confident that the new entity will be able to successfully stand on their own.
"I have no doubt that they will," he said. "These people are committed to making this work."
The department will decide what to do with the space it currently rents for the Western County Clinic in the Spencer Township Neighborhood Center. Mr. Zgodzinski said it could be additional office space for employees who work in that area.
Contact Lauren Lindstrom at llindstrom@theblade.com, 419-724-6154, or on Twitter @lelindstrom.