Ohio Medicaid director visits Toledo to tout program expansion
8/29/2018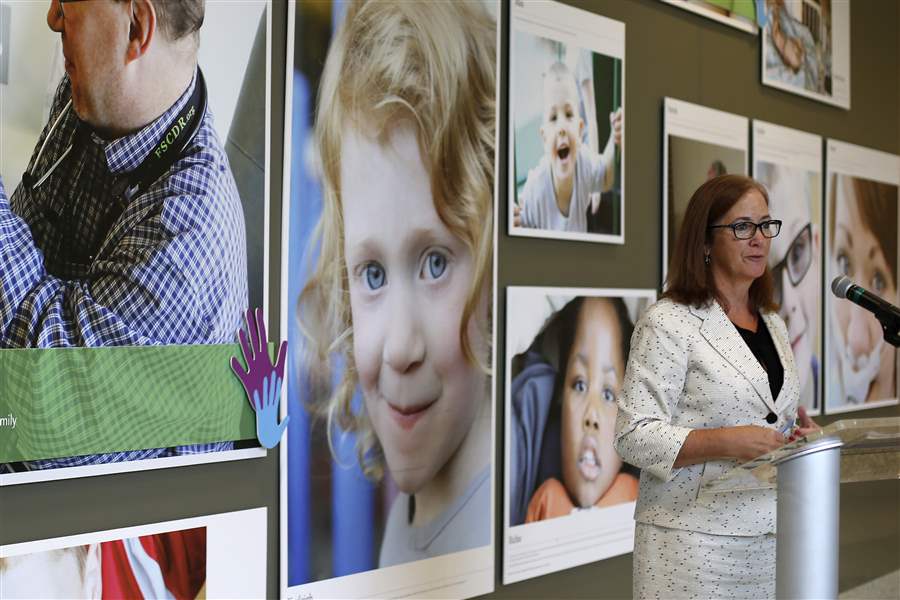 Ohio Medicaid Director Barbara Sears speaks about Ohio's Medicaid expansion report during a press conference at ProMedica Toledo Hospital on Wednesday.
THE BLADE/SAMANTHA MADAR
Buy This Image
Ohio Medicaid Director Barbara Sears visited Toledo on Wednesday to tout the success of the state's Medicaid expansion, calling the program that insures just under 700,000 adults "affordable and manageable."
At the event at ProMedica Toledo Hospital, she highlighted the decreasing number of uninsured adults in the state and shared stories of local residents who gained coverage through the expansion.
Ms. Sears pointed to findings in a recently-released report assessing Ohio's expansion population and the state's cost of insuring them.
The number of adults insured through the expansion — eligible to adults with incomes up to 38 percent above the federal poverty line or about $16,700 a year for an individual — is trailing off, Ms. Sears said. At the end of July, 656,000 were enrolled statewide, down from an average of 720,000 last year.
Of those previously enrolled in the Medicaid expansion, Ms. Sears said 290,000 left because they got a full-time job or worked enough hours to get coverage through an employer.
That shows the program is working — having insurance leads to people getting healthier and, therefore, more likely to find and keep employment, she said.
"That is an astounding number when you think about it from a workforce development tool," she said.
RELATED: Medicaid expansion benefits state financially, study says
Among those who have left Medicaid is Andrea Vasquez, 51, of South Toledo.
Andrea Vasquez, 51, of Toledo poses for a portrait at ProMedica Toledo Hospital on Wednesday.
Ms. Vasquez qualified for Medicaid through the expansion, something she said helped her meet health care needs for high blood pressure and ongoing screenings after a bout with cancer about a decade ago.
"Employer-sponsored coverage is prized by working families like mine but typically doesn't come with low-paying or part-time jobs, even if you had more than one job as I often did," she said. "That's why Medicaid coverage is so important, and I needed it."
Now through her work as a community health worker with Toledo/Lucas County CareNet, Ms. Vasquez has employer-offered insurance.
Ms. Sears and Gov. John Kasich, both Republicans who supported expanding Medicaid, said the program is financially sustainable. In comments last week, Mr. Kasich said the 10 percent share of expansion costs Ohio will take on by 2021 will actually be 3.2 percent — or $163 million — thanks to various budget offsets.
Among the coming changes to the program is the state's work and community engagement requirement, which would compel Medicaid expansion enrollees who do not fall under a variety of exemptions to work or participate in various training or education services for an average of 20 hours per week.
State officials sought federal approval to begin such a requirement earlier this year. Ms. Sears said she estimates that approval to come by the end of the year, though requirements would not go into effect until several months after that.
Because of the exclusions, including for those in substance abuse treatment, in school, who are caregivers to someone disabled in their household, pregnant, or are 50 years or older, Ms. Sears estimates between 5 percent to 6 percent of expansion enrollees would qualify for work requirements.
To avoid challenges similar to those in other states such as in Kentucky, where a federal judge blocked similar work requirements, Ms. Sears said Ohio will have systems in place to know from the beginning who is exempt.
Ohio's planned requirement also does not penalize people who do not meet requirements with a period where they are frozen from re-enrolling but will re-enroll them as soon as they are in compliance and will cover three months retroactively.
Investing in the Medicaid expansion has shown access to health care can help people find and keep work, she said, which leads to inquiring what other barriers stand in the way of employment.
"I think that's a fair question to ask," she said. "If [a work requirement] helps to encourage someone to get involved in their community through volunteering, to go back to school ... or to actually begin to work, I think those are all three healthy opportunities.
"If there is something that is preventing that from happening, I think we have a responsibility as the state to identify what that is and determine if that's a barrier we can take down."
The future of Ohio's Medicaid expansion will depend in large part on Mr. Kasich's successor.
After sparring with his opponent on the issue during the Republican primary, gubernatorial candidate and Ohio Attorney General Mike DeWine, on the day that he received the endorsement of the Ohio State Medical Association, said he would keep the Medicaid expansion.
But he would pursue work requirements similar to what Mr. Kasich is already seeking approval on from the federal government, encourage participants to meet certain wellness benchmarks, and seek to control prescription drug prices.
"A freeze in enrollment is not a part of our plan," spokesman Joshua Eck said. "Other than that, he plans to keep Medicaid."
Richard Cordray, Mr. DeWine's Democratic opponent, said health care would be a priority should he be elected.
"My focus as governor will be on keeping health care costs down for the middle class and using the Medicaid expansion as a powerful tool to combat the opioid epidemic, protect our rural hospitals, and keep Ohioans healthy," Mr. Cordray said last week.
Contact Lauren Lindstrom at llindstrom@theblade.com, 419-724-6154, or on Twitter @lelindstrom.