Treasurer's office adds naloxone to protect against opioid exposure
9/7/2018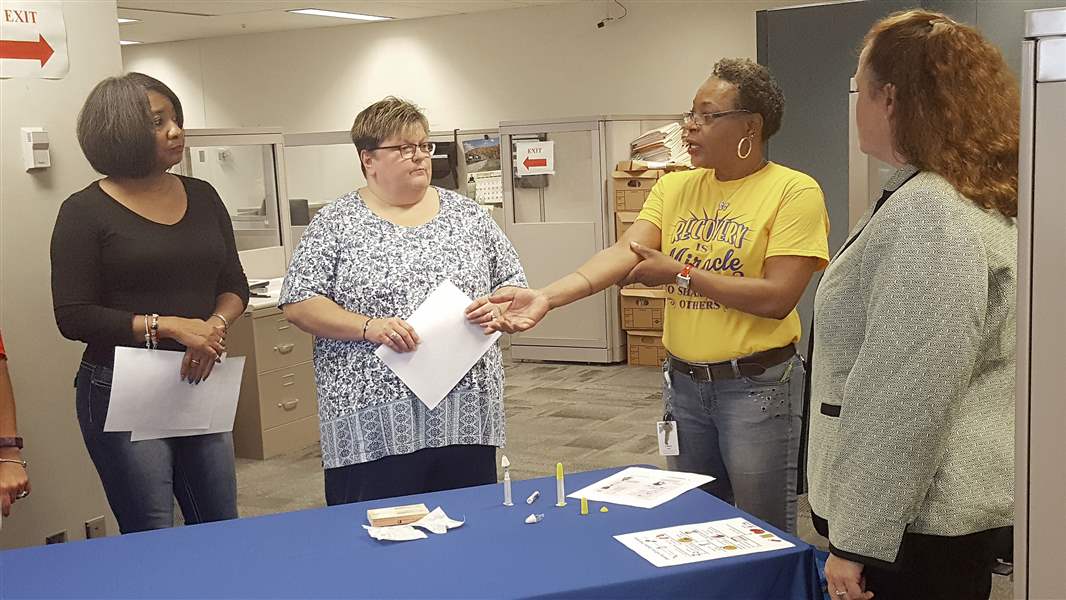 Kim Toles, second from right, the Toledo-Lucas County Health Department opiate program coordinator, presents how to administer naloxone at the Lucas County Treasurer's Office. Head teller Yolanda Butts, cash management supervisor Gina Hughes, and Treasurer Lindsay Webb look on.
THE BLADE/RYAN DUNN
Buy This Image
Naloxone kits
Tens of thousands of dollars pass each day into the Lucas County Treasurer's Office, including cash bills that could carry drug remnants.
Officials on Friday added two kits of naloxone medication — commonly known by the brand name Narcan — that can reverse an opioid overdose's effects. Cashiers also completed training in administering the antidote.
It's a cautionary measure allowing workers to keep themselves and the public safe during a drug exposure or customer overdose, Treasurer Lindsay Webb said. A small amount of fentanyl could be dangerous, Ms. Webb said.
WATCH: Lucas County Treasurer Lindsay Webb talks about the naloxone kits
"Without the kits, you are helpless. With the kits, you have some options," Ms. Webb said.
Ms. Webb said she was startled by this summer's accidental exposure to on-duty first responders. It was a reminder of the significant opioid problem locally, she said.
Safety of employees remains paramount, and she met with treasurers in the region who expressed similar concerns, Ms. Webb said. Members of the office also discussed glove use, but have not yet decided to do so, she said.
Naloxone will provide aid in the time before first responders arrive. During peak collection periods, there are many visiting the office providing taxes, she said.
"We could have a line out the door, easily during collection, of people wanting to pay their property taxes, make payment arrangements, or whatever it is," Ms. Webb said. "If someone from the public overdoses, and we didn't have naloxone available, we would call 911 and would hope the response time would be appropriate."
Yolanda Butts, head teller, said they come into contact with money and people every day. The risk is scary, but this training is a good program, she said.
Kim Toles, the Toledo-Lucas County Health Department opiate program coordinator, instructed employees how to administer the spray.
Ms. Toles has trained those who typically work in the field, such as Toledo Area Regional Transit Authority bus drivers, Toledo Edison Co. engineers, and child welfare workers.
She encouraged looking for overdose signs such as difficulty breathing and clammy skin, providing the naloxone antidote, and calling 911.
"What you have to do, like we're doing here, is get people trained in different offices and homes so that there's always somebody there who knows that the naloxone is available," she said.
A health department spokesman said they have given out 1,471 naloxone kits so far this year. There are 47 reported overdose deaths of Lucas County residents through May.
Contact Ryan Dunn at rdunn@theblade.com, 419-724-6095, or on Twitter @RDunnBlade.