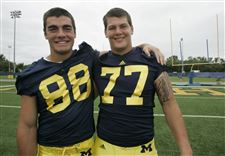 University of Michigan football players Craig Roh, left, and Taylor Lewan, right, pose together on media day in Ann Arbor, Michigan.
The Blade/Dave Zapotosky
Enlarge | Buy This Image
ANN ARBOR -- Before Brady Hoke and Greg Mattison came to town in January, Michigan defensive end Craig Roh had one objective -- to achieve perfection.
Ultimately, but perhaps not soon enough, Roh realized that perfection simply wasn't possible, at least not with sticklers like Hoke, head coach, and Mattison, defensive coordinator, analyzing his every move. The veteran coaches criticized his technique, showing Roh just how imperfect he was. At one point during fall camp, they praised just about every defensive lineman in news conferences not named Craig Roh.
It marked a low point for Roh, a three-year starter. But it actually got lower when the Wolverines played their first game Sept. 3 against Western Michigan. Roh was a non factor. Zero sacks, zero tackles, zero impact. A perfect game, this certainly was not. What it was, according to Roh, was rock bottom.
"The first game, I didn't perform that great," Roh said. "I just had that break down after the first game, and since then it's been going uphill. I thank God for that."
Roh said the weight of a difficult fall camp combined with a nondescript showing in the season opener caused him to have "an emotional release" in front of his parents.
He's feeling better about himself this week leading up to No. 22 Michigan's final non conference game against San Diego State on Saturday. Roh, whose slump continued through the Notre Dame game when he failed to register a tackle, snapped out of his funk last week in a 31-3 win over Eastern Michigan. His sack of Eagles quarterback Alex Gillett marked the first by a Wolverines lineman since the Wisconsin game last November. Roh finished the game with five tackles, and though he fell short of perfection, he elicited praise from his coaches.
"He kept working and kept working and you could see it happen a week ago in practice," Mattison said.
Roh told Mattison: "Coach, I've never heard that everything I did wasn't good before."
To which Mattison responded: "Well, it isn't -- not to the level that I want you at."
Criticism isn't something Roh received much early in his career, when he was a fixture in the starting lineup, first at linebacker, and then at end. In his career, Roh has totaled 85 tackles, 14 tackles for loss, and 3.5 sacks.
"I'm a perfectionist, so I like to think that everything I do is perfect, and football is one area where I could be perfect," Roh said. "Once coach Mattison came in, I wasn't perfect anymore. I was completely imperfect in every shape and form."
Roh's team is perfect, at least when it comes to its win-loss record. A victory Saturday against San Diego State won't come easy for the Wolverines -- or for Roh. His providing pressure on standout quarterback Ryan Lindley will be vital, as will trying to contain running back Ronnie Hillman, the nation's second leading rusher.
Roh believes his play is on the uptick following the EMU game. He's ready to put rock bottom deeper and deeper in his rearview mirror.
"I have such a more positive attitude coming into practice and it's really helped me with my play," Roh said.
BIG CHALLENGE: Western Michigan quarterback Alex Carder is one of the best unknown quarterbacks in the country, and Notre Dame's Tommy Rees is, perhaps, a budding star. Neither of them, though, compares favorably to SDSU's Lindley, according to Mattison. A four-year starter, Lindley will clear 10,000 passing yards this season and is considered one of the top quarterback prospects in next year's NFL Draft. He is completing 53 percent of his passes for 622 yards and has thrown seven touchdowns compared to one interception.
"You've got a quarterbacks that's been the best quarterback we've played," Mattison said. "He'll play in the league. He has an arm that can throw it hash to hash. He's the real deal."
Lindley can be just as effective by turning around and handing the ball off to Hillman, a sophomore whom Hoke and several UM assistants coached last year at SDSU when he was a freshman. Hillman's 497 rushing yards rank second in the country, and his eight TDs tie for first.
"This is a guy that can be physical, can be really quick and miss tackles, and has and will run away from you if he gets in the open field," Mattison said. "This will be the toughest back we've played without a doubt."
Contact Ryan Autullo at: rautullo@theblade.com, 419-724-6160 or on Twitter @RyanAutullo.
Guidelines: Please keep your comments smart and civil. Don't attack other readers personally, and keep your language decent. Comments that violate these standards, or our privacy statement or visitor's agreement, are subject to being removed and commenters are subject to being banned. To post comments, you must be a registered user on toledoblade.com. To find out more, please visit the FAQ.