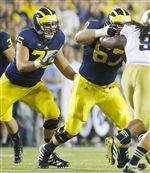 Michigan's Michael Schofield, left, has turned into one of the leaders for the Wolverines.
blade Enlarge
TEMPE, Ariz. — Mike Schofield may have been overshadowed this season by his more high-profile counterpart at offensive tackle. Yet through the course of his final season with the Michigan football team, Schofield has elevated his game to the point where he's been mentioned as a potential NFL prospect.
"This year, I feel like I became more vocal, and more of a leader," said Schofield, a fifth-year senior. "That's what you have to do when you're a senior."
Schofield can clearly chart his verbal growth; he recounted what UM offensive line coach Darrell Funk said to him a year ago.
"Coach Funk always joked that I said 25 words — the whole year," Schofield quipped. "I think this year, it might be closer to 100. But I felt like being a leader was one of the things that helped me become more vocal."
Michigan (7-5) faces Kansas State (7-5) in the Buffalo Wild Wings Bowl at 10:15 p.m. on Saturday at Sun Devil Stadium, and Schofield will anchor the right side of an offensive line that has a pair of young guards and a redshirt sophomore at center, and a unit that may face the Wildcats with an untested quarterback.
UM coach Brady Hoke said Monday that his team is preparing with freshman Shane Morris at quarterback instead of Devin Gardner, who has not practiced this month because of turf toe. Hoke said Gardner has to practice by today in order to have any chance to play on Saturday.
Schofield is one of three players at Michigan whom analysts forecast as draft possibilities, joining likely first-round pick and left tackle Taylor Lewan and wide receiver Jeremy Gallon. Hoke said last week that some of UM's underclassmen are testing the NFL draft waters, but he did not name those players.
Earlier this season, ESPN draft guru Mel Kiper said Michigan's offensive tackles have been the stalwarts on the field, and pointed out Schofield as a potential second or third-day pick. Last week, ESPN analyst Todd McShay projected the 6-6, 310-pound right tackle as a late selection and said that being an offensive lineman works in Schofield's favor.
"I think Schofield has some limitations, but there is the size there," McShay said. "He's got a chance to be a Day 3 pick. Teams can't get enough depth at that position. The worst-case scenario, you bring him in as a free agent and let him work to make the team. He'll get enough looks."
Gallon has earned some consideration as a draft pick, but his numbers alone from this season (80 catches for 1,284 yards and nine touchdowns) may not warrant great interest from NFL teams.
"He's not very fast, he's not very big, but he's quick and he'll make some guys miss," McShay said of Gallon, who is generously listed at 5-foot-8. "He knows how to separate, does a good job against zone coverage. He's another one who's going to have to get in and earn his keep on special teams and find a way to get on a roster. But he's got a chance to be a No. 4 or 5 wide receiver and help on special teams."
Schofield plans to begin training after the bowl game for a shot at the NFL draft in May but says he's remained blissfully unaware to date of what the pundits may forecast for him.
"My dad reads what [analysts] say, but I don't, and my dad loves that stuff," Schofield said. "He emails me about it, but I just delete the email without even opening it. I don't listen to that stuff."
LEWAN PART OF PROBE: Lewan is part of an Ann Arbor Police Department investigation surrounding an altercation earlier this month.
AnnArbor.com reported Tuesday that police confirmed Lewan was in the area of a fight that occurred the morning of Dec. 1 on South University Avenue. Police confirmed that an investigation is taking place into the incident and that Lewan has not been arrested and no charges have been filed. Michigan officials have not commented.
Contact Rachel Lenzi at: rlenzi@theblade.com, 419-724-6510, or on Twitter @RLenziBlade.
Guidelines: Please keep your comments smart and civil. Don't attack other readers personally, and keep your language decent. Comments that violate these standards, or our privacy statement or visitor's agreement, are subject to being removed and commenters are subject to being banned. To post comments, you must be a registered user on toledoblade.com. To find out more, please visit the FAQ.