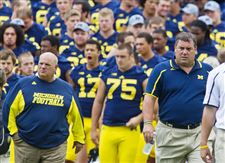 Michigan offensive coordinator Al Borges, left, was relieved of his services. UM averaged 373.5 yards per game, 10th in the Big Ten.
ASSOCIATED PRESS Enlarge
ANN ARBOR — Al Borges is no longer a part of the Michigan football program.
UM announced Wednesday that coach Brady Hoke relieved the offensive coordinator of his responsibilities, following a 7-6 season in which the offense went from effective to dreadful.
"Decisions like these are never easy," Hoke said in a statement released by the athletic department. "I have a great amount of respect for Al as a football coach and, more importantly, as a person. I appreciate everything he has done for Michigan football for the past three seasons."
A Michigan spokesman said Wednesday that there was no immediate timeline to hire a new offensive coordinator but Web sites CBSSports.com and FootballScoop.com reported that Michigan will hire Alabama offensive coordinator Doug Nussmeier.
Prior to a 31-14 loss to Kansas State on Dec. 28 in the Buffalo Wild Wings Bowl, Hoke told reporters he anticipated that his staff would return for 2014, pending evaluation.
While Borges came to Michigan in 2011 with the reputation of being an offensive wizard, his sorcery ran out on this year's Wolverines.
UM's offense was 86th in the NCAA and 10th in the Big Ten, averaging 373.5 yards this season.
In Borges' first two seasons, Michigan averaged 404.69 yards in 2011 and 383.1 in 2012. Its passing game averaged 247.8 yards this season but its running game staggered after a 5-0 start and averaged 125.7 yards, 11th in the Big Ten.
Fitzgerald Toussaint led the Wolverines with 648 yards but never found his footing and in the end, Michigan went with a tandem of untested freshmen in Derrick Green and De'Veon Smith. Michigan ran for 282 yards in its final five regular-season games, including minus-69 yards rushing in losses to Michigan State and Nebraska.
The tinkering of the pro-style offense began after near-losses to Akron and Connecticut. Devin Funchess played in a role that was a tight end/​wide receiver hybrid, and a constantly shuffled and young offensive line couldn't protect quarterback Devin Gardner. Gardner was sacked 23 times in November and sustained an injury to his left foot, which Hoke deemed as turf toe.
Following the bowl loss to Kansas State, in which UM finished with 261 yards, Borges declined to offer any comment.
National signing day is Feb. 5, when Michigan is expected to bring in a 16-player class and several of the 2014 recruits spoke out on social media Wednesday, including Maurice Ways, a wide receiver from Detroit Country Day School.
"Still 100% Michigan," Ways wrote on his Twitter account.
Damien Harris, a running back from Kentucky who is expected to be a part of the 2015 recruiting class, expressed his surprise on his Twitter account.
"Man ... I can't believe this about Coach Borges," Harris wrote.
Per his contract, obtained by The Blade through a Freedom of Information Act request, Borges earned a base salary of $250,000 in each of his three seasons at Michigan, and received additional compensation of $350,000 in 2013 and a bowl bonus of $10,500 this season.
Borges, 58, loses $200,000 in deferred compensation. Because he was terminated, his contract states that he will receive "an amount equivalent to the Base Salary and additional compensation in monthly installments for the remaining term of this Agreement, subject to the Coach's obligation to seek comparable alternate employment in his field of expertise."
Borges' contract was set to expire Dec. 31, 2014.
Contact Rachel Lenzi at: rlenzi@theblade.com, 419-724-6510 or on Twitter @RLenziBlade.
Guidelines: Please keep your comments smart and civil. Don't attack other readers personally, and keep your language decent. Comments that violate these standards, or our privacy statement or visitor's agreement, are subject to being removed and commenters are subject to being banned. To post comments, you must be a registered user on toledoblade.com. To find out more, please visit the FAQ.