ANN ARBOR — Platoons are all the rage in sports.
Outfields, point guards, and, most popular of all, running backs.
Michigan is no stranger to using multiple players in the backfield. But this year's duo of Karan Higdon and Chris Evans is one of the most imposing in the country.
Higdon is a 5-foot-10, 202-pound bowling ball who can run over, through, or around defenders. The 5-foot-11, 216-pound Evans is a speedster who can carry the football 20 times and be a threat in the passing game.
"Chris and Karan are both starting running backs," running backs coach Jay Harbaugh said. "It's a 1-1 punch. Not many teams have that."
WATCH: Jay Harbaugh on Higdon and Evans
His statement echoed the words of another Harbaugh.
"They're going to be asked to carry a heavy load this year again as back one and back one," Jim Harbaugh said at Big Ten media days.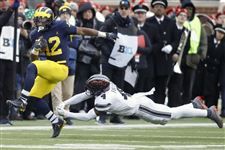 Michigan's Chris Evans dodges Ohio State's Jordan Fuller on a run during last year's rivalry game.
Blade/Katie Rausch Enlarge
Higdon and Evans combined for 1,679 rushing yards and 17 touchdowns last season, 72.6 percent of Michigan's total yardage on the ground and all but nine rushing touchdowns. Higdon finished with a team-high 994 yards and 11 touchdowns, and Evans had 685 yards and six touchdowns.
If Higdon had finished with six more yards — 18 feet — a camp storyline would be who's going to be the backup running back. He admitted at Big Ten media days that surpassing 1,000 yards would have spurred him to enter the NFL draft. Ironically, Higdon came up short because of a fumble in the Outback Bowl.
"If I touched 1,000, I was leaving," Higdon said.
One broken tackle, one juke to the right, one less fumble. It could all be so different for Higdon and Michigan. But the senior isn't looking back with regrets. Yeah, he could do without the fumble and fourth-quarter meltdown. However, all that stuff came with blessings, as far as Higdon sees it.
He'll leave Michigan will his degree, a memorable career, and he hopes a 1,000-yard senior season. The last Michigan running back to eclipse that number was Fitzgerald Toussaint in 2011.
'[1,000 yards] wasn't meant to happen,' Higdon said. "That's how I look at it. It's only put me in a better position to achieve more this year."
If you were to draw a Jim Harbaugh ball carrier, he would resemble Higdon — big, brawny, powerful, and elusive. The total package for a running back. Higdon's best attributes off the field — hard worker, leader, tough — are also qualities that earn respect from Harbaugh.
Animosity inside the running back meeting room doesn't exist. Higdon and Evans' support of one another is not an act; the two genuinely are friends away from the field. Running back is a unique position where competing with someone isn't always trying to take away their job.
There's only room for one quarterback. That's not the case with running backs.
"That's my brother," Higdon said. "He's a great player and he's going to do a job, too. Putting both of us on that pedestal, I know at the end of the day, regardless of who's starting a game and who's finishing it, we're both going to leave it on the field and do damage."
Michigan will have no qualms with getting the ball in Evans' hands. The Wolverines will seek out opportunities for the junior to touch the football because of his explosiveness. As a space creator, Evans thrives on route-running and the ability to separate.
A year ago, he had only 10 rushes and 45 yards per game. The offense's general ineptitude was one cause, but Evans' poor pass protection made him a liability.
"Both have improved working in conjunction with the O-line making sure our quarterbacks feel confident and can play fast and step into throws and not be concerned about their backside or other pressure," Jay Harbaugh said. "Overall, we've seen a big jump forward for that whole group."
During the offseason, Higdon and Evans were ringleaders in developing the team's 2018 message of "not talk about it, be about it." Their voice will ring even louder on the field.
"The best thing about both of them is the consistency day in and day out," Jay Harbaugh said. "They both bring it in terms of meetings, lifts, and practice. Their actions are truly in line with the goals that they have for themselves and what we have as a team. That consistency of an approach is pretty special, and all the other guys fed off that."
Contact Kyle Rowland at krowland@theblade.com, 419-724-6110 or on Twitter @KyleRowland.
Guidelines: Please keep your comments smart and civil. Don't attack other readers personally, and keep your language decent. Comments that violate these standards, or our privacy statement or visitor's agreement, are subject to being removed and commenters are subject to being banned. To post comments, you must be a registered user on toledoblade.com. To find out more, please visit the FAQ.