3 observations from Michigan's romp over Western Michigan
9/9/2018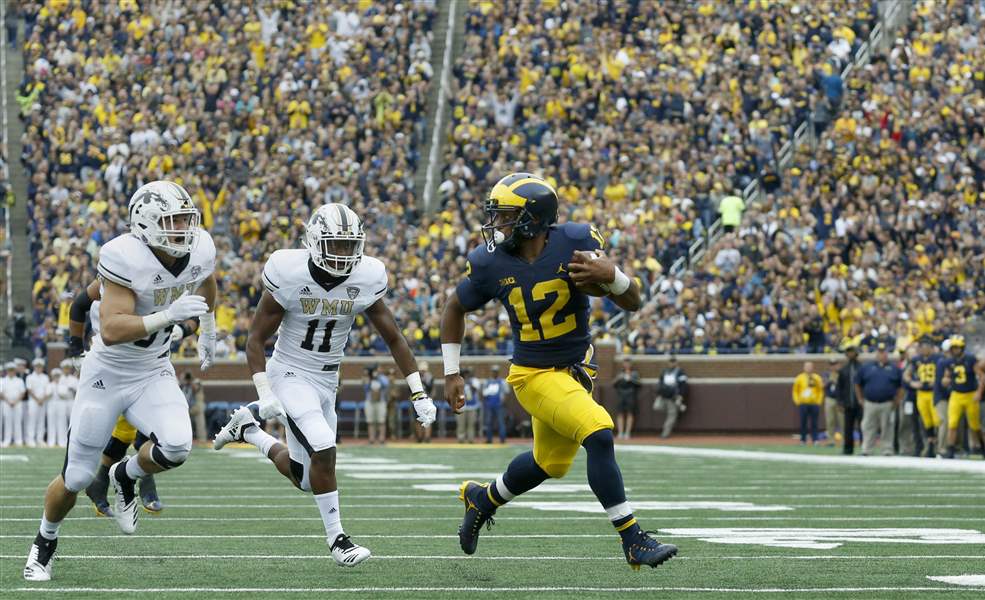 Michigan's Chris Evans outruns Western Michigan defenders for a touchdown.
BLADE/LORI KING
One week after the Michigan offense never got untracked vs. Notre Dame, the No. 21 Wolverines ran all over Western Michigan on the way to a 49-3 victory Saturday. Here's what fans can take from the one-sided win:
■ Western Michigan's defense isn't going to have a good year, but you have to start somewhere. That's exactly what Michigan's offense did. Shea Patterson was in control, completing 12 of 17 passes, three resulting in touchdowns, and the running lanes were wide enough to drive a Mack truck down the field. This is the unit envisioned before the season. There's another tuneup this week against SMU before Nebraska rolls into Ann Arbor on Sept. 22.
■ Michigan no longer has to hear about its receiver touchdown-less streak. Until Nico Collins caught a scoring pass, it had been almost one full year since a Michigan receiver accomplished that feat, 364 days in all. By the end of the season, it probably will just be an odd statistical anomaly.
■ The first quarter of the Notre Dame game feels like a distant memory for the defense. The Wolverines have been stout in the defensive department since. Western Michigan was limited to 208 total yards and less than three yards per play. UM had eight tackles for loss and two sacks, with Josh Metellus, Rashan Gary, and Josh Ross inflicting most of the damage.
Contact Kyle Rowland at: krowland@theblade.com, 419-724-6110, or on Twitter @KyleRowland.