Linda Jefferson is one of only four women to be inducted into the American Football Association Hall of Fame.
It's official: A motion picture called Perfect Season will be made in Toledo to recognize how the city's first female professional football team, the Toledo Troopers, contributed to the women's movement in the 1970s.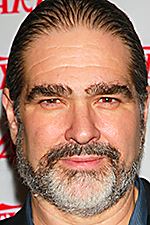 Leonard
Brett Leonard, the Hollywood film director and producer behind the project, said he signed a contract Thursday to make the film with Guy Stout and Steve Guinan, two native Toledoans who wrote the screenplay.
Casting is planned this fall, with filming in late spring or early summer of 2014. The timetable calls for Perfect Season to hit theaters in the fall of 2014.
Mr. Leonard, also from Toledo, said he plans to be in town the last week of August to scout locations and meet with public officials, including Mayor Mike Bell.
The visit will culminate Aug. 31 with an event at the Maumee River Yacht Club billed as the Toledo Troopers reunion/Perfect Season kickoff party.
About 250 people are expected to attend the invitation-only event, including many of the 80 women who played for the Troopers before the team disbanded in the late 1970s. Some who have confirmed have vowed to travel from as far away as North Carolina, Florida, and California, Mr. Stout said.
Mr. Bell said he has fond memories of the Troopers, describing the team as one of the city's iconic symbols.
"It is a good thing for our city that group is being recognized, because it shows how forward-thinking our city is," Mr. Bell said. "We will bend over backwards to make sure whatever hurdles are in the way are removed to make this successful."
Many people know feminist Gloria Steinem, 79, was born in Toledo and attended Waite High School.
Perfect Season's goal is to shed light on how the Toledo Troopers helped advance equal opportunity in athletics and give more relevance to Title IX, the 1972 federal civil rights act that outlawed sex discrimination in education, including sports. The act wasn't fully implemented until the end of the 1970s, when colleges and universities were ordered to provide equal opportunities for athletic scholarships.
The Toledo Troopers dominated the fledgling and poorly funded National Women's Football League throughout the decade. The team's star running back, Linda Jefferson, 59, is one of only four women inducted into the American Association Football Hall of Fame.
The team won seven consecutive national championships from 1971 through 1977, often winning games by 30 to 40-point margins.
"They are, to me, a part of Toledo, just like everything else here that is just a great part of this city," Mr. Bell said.
The film is touted as a cross between Remember the Titans and A League of Their Own.
Mr. Stout and Mr. Guinan said they are setting up meetings with other officials and business leaders for the week Mr. Leonard is in Toledo.
Dean Monske, president and chief executive officer of the Regional Growth Partnership, said he is one of several officials planning to attend a dinner with Mr. Leonard at The Docks restaurant complex in International Park.
"Needless to say, it's a positive story," Mr. Monske said. "Any time we can get national attention, and it's not negative, we support it."
Mr. Leonard, considered one of Hollywood's more innovative film directors, has directed such stars as Russell Crowe, Denzel Washington, and Anthony Hopkins.
He said he will soon leave for Australia, where he lived for five years, to film a baseball comedy called Diamonds Down Under. Once that project's finished, he plans to start filming Perfect Season, he said.
Mr. Leonard is a 1977 DeVilbiss High School graduate and the son of a former Sherman Elementary School principal and teacher. The Producers Guild of America, in association with Variety magazine, named him in 2010 as one of 25 people in the movie industry "who have made the greatest impact on digital entertainment and storytelling."
He said support for Perfect Season has been tremendous since news about it was published in The Blade on June 16.
"It's been overwhelming," he said, describing filming a motion picture in his hometown as a longtime dream. "For me, it's a great opportunity. You rarely get the chance to make a film about real people who actually made history while they're still alive."
He said he has a niece entering the University of Toledo this fall and still feels a connection to Toledo.
"It's kind of a homecoming for me," he said. "To go back and give back to my roots is what really stimulates me."
Contact Tom Henry at: thenry@theblade.com or 419-724-6079.
Guidelines: Please keep your comments smart and civil. Don't attack other readers personally, and keep your language decent. Comments that violate these standards, or our privacy statement or visitor's agreement, are subject to being removed and commenters are subject to being banned. To post comments, you must be a registered user on toledoblade.com. To find out more, please visit the FAQ.