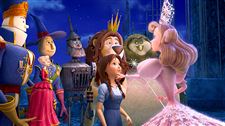 Lea Michelle voices Dorothy in 'Legends of Oz: Dorothy's Return.'
EPK.TV Enlarge
Lea Michele and Megan Hilty star in a feature film musical based on characters from The Wizard of Oz. It isn't Wicked, but Legends of Oz: Dorothy's Return is a fun, family feature that benefits from the pair's strong singing voices.
This time, we're off to see the wizard in a story based on the book, Dorothy of Oz, written 25 years ago by Roger S. Baum, the great-grandson of The Wonderful Wizard of Oz author L. Frank Baum. Dorothy's called back to the Emerald City when the Jester (voiced by Martin Short), the brother of the Wicked Witch, uses dark magic to turn residents of Oz into marionettes. Only the good magic of Dorothy (Michele) can cut the strings on the Jester's devilish plan.
As with the original Oz story, this film is less about the final battle and more about the journey. Dorothy meets another group of misfits who are all looking for a little redemption in their lives. Wiser (Oliver Platt) is an owl who doesn't give a hoot about his weight. Marshal Mallow (Hugh Dancy) is torn between duty and love. Tugg (Patrick Stewart) is an ancient tree looking to prove he still has worth, and the China Princess (Hilty) needs some humility.
Legends of Oz: Dorothy's Return
Directed by Will Finn and Dan St. Pierre.
Screenplay by Adam Balsan and Randi Barnes, based on a Roger S. Baum book.
A Clarius release, playing at Franklin Park, Fallen Timbers, and Levis Commons.
Rated PG for some scary images and mild peril.
Running time: 88 minutes.
Critic's rating: ★★
Voices of Lea Michele, Martin Short, Hugh Dancy, Oliver Platt, Bernadette Peters, Megan Hilty, Dan Aykroyd, Patrick Stewart, Jim Belushi.
Although the screenplay by Adam Balsam and Randi Barnes wanders off the Yellow Brick Road of Baum's book, it does keep to the central story about love, courage and happiness. The opening and closing scenes — that oddly move Dorothy's days in Kansas to a more contemporary time — are a bit heavy handed, but they don't take away from the overall strong story.
Directors Will Finn and Dan St. Pierre competently present this story through computer-generated animation that falls somewhere between a Saturday morning cable cartoon show and a feature film. The most glaring problems are in scenes with human characters, whose movements always seem a little disjointed. Once the movie leaps into Oz, there's no problem with the colorful characters there.
The film boasts an extremely strong voice cast that also includes Dan Aykroyd (Scarecrow), Jim Belushi (Lion), and Kelsey Grammer (Tin Man). The weakest voice work comes from Bernadette Peters as Glinda, whose performance is so clipped it sounds like the filmmakers had to cut up hours of recordings just to put together her lines.
Strong voices were needed — especially when dealing with the music that was mostly written by Bryan Adams. The closest the film has to a show-stopper is Even Then, written by Tift Merritt and performed by Michele, Hilty, and Dancy. Their work helps the movie.
Legends of Oz: Dorothy's Return has some smart writing and heart-touching moments, making it a brave addition to a familiar franchise.
Guidelines: Please keep your comments smart and civil. Don't attack other readers personally, and keep your language decent. Comments that violate these standards, or our privacy statement or visitor's agreement, are subject to being removed and commenters are subject to being banned. To post comments, you must be a registered user on toledoblade.com. To find out more, please visit the FAQ.