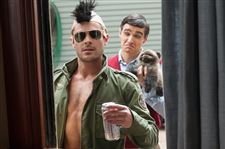 Zac Efron, left, and Dave Franco in a scene from the film, "Neighbors."
ASSOCIATED PRESS Enlarge
LOS ANGELES — Seth Rogen and Zac Efron have bested the web-slinger at the box office.
Rogen and Efron's family-versus-fraternity comedy "Neighbors," was the top draw for moviegoers this weekend, unseating last week's champ, "The Amazing Spider-Man 2."
RELATED: Kirk Baird movie review of 'Neighbors'
RELATED: Kirk Baird movie review of 'Spider-Man'
According to studio estimates Sunday, the R-rated "Neighbors" debuted with $51 million in ticket sales, pushing Spidey to second place with $37 million.
The Cameron Diaz-Leslie Mann comedy "The Other Woman" held onto third place in its third week of release, while "Heaven Is for Real" and "Captain America: The Winter Soldier" rounded out the top five.