John Lloyd Young as Frankie Valli, Erich Bergen as Bob Gaudio, Vincent Piazza as Tommy DeVito, and Michael Lomenda as Nick Massi in '‍Jersey Boys.'
WARNER BROS. Enlarge
An Oscar-winning director brings a Tony Award-winning musical and its star to the big screen. So what's not to love?
Unfortunately, this adaptation.
Clint Eastwood's Jersey Boys, based on the acclaimed 2005 Broadway show about Frankie Valli and the Four Seasons, successfully expands that stage world to the big screen. While it looks good, it's the "feels good" part the film doesn't get right.
The story of four struggling musicians who overcome their neighborhood, an industry, and occasionally each other to become one of the biggest pop acts of the 1960s, Jersey Boys is surprisingly detached from its characters' roller-coaster ride of success, failure, tragedy, and triumph.
Jersey Boys
Directed by: Clint Eastwood. Written by Marshall Brickman and Rick Elice, based on their stage musical. A Warner Brothers release, playing at Franklin Park, Fallen Timbers, and Levis Commons.
Rated R: for language throughout. Running time: 137 minutes.
Critic's rating: ★★
Cast: John Lloyd Young, Vincent Piazza, Renee Marino, Christopher Walken, Erich Bergen, Michael Lomenda
The film stars John Lloyd Young, reprising his Tony-winning role as lead singer Frankie, and as the other Four Seasons: Vincent Piazza as guitarist and manager Tommy DeVito, Michael Lomenda as bassist Nick Massi, and Erich Bergen — the only other cast member who appeared in the musical production — as lyricist and keyboardist Bob Gaudio.
The cast is convincing onstage and off — Young'‍s impressive vocal range makes you believe you'‍re hearing the original versions of these songs and not a soundtrack. But there'‍s only so much they can do in a film that doesn'‍t give them much to work with.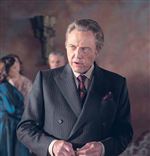 Christopher Walken as Gyp DeCarlo in a scene from the movie.
WARNER BROS. Enlarge
Jersey Boys opens in the 1950s, with a teenage Frankie working at a barbershop with dreams of making it as a pop singer. Local hood Tommy, who fronts a pop band that includes his brother and Nick, takes Frankie under his wing. This includes using him as a lookout for a failed safe heist, and introducing him to neighborhood mob boss Gyp DeCarlo (Christopher Walken) and future wife Mary Delgado (Renée Marino). Tommy is protective of Frankie, as much as an older-brother figure and as an investor who realizes the young singer is his only means of escape. But it isn't until they're introduced to Bob by a Jersey pal named Joey Pesci (Joseph Russo) — yes, that Joe Pesci — that the band's fortunes change. The fact that Pesci is involved only adds to the Goodfellas' vibe of the first act.
It's with Bob's songwriting skills, Frankie's falsetto voice, and the guidance of New York record producer Bob Crewe (Mike Doyle) that the Four Seasons become Top-40 regulars in the 1960s, with a string of hit singles including Sherry, Big Girls Don't Cry, Walk Like a Man, Dawn (Go Away), Stay, Let's Hang On (To What We Got), Working My Way Back to You, and Will You Love Me Tomorrow.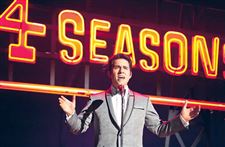 John Lloyd Young, who starred as Frankie Valli on Broadway, reprises his role in the movie.
WARNER BROS. Enlarge
But the chart success brings trouble: Frankie'‍s tumultuous marriage deteriorates as he spends more time on the road and his wife becomes an alcoholic, and Tommy wracks up huge gambling debts while taking large sums of money from the band'‍s tax account.
There's a lot of offstage drama going on, but Marshall Brickman and Rick Elice, who wrote the musical book for the stage version of Jersey Boys and penned its screenplay adaptation, keep us at arm'‍s length for most of it. Eastwood is also less interested in the Four Seasons'‍ problems as he is in keeping the film to a run time less than 2½ hours long.
So these ups and downs flicker by, like turning pages in a photo album from one event to the next, in rapid succession with no emotional pull for the audience. It'‍s not a coincidence that the film'‍s best scene is also its longest and most dramatic: The band is gathered at Gyp's home, as he tries to settle DeVito'‍s gambling debt with a Jersey loan shark; meanwhile, Tommy is confronted by the other members in a furious and even funny airing of grievances.
This would mark the end of the Four Seasons' original lineup. Frankie would continue on as Frankie and the Four Seasons, with Bob writing the band's songs, and the other Bob producing the group's albums as well as Frankie's solo work (Can't Take My Eyes Off of You). The singer's story isn'‍t over, though the film doesn't have much more to offer: a tragic death brings only perfunctory grief, while the quartet'‍s coronation by the Rock and Roll Hall of Fame in 1990 is career-defining achievement hurried along more than it is celebrated.
Contact Kirk Baird at kbaird@theblade.com or 419-724-6734.
Guidelines: Please keep your comments smart and civil. Don't attack other readers personally, and keep your language decent. Comments that violate these standards, or our privacy statement or visitor's agreement, are subject to being removed and commenters are subject to being banned. To post comments, you must be a registered user on toledoblade.com. To find out more, please visit the FAQ.