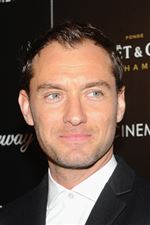 Law
LONDON — Jude Law feels his work options are widening as he gets older, and he revels in the complications.
The 41-year-old British actor — best known for his roles in The Talented Mr. Ripley, Cold Mountain, and more recently Sherlock Holmes — says there is now "less emphasis on playing romantic leads."
"You get over a certain age, and you're more complicated anyway," he said. "So, I guess characters written for that age are more complicated, you know."
Law said he likes to take risks by picking roles that terrify him, such as his much-acclaimed stint in Henry V in London's West End last year.
"There's this moment when you haven't quite learned your lines, the play doesn't feel like it's coming together or at least you don't feel that you've fully understood the role or indeed the piece yet and everyone's looking around for a way out, an excuse," he said.
"And yet you know that you have a set day ahead of you when you are going to open to the press — and indeed to the public — and it's nothing short of terrifying.
"It's usually at that moment you question yourself, your job, why you're doing this, but it's also an opportunity to sort of face failure and fear."
Among Law's current roles is playing a submarine captain in Kevin Macdonald's Black Sea, due for release at the end of the year. Filmed on a 1970s submarine, Law says filming "was an amazing experience being that many people in such a small space, for that long. It brought on incredible energy and incredible drama."
And next up, Law is to replace Michael Fassbender as Thomas Wolfe in Michael Grandage's directorial debut, Genius.
Alicia Keys pregnant with second child
NEW YORK — Alicia Keys is getting ready for another big release: her second child.
A representative for the Grammy-winning performer confirmed Thursday that the singer is pregnant.
Keys posted a photo with her baby bump on Instagram early Thursday, which also marked her fourth wedding anniversary to producer-rapper Swizz Beatz, who also posed in the picture.
Keys wrote that their anniversary was sweeter because they've "been blessed with another angel on the way." She didn't offer any more details about the pregnancy.
She gave birth to her son, Egypt, in 2010.
Tweet halts court hearing for Cassidy
SCHODACK, N.Y. — A horse racing tweet prompted prosecutors to halt a court hearing at which a lawyer for seventies heartthrob David Cassidy was supposed to accept a plea deal on the singer's behalf.
Cassidy was charged last summer with driving while intoxicated in the town of Schodack, near Albany. Because he lives in Florida, prosecutors agreed to let his lawyer appear in court for him Wednesday.
But a tweet by the New York Racing Association said Cassidy was at Saratoga Race Course, 40 miles north of Schodack.
A prosecutor told The Daily Gazette of Schenectady that officials were "disturbed" to learn Cassidy was nearby but apparently unable to appear. Cassidy's lawyer said his client may not have known the timing of his court date.
A new court date is being scheduled.
Guidelines: Please keep your comments smart and civil. Don't attack other readers personally, and keep your language decent. Comments that violate these standards, or our privacy statement or visitor's agreement, are subject to being removed and commenters are subject to being banned. To post comments, you must be a registered user on toledoblade.com. To find out more, please visit the FAQ.