Hens fall to Pawtucket again
Toledo ends Fifth Third homestand with 2-8 record
6/25/2013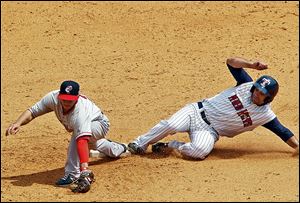 The Hens' Kevin Russo slides into second base safely while Jonathan Diaz was late in making the tag.
Monday may not have been much of a day for the Mud Hens. It was a great day for Justin Lennerton.
While the Hens suffered a 5-4 loss to Pawtucket at Fifth Third Field in the afternoon, Lennerton was basking in the glow of his engagement to Ashley Swistchew, which took place on Sunday.
"We were hanging out, and it was something I have wanted to do," Lennerton said. "My parents also were in town, and I may not see her again until August.
"I thought it was a good opportunity [to ask her to marry me]."
PHOTO GALLERY: Hens drop game to Pawtucket 5-4
MUD HENS NOTEBOOK: Former Rocket catcher Maier a contributor for Pawtucket
Lennerton got a rare day off Monday — he had played in Toledo's previous 60 games, and his 77 games played this season is among the International League leaders — although he did spend some time as the Hens' first-base coach.
In that role he welcomed a number of Mud Hens to first base as Toledo drew a whopping nine walks from five Pawtucket pitchers. The Hens managed just six hits and were 1 for 8 when batting with runners in scoring position in losing their third straight to the Red Sox.
"They pitched well except for the walks," Toledo manager Phil Nevin said. "They made pitches when they had to. At the end of the day, we only had three hits going into the ninth inning, and two of them were bloopers. We had guys [on base], but they made pitches when they got into traffic."
Pawtucket broke out on top, thanks to a three-run double by Dan Butler in the second inning. An infield hit and a walk set that rally in motion, and Hens starter Ramon Garcia added fuel to that fire by hitting Red Sox hitter Jeremy Hazelbaker with an 0-2 pitch to load the bases for Butler.
After that Garcia settled down, striking out the next two hitters and keeping Pawtucket from scoring more runs until tiring in the sixth.
"[Garcia] threw strikes, and you saw the results of that: We made some plays behind him on defense," Nevin said. "[Kevin] Russo made a play in center, [Mike] Cervenak made a play at third.
"But the add-on runs killed us."
In the sixth Garcia gave up a one-out single to Xander Bogaerts and was replaced by Jess Todd. A groundout moved Bogaerts to second, and he scored on a two-out hit by Hazelbaker.
In the eighth the wildness of Todd, Matt Hoffman, and Jose Ortega resulted in a costly insurance run. Todd walked Jonathan Diaz and was replaced by Hoffman, who got a strikeout before issuing back-to-back, four-pitch walks to Butler and Jackie Bradley, Jr., to load the bases.
Ortega entered the game and walked Drew Sutton on five pitches to force home what proved to be the winning run. Ortega escaped further damage by getting Alex Hassan to hit into an inning-ending double play.
While the four Toledo pitchers combined for seven walks — one each by Garcia and Ortega, three by Todd, and two by Hoffman — Pawtucket's nine walks helped make sure the Hens had at least one baserunner in every inning but the fourth.
In the third, Red Sox reliever Chris Hernandez issued four walks that helped Toledo score twice. A wild throw on a potential double play allowed one run to score, and a bases-loaded walk to Ben Guez forced home another.
The Mud Hens scored a two-out run in the fifth when Danny Dorn walked and Mike Cervenak doubled him home, but that was it for Toledo until the ninth. In that inning the Hens made things interesting when three singles brought home one run and pushed the tying run to third. Cervenak lined out, and Toledo finished the homestand with a 2-8 mark.
Contact John Wagner at: jwagner@theblade.com, 419-724-6481 or on Twitter @jwagnerblade.