Toledo Mud Hens broadcaster Jim Weber
BLADE Enlarge
Jim Weber broadcast his first Mud Hens game on April 12, 1975, at Watt Powell Park in Charleston, W.Va.
Charlie Senger, the team's general manager, sent Weber with a friend — and a warning.
"He kept saying, 'It's good you are taking someone along with you in case I decide to take you off the air,' " Weber said.
Weber can laugh about it now because Senger obviously did not follow through on that threat. And 40 seasons later Weber has outlasted Senger to broadcast more than 5,000 Mud Hens games.
Opening day will be game No. 5,009 in a row for Weber, a string that is believed to be the longest in baseball today.
"Jim has been a wonderful voice for this organization," Hens general manager Joe Napoli said. "He is that folksy voice you expect on a radio broadcast, and he delivers that every night.
"We've loved having him as long as he's been here."
Weber started his radio career doing high school games in 1969 while working at Jeep. In 1975 he approached Senger about broadcasting Mud Hens games.
"I knew that the Mud Hens weren't on the radio, and I knew they were looking [to get back on]," Weber said. "Charlie Senger would try to embarrass stations into putting the Mud Hens on the air, and that didn't work.
"I met up with the general manager of WTTO, and I was able to coordinate with that station to put a partial schedule on the air — mostly summer weekends. That first year of 1975 we did 52 games."
That schedule lasted one season, and the Hens then moved to WSPD.
"When I told Senger I was going to talk to WSPD, he laughed at me," Weber said. "He said, 'Are you nuts? I've been trying to get our games on their station for five years.'
"He said, 'If you just get in the door there, I'm going to send you to the best steakhouse in town.' We went to 80 games — and Senger didn't believe me [when I said I got the deal with WSPD]. But I did get the deal, and my wife and I ate steak."
Weber was able to keep the broadcasts on the air, although they moved to several different stations until WMTR in Archbold broadcast the games for 15 seasons. The team kept up a partial schedule of broadcasts until 1983, and have had every game on the air ever since.
"I wondered a couple of times [if we would continue to have the games on the radio]," Weber admitted. "Once we had the long-term deal with WMTR, I felt better.
"And when we moved downtown, I've always felt our radio was solid."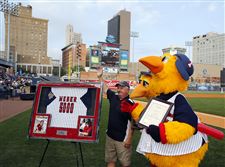 Jim Weber was honored last season at Fifth Third Field for broadcasting 5,000 consecutive Mud Hens games.
BLADE/JEREMY WADSWORTH Enlarge
Some fans may not realize that Weber also serves as the team's director of travel, a job he assumed in the mid-1980s.
"Around 1984, we were on the road and the trainer frantically called me into his room," Weber said. "One of his parents had died, and he threw me this big folder — it had all the travel stuff. So I figured it out and we finished the trip. And when I got home, [then-general manager] Gene Cook said, 'What do you think about handling the travel?'
"When the team is on the road, I am the only Mud Hen employee — everyone else is employed by Detroit. So I started doing it."
Weber said the team's travel is a job he enjoys — and takes very seriously.
"When we're flying at 7:30 in the morning and the bus leaves at 5:30 in the morning, I'm out there at 5 in the morning," he said. "I want to have time to react in case things don't work out. I just like to make sure things are done."
But it's the broadcasting that keeps Weber going, and his 40 years behind the microphone have built a vast treasure trove of memories. One of the best was in 1986, the season after Bob Costas had jokingly introduced himself as a "former utility infielder for the Toledo Mud Hens" and the team invited him to "revisit" Skeldon Stadium.
"He agreed to come up and do a broadcast with me on a Wednesday," Weber said. "Well, he had so much fun he stayed and did games Thursday and Friday, too.
"What really surprised me was how well he was prepared. When I came to the ballpark Wednesday he was in the clubhouse, and when he saw me he said, 'Hey, Jim!' He knew who I was, and that was impressive."
In 40 years on the job Weber has made numerous friends on the field, in the clubhouse, and in the press box. He said many of those friends became International League Hall of Fame voters, and that played a role in him becoming the first broadcaster voted into the hall.
"When I got the ballot in the mail, I opened it up — and I didn't know I was on the ballot," Weber said. "When I saw my name, I was surprised.
"I know it wasn't unanimous, because I told people I didn't think it was right for me to vote for myself. But what happened was everybody else knew me."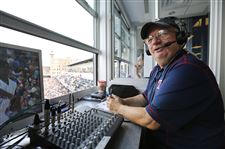 Jim Weber begins his 40th season as the play-by-play radio announcer for the Mud Hens. Weber, a Bowsher graduate, will be inducted into the International League Hall of Fame this summer.
BLADE/ANDY MORRISON Enlarge
While Weber has been behind the microphone for two Governors' Cup champions — "I thought I might die without a ring, and now I have two," said Weber, who waited 30 years before announcing his first championship in 2005 — he is better known for raising fan interest in all the losing seasons.
"One of the greatest compliments I can receive is when people say, 'You make a lousy team sound so interesting,' " Weber said. "I try to get into the game — each game is a different game.
"I think you always have to tell it like it is, even if it isn't in the Mud Hens' favor."
While the goal of most Triple-A broadcasters is the same as players and coaches at this level — to reach the majors — Weber said he has no regrets about not moving to the big leagues.
"I've always been a local guy," he said. "I did have an agent for a while, and I came close to getting the Baltimore job in 1990.
"But the kids were growing up and I was getting older, so I never really worried about it. I was happy to be doing games in my home town."
So how much longer will Weber serve as the voice of the Hens?
"I think a lot will depend on my health," Weber said. "But I'm just taking things 1,000 games at a time — so that's at least seven more years."
And Weber probably will not need to bring a friend along as a safety net.
ABOUT JIM WEBER
■ Name: James Harold Weber.
■ Age: 68 (born Aug. 27, 1945).
■ Birthplace: Toledo.
■ Current residence: Perrysburg for seven years after living in Maumee for 38 years.
■ High school: Bowsher, 1963 graduate (first year school was open).
■ Family: Wife, Kay (married 48 years); daughters, Christine Bailey and Mary Fong; two grandchildren.
■ Career: Began by broadcasting high school football and basketball games. He started broadcasting Mud Hens games in 1975, and he also did Bowling Green State University football and basketball in the mid-80s. He also has served as a broadcaster for professional wrestling and for motocross events, among others.
■ Honors: Broadcaster for Triple-A All-Star Game in 1990 in Las Vegas and when Toledo hosted the contest in 2006. He will be inducted into the International League Hall of Fame this year.
■ Did you know? Weber played the drums in several local bands before his broadcasting career.
Contact John Wagner at: jwagner@theblade.com, 419-724-6481, or on Twitter @jwagnerblade.
Guidelines: Please keep your comments smart and civil. Don't attack other readers personally, and keep your language decent. Comments that violate these standards, or our privacy statement or visitor's agreement, are subject to being removed and commenters are subject to being banned. To post comments, you must be a registered user on toledoblade.com. To find out more, please visit the FAQ.