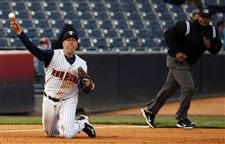 Toledo Mud Hens third baseman Mike Hessman makes a play against the Indianapolis Indians during the fourth inning.
BLADE/JEREMY WADSWORTH Enlarge
The Mud Hens gave up four runs in the top of the of the ninth inning and suffered a 7-5 loss to Indianapolis at Fifth Third Field tonight.
Melvin Mercedes gave up a triple, an RBI double to Gregory Polanco, and later a three-run homer to Tony Sanchez in the final inning.
PHOTO GALLERY: Click here to view more photos
Toledo scored a run in the first on a run-scoring single by James McCann, then added two more in the second on an RBI double by Jordan Lennerton and a sacrifice fly by Trevor Crowe.
The Hens scored twice in the bottom of the ninth on an RBI single by Trevor Crowe and a run-scoring groundout by Perez.
Guidelines: Please keep your comments smart and civil. Don't attack other readers personally, and keep your language decent. Comments that violate these standards, or our privacy statement or visitor's agreement, are subject to being removed and commenters are subject to being banned. To post comments, you must be a registered user on toledoblade.com. To find out more, please visit the FAQ.