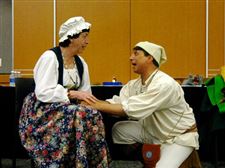 Genot Picor, a historical re-enactor, performer, and storyteller, talks to another historical interpreter as he prepares for the upcoming celebration at River Raisin National Battlefield Park on Saturday.
MONROE — If you find our winter hard to cope with in 2014, imagine what it would have been like 300-400 years ago, when Michigan was home to various Indian tribes, and French explorers, called voyageurs, became the first Europeans to explore and settle in the Wolverine State.
Historical interpreter and performer Genot Picor is a direct descendant of those Native Americans and voyageurs, and on Saturday will re-enact a Winter Dweller's Celebration at the River Raisin National Battlefield Park starting at 2 p.m.
As he tells it, those hardy folks knew how to have a good time when the frozen lakes prevented canoeing. They laid up for the winter and entertained themselves with dancing and singing and telling stories. Mr. Pecor's performance will encompass all of these period amusements at the park, 1401 E. Elm Ave. The public event is free.
"When the voyageurs could no longer paddle their canoes through the lakes, they became 'hivernauts,' which means winter dweller," Mr. Picor said from his home in Warren, Mich. "They would put up in a settlement or a friendly tribal group in Detroit or Fort St. Joseph, which is now Niles."
Mr. Pecor, 60, said he performs in schools, libraries, museums, and festivals, and strives to be educational as well as entertaining. "The audience gets a chance to interact. They'll be singing and dancing and taking part in the stories," he said.
Dan Downing, the park's chief of interpretation, education, and operations, said Mr. Pecor is well-known there. "Genot does a lot of appearances at the park in different personas. He's always very entertaining and popular," he said.
On the Native American side of his bloodline, Mr. Picor's ancestors were Hurons, more commonly known as Wyandots in Ohio, he said. For his performances, he immerses himself in the history of Michigan Indians and voyageurs. He said he has been doing solo interpretations for 14 years and was with a professional troupe before that.
His work also takes him to New York, Ontario, Ohio, Kentucky, Indiana, and Illinois. He studied voice and movement at the Stratford Festival Theater in Ontario and is a graduate student in interpretive/​performance studies at Eastern Michigan University, specializing in oral tradition, narrative studies, and the anthropology of performance.
Guidelines: Please keep your comments smart and civil. Don't attack other readers personally, and keep your language decent. Comments that violate these standards, or our privacy statement or visitor's agreement, are subject to being removed and commenters are subject to being banned. To post comments, you must be a registered user on toledoblade.com. To find out more, please visit the FAQ.