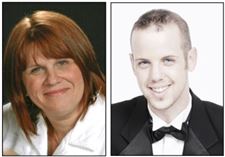 Singers Mary Ann Falk and Jake Wilder will join the Toledo Symphony in a Regional Concert at 3 p.m. Sunday in the Niswonger Performing Arts Center, Bryan.
The Toledo Symphony will celebrate local talent and fine light classical works in a pair of Regional Concerts.
In Van Wert, a 3 p.m. concert Sunday in the Niswonger Performing Arts Center, 10700 State Rt. 118, will feature selections from Rodgers and Hammerstein musicals Carousel, Oklahoma, and South Pacific. Resident conductor Jeffrey Pollock will be on the podium.
In the spotlight will be singers Mary Ann Falk and Jake Wilder, who jump-started their singing careers in the Senior Choir of Van Wert United Methodist Church. Both are graduates of Bowling Green State University's College of Musical Arts, and have carved out busy careers in opera, recitals, and concert performances.
Tickets are $20 at the Niswonger box office, 419-238-6722, or www.npacvw.org.
Also on the symphony's itinerary is a 7:30 p.m. concert March 13 at Sauder Village, 22611 State Rt. 2, Archbold. The performance will be in Founder's Hall. Maestro Pollock will lead the musicians through a program studded with works by Elgar, Wagner, Dohnanyi, Massenet, and Offenbach. Then, in celebration of St. Patrick's Day will be LeRoy Anderson's Irish Suite, six sections based on traditional songs from the Land of Erin.
Olivia and Yang Liu will give a concert at 7:30 p.m. March 15 in the Bryan Arts and Education Auditorium, 120 S. Beech St., Bryan, Ohio.
This concert is co-sponsored by the Black Swamp Arts Council and local businesses. Students up to age 16 are admitted free. Tickets are $15 in advance at 1-800-590-9755 and $18 at the door.
Before going on the road, the symphony will conclude its Brandenburg Concerto project in the fourth Mozart and More concert, 7:30 p.m. Saturday in the Franciscan Center at Lourdes University. Performed as a true chamber group with no conductor, the program will include No. 4 and No. 6 of the six Bach works. They have not been programmed as a series before by the Toledo Symphony. No. 4 features two recorders and violin, plus continuo; No. 6 is two violas, three cellos, and bass, with continuo.
Also on the evening's plan are spring-inspired works: Frederick Delius' On Hearing the First Cuckoo of Spring, and Ottorino Respighi's The Birds. Tickets are $30 and $35 at www.toledosymphony.com or 419-246-8000.
● Preparing for its debut in Huntington Center downtown, the Toledo Symphony announces that more than 1,200 singers from elementary school upward have signed on to perform the great Ode to Joy in the finale of Beethoven's Symphony No. 9. Stefan Sanderling will conduct this "cast of thousands" event, which is sure to be a significant moment in Toledo's great musical history. The date is 4 p.m. April 6. Tickets are $25-$55 at 1-800-745-3000 or at Ticketmaster.com.
● Masterworks Chorale will present its spring concert, "From the Heart and Soul," at 8 p.m. March 15 in St. Michael's in the Hills Episcopal Church, 4718 Brittany Rd., Ottawa Hills. Timothy Cloeter will conduct this long-lived chamber choir in repertoire that, according to Cloeter, "spans from folk songs to atmospheric art music," with jazz tossed in for contrast. The featured work will be by Brahms, his beloved Liebeslieder Waltzes, written in 1869, a setting of lyrics by Georg Friedrich Daumer. The 18 songs cover a full gamut of emotions and are among the composer's most popular works. Accompanying the choir will be Jill Roth joined by guest pianist Dennis Blubaugh. Other works on the program will represent composers Samuel Barber, Eric Whitacre, and David Dickau. Tickets are $20-$25 at the door.
A chance to hear Masterworks sing in advance will come at 3 p.m. Sunday in the Great Gallery at the Toledo Museum of Art. Music chosen to complement the museum's new Tuileries exhibition will be on the program — works by Faure, Debussy, and Brel. Soprano Joan Layne will be featured, along with pianist Kevin Bylsma and narrator Susan Palmer. The event is free.
● BGSU music in the coming week will include a recital by students Claire Chardon, soprano; Patty Kramer, mezzo, and Emily Alley, piano, at 10:30 a.m. Saturday in First Presbyterian Church, 126 S. Church St., Bowling Green. The same venue will present BGSU's barbershop quartets at 10:30 a.m. March 15. Both events are free.
● Music fraternity Sigma Alpha Iota will present a free recital at 3 p.m. Sunday in the University of Toledo Center for the Performing Arts Recital Hall.
The University of Toledo Symphony Orchestra will perform at 3 p.m. March 16 in Doermann Theater inside University Hall. J.J. Pearse will conduct the varied program in this free event.
● International violin/​piano duo Yang and Olivia Liu will give a concert at 7:30 p.m. March 15 in the Bryan Arts and Education Auditorium, 120 S. Beech St., Bryan. Presented by the Williams County Community Concert Association, the event is part of its 2013-2014 five-concert season.
Born in China and already renowned there, the musicians were studying at the University of Cincinnati College Conservatory of Music when they met. Both are prize winners in major performance contests, including the Tchaikovsky International Violin Competition.
Since combining forces, they have performed at the Kennedy Center, the Oficina Music Festival in Brazil, and throughout China. Their Bryan program will mix classical showpieces and works by Chinese composers.Tickets are $15-$25 at the door For more information, call 419-636-3550.
● Drive to Ann Arbor on Saturday for a chance to hear violinist Itamar Zorman and pianist Pauline Martin in a rare Midwest recital. Music starts at 8 p.m. in Kerrytown Concert House, 415 N. Fourth Ave.
Zorman, a native of Tel Aviv, won the 2011 International Tchaikovsky Competition, performing winners' concerts with Valery Giergiev and the Mariinsky Orchestra. He was recently awarded an Avery Fisher Career Grant. He has performed in the United States and abroad. Martin is renowned in the Midwest and across the country. She has a doctorate from the University of Michigan, where she studied with Gary Graffman, Theodore Lettvin, and Andre Watts. Tickets for this event are $5 (for students) through $30 at 734-769-2999 or www.kerrytownconcerthouse.com.
● The Christian Festival Choir invites area singers to join in preparation for Exaltation 2014, to be presented in May. Rehearsals are 9 a.m. to noon Saturdays at Reformation Lutheran Church, 4543 Douglas Rd. Music performed is a mix of traditional and contemporary sacred music. Pat Finnigan directs. For more information, call 419-699-5961 or visit www.toledoexaltation.org.
● The Toledo Chapter of the American Guild of Organists' student recital will be at 3 p.m. March 16 in Monroe Street United Methodist Church, 3613 Monroe St. Church music director Denise Mathias and education chair Pam Davis will be hosts. The concert is free.
Send News of Music items to svallongo@theblade.com at least two weeks in advance.
Guidelines: Please keep your comments smart and civil. Don't attack other readers personally, and keep your language decent. Comments that violate these standards, or our privacy statement or visitor's agreement, are subject to being removed and commenters are subject to being banned. To post comments, you must be a registered user on toledoblade.com. To find out more, please visit the FAQ.