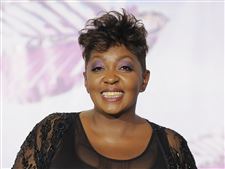 Anita Baker.
ASSOCIATED PRESS Enlarge
DETROIT — A Michigan judge has dismissed an arrest warrant that had been issued for Grammy Award-winning singer Anita Baker.
A Wayne County Circuit judge had signed off on the warrant last week.
It was sought by the lawyer for a company that says Baker owes it $15,000 for work done on her Grosse Pointe home.
According to WDIV-TV, Judge Edward Ewell said Monday that while the warrant has been dismissed, the lawsuit over the money will continue at a hearing in April.
Baker tells WXYZ-TV she's grateful the judge lifted the warrant.
The singer's lawyer has said Baker didn't know she had been sued in 2011 by Ray A. Smith Painting & Decorating.
The company's lawyer says he wants to see his client get paid for the work it did.
Guidelines: Please keep your comments smart and civil. Don't attack other readers personally, and keep your language decent. Comments that violate these standards, or our privacy statement or visitor's agreement, are subject to being removed and commenters are subject to being banned. To post comments, you must be a registered user on toledoblade.com. To find out more, please visit the FAQ.