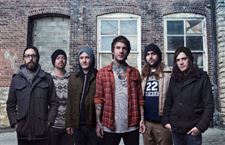 The rock band Chiodos.
As Chiodos roars into the end of its new album, Devil, singer Craig Owens proclaims that, "We're right back where we left off/It's our time to really do things right."
That feeling is certainly shared by Owens' five bandmates these days.
Devil is a comeback proposition for the modern-rock troupe from suburban Flint, Mich. Formed by high-school friends, the sextet — which took its name from the cult filmmakers the Chiodos Brothers — came out of the box strong with an intricate, aggressive approach that stirred together influences from punk, heavy metal, and progressive rock. Chiodos' first album, All's Well that Ends Well (2004), hit No. 3 on Billboard's Heatseekers chart as the group also established a strong live-performance rep as part of the Vans Warped Tour and other packages.
Bone Palace Ballet (2007) leapfrogged on that momentum, debuting at No. 5 on the Billboard 200 and at No. 2 on the Alternative Albums, Hard Rock Albums, Rock Albums, and Independent Albums charts. The baby band quickly had become a big-time concern.
Then some adult-sized problems interfered.
An acrimonious schism between Owens and the rest of Chiodos led to his departure in 2009. Drummer Derrick Frost followed. The singer went on to found the band D.R.U.G.S. — the tongue-incheek acronym referred to his own well-chronicled struggles with substance abuse — while Chiodos replaced him with Brandon Bolmer, formerly of the group Yesterdays Rising, and released a third album, Illuminaudio (2010), without making much of a splash.
It wasn't until 2012 that fences began to be mended and the idea of a reunion was broached.
"I got new management, and she asked me, if I could do one thing, what's one of the things I would want to do," Owens recalls, speaking by telephone from his home in Malibu, Calif. "And on that list was to make things right with the Chiodos guys. They were my best friends growing up in high school, and I missed my friends and I missed the music a lot. So she kind of made it happen."
Before that could happen, though, there needed to be a conversation between Owens and keyboardist Bradley Bell, who had been his writing partner not only in Chiodos but in the side group Cinematic Sunrise.
"I didn't exactly expect him to reach out to me like that," Bell says, in a separate interview by telephone from his home in Davison, Mich. "I knew there were some bitter feelings out there, so I didn't know what everyone's reaction was going to be."
With Chiodos having lapsed into a hiatus following Illuminaudio, however, Bell was ready to listen.
"Craig really wanted to see if it was possible to get the old group back together and see what we could make together," he recalls, "and we were all open-minded to the suggestion. I guess, with the situation we were in, we were willing to let go of the past and kind of reconcile everything."
Chiodos started its reunion cautiously, playing one-off shows and single-weekend runs, but it was clear not only that the band members were getting on well but also that the audience was stoked to see Owens — and, subsequently, drummer Frost — back onstage with Bell, guitarist Pat McManaman, bassist Matt Goddard, and new guitarist Thomas Erak.
Writing together again proved to be no problem for Owens and Bell. Their first new session yielded Looking for a Tornado, which wound up on Devil, and Bell reports that "the song morphed into a whole new creature once we brought it into the studio with the rest of the band."
In fact, he adds, Chiodos became more collaborative than it ever had been in the past, when Owens, Bell, and former guitarist Jason Hale dominated the creative side of the group.
"Each person brought their own songs into this, more than the way it used to be," the keyboardist explains. "Everybody stepped up. Craig brought songs, Pat brought songs. Then we'd all bring them together and make it something personal for each of us."
That made for a more diverse set of songs on Devil, which was recorded with producer David Bottrill in Woodstock, N.Y., blending Chiodos' penchant for complex arrangements with some of the most direct material the group has ever delivered, including 3 AM, I'm Awkward and Unusual, and Under Your Halo.
"The mission was to go somewhere new creatively," Erak says in a separate interview, "but to also make sure that we didn't lose the old Chiodos in the process."
Tighter than ever, the group will be on the road for the bulk of 2014, with extensive touring in North America while its sights are set on other territories — including Great Britain, where Chiodos will play the Sonisphere Festival in July.
"We are trying to do things right now," Owens says. "We had a lot of work to do, with ourselves and then with everyone, our relationships and all of that. It wasn't so much that, 'We're going to wait a couple of years.' It's just the way things worked out. For the better, I think.
"I feel like I'm finally fitting back into the Chiodos puzzle and that the public perception of Chiodos is back to where it was before," Owens concludes. "That makes me happy, because I think that's the most genuine Chiodos there was."
Guidelines: Please keep your comments smart and civil. Don't attack other readers personally, and keep your language decent. Comments that violate these standards, or our privacy statement or visitor's agreement, are subject to being removed and commenters are subject to being banned. To post comments, you must be a registered user on toledoblade.com. To find out more, please visit the FAQ.