Owens spring concert honors vets
Band to perform medley of patriotic songs
4/21/2014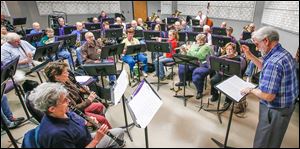 Fred Dais directs the Owens Community College Band for its upcoming spring concert, which will honor World War II veterans and observe the 70th anniversary of the D-Day invasion with a medley of songs.
Attention, military veterans. The Owens Community College Concert Band wants you.
That's because the band's spring concert on Sunday is in honor of all vets — especially those who served in World War II.
The latter's population is dwindling, band director Fred Dais explained, and this year marks the 70th anniversary of the D-Day invasion of Normandy, both of which are more than enough reasons to give them a special recognition. The band's oldest member happens to be Clayton Weis, 89, of Millbury, who survived the Battle of Okinawa in 1945.
"We want to have a lot of these vets in the audience. I sent out letters to all the retirement homes in the area inviting them," said Mr. Dais, a veteran himself, who retired as a lieutenant colonel and was commander of the Air National Guard Band of the Great Lakes, also known as the 555th Air Force Band, or the Triple Nickel, which was deactivated in 2012.
Mr. Dais said a graphic artist at Owens is preparing a certificate of thanks for the World War II vets. The concert begins at 2:30 p.m. in the Center for Fine and Performing Arts Theater at Owens' Toledo-area campus, 30335 Oregon Rd., in Perrysburg Township.
Korean War veteran Jim Meyers rehearses with the Owens Community College Band for the upcoming spring concert. A certificate of thanks is being prepared for World War II veterans.
"As the World War II vets come in, we'll have them register and we'll present the certificates to them later. The last four numbers on the program are from the World War II era," he said.
These are "American Visions," a medley of patriotic songs; "American Patrol," a march made famous by the Glenn Miller Orchestra in World War II; the symphonic suite from the HBO series Band of Brothers, and another march, "The Chimes of Liberty."
Doing the conducting honors for these performances will be Warrant Officer 4 David Smith, a retired Army bandmaster who also served in the Air Force and was a Triple Nickel member.
Mr. Smith, who was in the military for 27 years, said when he came home from Vietnam in 1970, "I was spit on at the Seattle airport. I think these concerts mean a lot to the vets, especially the Vietnam vets and the Korean War vets, who were ignored."
Mr. Smith said he also conducts the Genoa American Legion Band, which he described as the largest of its kind in northwest Ohio, with roots in the 1860s, when it was called the Genoa Eagle Band.
"We hope to fill the theater with veterans, especially from World War II, and people there to honor them," Mr. Dais said.