Toledo's Swiss Singers beat out 13 other contestants from the Midwest and Canada to claim the top prize at Saengerfest, the international contest for Swiss-style singing and yodeling in New Glarus, Wis. The women's choir claimed a silver prize.
Toledo Swiss Singers Enlarge
Toledo's venerable Swiss Singers went to the Land of Cheese and brought home the gold.
Earlier this month, they traveled to Saengerfest, the international contest for Swiss-style singing and yodeling in New Glarus, Wis.
There, Toledo's 146-year-old chorus beat out 13 other contestants from the Midwest and Canada to claim the top prize.
Led by Micah Graber, the mixed choir performed "Waldeinsamkeit" (the feeling of being alone in the woods) by F. Abi for the gold. Moreover, the women's choir sang "Marine" by J. Mamie to claim a silver prize.
Presented by the North American Swiss Singing Alliance, the festival and contest occur every three years.
This year's host village was New Glarus, known as America's Little Switzerland in southern Wisconsin. The event concluded with a grand concert on June 20, featuring 300 singers from all the choirs, including those from Glarus, Switzerland, sister city of New Glarus.
Toledo's Swiss Singers announced they will be hosts for the next event, in 2018.
Toledo has been host for five previous Saengerfests: 1901, 1924, 1962, 1982, and 2006.
The Swiss Singers practice at 7:30 p.m. Wednesdays, September through May, in Oak Shade Grove, 3624 Seaman Rd., Oregon. The group presents three concerts each season and is a participant in the annual German-American Festival in August.
For more information, call 419-693-4110.
■ Toledo's world-famed jazz pianist Larry Fuller has good news and bad: He'll be back in the area for a couple of concerts in July, but none will be in his hometown. Fuller's concert last summer in Maumee drew a sold-out crowd and was a great success.
But in 2015 you'll have to drive north to Cliff Bell's, the popular Detroit jazz club at 2030 Park Ave., to catch Fuller on July 16 in an 8 to 10:30 p.m. show. Sitting in will be bassist Katie Thiroux and drummer Matt Witek. Cover is $20 at the door. For reservations or more information visit cliffbells.com
Or you can travel a bit farther, to the east, on July 18, to BLU Jazz+, a new venue at 47 Market St., in downtown Akron. There, Fuller's shows will be at 7 and 9:30 p.m. Fuller will bring the same side players for this show. Tickets are $25.
Interesting that the night before, July 17, another former Toledoan will be performing in BLU — Ray Parker and his Quartet.
Based in Brooklyn and known for progressive jazz, bassist Parker's group includes his dad, Perrysburg sax star Gene Parker, plus George Schuller, drums, and Jon Davis, keyboards.
Tickets for Parker's 8 p.m. show, a club debut, are $15. For more information visit blujazzakron.com.
■ More outdoor concerts are in store as June turns into July: In Perrysburg's Woodland Park, East Boundary St., acoustic duo Tammy and Don are slated to perform music at noon Wednesday. This is the final free event presented by the Perrysburg Summer Recreation Program.
Later the same day, Glass City Steel, the popular steel drum band from the Toledo School for the Arts, is to perform in a 6 p.m. concert at First Presbyterian Church of Maumee, 200 East Broadway.
In this free summer monthly series, Caribbean sounds will waft over the neighborhood. Bring chairs or blankets for seating. For more information, call 419-893-0223.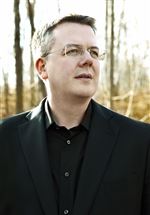 Watkins
■ Ann Arbor's charming and intimate venue, Kerrytown Concert House, 415 N. Fourth Ave., keeps the music coming through June and beyond.
Part of this year's Great Lakes Chamber Music Festival, a Kerrytown residency is set for the coming weekend. Two concerts will feature some of the most exciting artists on this year's roster — eighth blackbird and the Altius Quartet, plus new artistic director and cellist, James Watkins.
The first event, at 8 p.m. Friday, will range from Mendelssohn's String Quartet No. 2 in A minor to "Crashing Fences" by Timo Andres, a 2009 work for piccolo, glockenspiel, and two kickdrums. Other new American works also are planned.
The final festival performance is set for 2 p.m. Sunday and will bring Watkins, the Calidore and Excelsa string quartets and the Donald Sinta Saxophone Quartet. This program will include string quartets by Haydn and Grieg; "You," a saxophone quartet by Radiohead, and Schubert's Quintet in C Major, featuring Watkins with the Excelsa ensemble.
Reservations are recommended at 734-764-2999 or kerrytownconcerthouse.com.
■ If it's July, it's time for the Metropolitan Opera's Live in HD Encore series, a chance to catch four taped performances you might have missed during the season. Screenings are at 7 p.m. Wednesdays starting July 8 at Rave Cinemas in Franklin Park and Fallen Timbers shopping centers.
First up is Verdi's La Traviata, with French soprano/​actress Nathalie Dessay, conducted by Fabio Luisi, on July 8; Donizetti's La Fille du Regiment also with Dessay and tenor Juan Diego Flores on July 15; Franz Lehar's The Merry Widow with Renee Fleming on July 22, and Verdi's Aida with Liudmyla Monastyrska on July 29.
Tickets are available at the box office or in advance from Fathom Events.
■ The Toledo Opera has appointed Don Bernardini to head its resident artist program and direct Toledo Opera on Wheels.
Bernardini, an operatic tenor with a master's degree in music and stage directing from Indiana University. He spent 23 years performing in opera and choral productions around the world and across the United States.
Send News of Music items to svallongo@theblade.com at least two weeks ahead of event.
Guidelines: Please keep your comments smart and civil. Don't attack other readers personally, and keep your language decent. Comments that violate these standards, or our privacy statement or visitor's agreement, are subject to being removed and commenters are subject to being banned. To post comments, you must be a registered user on toledoblade.com. To find out more, please visit the FAQ.