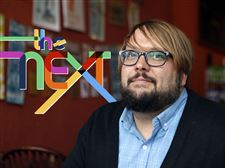 Ryan Bunch, Communications and Outreach Coordinator, The Arts Commission of Greater Toledo, talks about the next Spoken event. The storytelling competition is Thursday, Dec. 7 at the Original Sub Shop. Doors open at 6 p.m.
The Blade/Andy Morrison
Enlarge | Buy This Image
Spoken is a casual competition that aims to connect community through the oldest art form humans have: telling someone what happened.
In any good story, timing is everything. The next Spoken is this Thursday at 7 p.m. at the Original Sub Shop & Deli at 402 Broadway in what is sometimes called the Middlegrounds Neighborhood or The Old South End. Doors open at 6 p.m.
The quarterly event this time is themed Folk Tales & Local Legends. Though we were unable to land an interview with the Lake Erie Monster, we did speak with Ryan Bunch, who started the storytelling event a few years ago at the Ohio Theatre.
WATCH: Ryan Bunch talks about Spoken
Ryan is the Communications & Outreach Coordinator for The Arts Commission of Greater Toledo and is now one of the judges of the event.
"I thought Toledo had a responsibility to take part in this national story telling thing that was happening. And people here have really amazing stories. It's an incredible town with an amazing history."
Intimate and insightful, but often very funny and heartwarming, we joked that the Spoken event is simply "stand-up" without specifying comedy or drama.
The events typically begin with a few pre-selected speakers to get things started, but predominantly speakers are volunteers from the audience — though tales can be either off-the-cuff or well-rehearsed. Winners are determined a by panel of judges who grade according to: Physical Presence, Story Theme, Voice, Articulation, and Overall Performance.
Craft cocktails will be made by the popular fledging local distillery, Toledo Spirits. Sandwiches and snacks of course will be from the Original Sub Shop, whose purveyor Maureen Brogan adopted the Spoken event to her location after attending a few of the events and asking how she could help. Not only did she offer up her sandwich shop that is burgeoning in its own right as a local favorite that also moonlights as a gallery and events space, but winners of Spoken get a $25 gift card to the deli!
Tell a friend.
For more information, visit online:
Facebook Page: facebook.com/SpokenToledo
Guidelines: Please keep your comments smart and civil. Don't attack other readers personally, and keep your language decent. Comments that violate these standards, or our privacy statement or visitor's agreement, are subject to being removed and commenters are subject to being banned. To post comments, you must be a registered user on toledoblade.com. To find out more, please visit the FAQ.