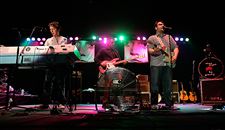 They Might Be Giants perform at the Williamsburg Waterfront in New York City.
Getty Images Enlarge
I LIKE FUN
They Might Be Giants (Idlewild Recordings)
They Might Be Giants have a spring in their step on I Like Fun, their 20th studio album. As is often the case, their gait is of the kind endorsed by Monty Python's Ministry of Silly Walks, with a special dispensation here from the Dead Poets Society.
Yes, death becomes TMBG and there's a funereal bouquet of approaches to inevitable expiry among the 15 tracks, including "Mrs. Bluebeard," "I Left My Body," and the dark-until-it's-goofy "Last Wave."
"Let's Get This Over With" relies on a foundation of piano and drums and is one their catchiest songs in a career densely populated with them. It makes for a fantastic opener and one of its maxims is that "Even when you're out of work/​you still have a job to do."
"By the Time You Get This" is an all-too-optimistic prediction of the future — no barking dogs, hatred, or lies — made in 937, "the dark and troubled past." Not exactly Nostradamus, but consider that the Frenchman had a 600-year advantage. The Motown-style telegraph guitar across "Push Back the Hands of Time" sounds almost incongruous in a tune that's otherwise less agitated than its intro. "Almost incongruous" could be a TMBG trademark and is one of the secret ingredients in their special sauce.
Instrumental support from their live band (lead guitar, drums and bass) supplements the duo's musicality. Though the sound effects may be more conventional than on their early albums, the two Johns, Flansburgh and Linnell, continue to be as effective as ever.
Recorded in the same Manhattan location as Flood, their 1990 milestone, I Like Fun demonstrates the band's inimitable talent for earworm melodies and zany subject matter. Now go and gather those rosebuds.
— PABLO GORONDI, Associated Press
"The Time Is Now," by Craig David.
THE TIME IS NOW
Craig David (RCA)
If the name Craig David sounds vaguely familiar, congratulations — you're officially old. David was the British pop prodigy who at the turn of the millennium had the infectious hits "Fill Me In" and "7 Days." Remember "Hot in Herre" by Nelly? Same year.
David is back with a new album, which is an accomplishment in itself. That it is also an excellent album is truly remarkable in a world where the expiration date in pop music is measured in months.
David's versatility and warmth is all over The Time Is Now, a 12-track album in which he had a hand in writing every song. He sings and he raps in everything from edgy house, Top 40 bubblegum pop, spare electronica, and trop-pop.
A series of producers — including KAYTRANADA, Fraser T Smith, Steve Mac, and Tre Jean-Marie — have coaxed different sides of the appealing David. You're rooting for him before the third song ends and he doesn't disappoint.
For an artist who last had a hit on the Billboard Hot 100 chart in 2002, David's album is as current as anything by Camila Cabello. His "Brand New" has a "Shape of You" feel and there's sometimes a distinct Drake whiff to him, especially on "Going On" with a borrowed Jamaican patois. "I Know You" featuring Bastille is a terrifically murky club banger, while the high-tempo "Focus" will remind you of throwback to '90s house group Black Box.
This is actually David's seventh album and he's evidently not been broken by the vagaries of fame, a cold music industry or even becoming the cruel target of a sketch show in Britain. Throughout The Time Is Now is optimism and a willingness to seize chances.
"Let's live in the moment. When one door closes, another opens. So let's live in the moment. No point holding to what's broken," he sings on "Live in the Moment" featuring GoldLink. Another song's title says it all: "Love Will Come Around."
David, who was 19 when he first hit the charts and is now 36, has matured nicely into 2018 — "For the Gram" is a cheeky song not about coke sniffing but posting online via Instagram. ("Don't forget the hashtag," he sings.)
So 2018 is starting off nicely, with a prodigal son's return. Welcome back, Mr. David.
— Mark Kennedy, Associated Press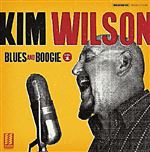 "Blues and Boogie," by Kim Wilson.
BLUES AND BOOGIE, VOL. 1
Kim Wilson (Severn Records)
With his street-savvy, baritone growl and workingman harmonica, Kim Wilson — a founding member of the legendary Fabulous Thunderbirds and a multiple Blues Music Award winner as a solo artist — offers a sweet, sweaty, and gritty collection of down-to-earth blues on this disc, mostly Chicago style. Each of the 16 songs are 2 to 5 minutes long. The set includes a combination of Wilson originals and covers of songs by blues greats Little Walter, Sonny Boy Williamson, Elmore James, John Lee Hooker, Jimmy Rogers, Magic Sam, and Jimmy Reed. The disc is dedicated to Wilson's harmonica hero, the late, great Chicago harpist James Cotton, whom Wilson called "a great inspiration and a dear friend." Cotton died March 16 at age 81.
— TOM HENRY, The Blade
Guidelines: Please keep your comments smart and civil. Don't attack other readers personally, and keep your language decent. Comments that violate these standards, or our privacy statement or visitor's agreement, are subject to being removed and commenters are subject to being banned. To post comments, you must be a registered user on toledoblade.com. To find out more, please visit the FAQ.