The echoes of Missy Elliott, Justin Timberlake, and Bruno Mars can be heard in a small dressing room just before midnight on a recent Saturday at Legends Toledo's Showroom, 113 N. Erie St. Heavy bass bounces off the walls as Amber Stone shows the many outfits, wigs, and endless open containers of makeup she's bought and gathered throughout her 17 years performing as a drag queen.
One can't help but wonder at the amount of money spent on the items.
"It's an astronomical amount of money," Stone says with a short laugh. "I would never want to know because it would honestly probably give me a heart attack, but I also don't care. It's not about the money for me. ... I don't do this for tips. If I did this for tips, I would have quit the second time I ever did it."
In about 10 minutes she'll be seen collecting dollar bills from the eager hands of the night's visitors as she lip syncs and dances across the stage to Icelandic singer-songwriter Bjork's "It's Oh So Quiet." She's one of a handful of drag queens who are the night's entertainment, and the audience of more than 50 people is ecstatic.
It is not the first drag club in Toledo; Caesar's Show Bar presented 30 years of acts before the Jefferson Avenue club closed in February, 2010.
VIDEO: Legends Toledo's Showroom
Ever since Mojo's and Legends opened its doors in May, 2014, (the former being a traditional bar with a pool table), countless drag queens have graced the stage every weekend.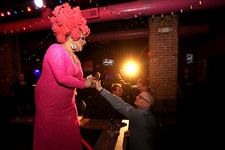 Amber Stone receives a dollar from guest Scott Bechaz during a drag show at Legends Show Club in Toledo.
The Blade/Kurt Steiss
Enlarge | Buy This Image
The host and emcee, Justyce Sinclaire, enthusiastically introduces each performer through the club's overhead speakers during moments when she herself is not lip syncing on stage.
Sinclaire's first performance as a drag queen came after a dare from her friends to enter a talent show 18 years ago at Caesar's.
"When I get up there and entertain and people like it, that's enough; that's all I need is their reaction," she says while standing in her dressing room. "They're staring dead at you the whole time you're on stage. If you can get that out of a customer the whole time you're on stage, them just staring at you, then you know you've got them locked in."
Legends not only attracts local drag queens for its shows, but female impersonators from Chicago, Cleveland, Columbus, and as far away as Atlanta.
In a separate interview, Nick Cole, show director and bartender, said he tries to book talent that hasn't been seen in Toledo before to keep the shows from getting repetitive and stale.
IF YOU GO
What: Legends Toledo's Showroom
When: 11 p.m., midnight, and 1 a.m. Friday and Saturdays
Where: 113 N. Erie St. in Toledo
Cost: $3; $5 under 21
Part of his strategy in booking a show is including a variety of demographics.
"It's kind of hard to make sure you get someone who is going to appeal to the younger crowd and the older crowd and different races as well," he said. "In Toledo, there's not a whole lot of African-American queens. There are a handful, but they're not as plentiful as the white girls.
"Sometimes it's like you have to try and cross all of your t's and dot all of your i's and make sure everybody is included. Then you want someone who can dance well and someone who is stunningly beautiful. Sometimes it's hard to get every group in there."
When the place is packed and Cole can see excitement from people while standing behind his bar, he knows patrons are getting their money's worth.
"When you get that really large round of applause where the whole bar is screaming and [people] are so impressed, it's interesting to be a part of," Cole said. "You're like, 'Hey, wait a minute, they're really digging this. The people in your bar are really enjoying it, and that's what you want."
As for just who those patrons are, they run the gamut from the expected LGBT crowd to bachelorette parties, bar-hopping tours that arrive by bus, and, on a recent Saturday, even 60 members of a local swingers club whose alcohol intake was surpassed only by their exuberance for the performers onstage.
Back in Amber Stone's dressing room, she's talking about listening to music on her way to the bar and deciding to lip sync to Bjork. She doesn't rehearse before her shows because she thinks her routine would be boring.
Instead, for a night at least, she'll entertain herself on stage just like her audience.
"Some nights I'm doing this for the crowd, some nights I'm doing this for me," she said with a twinkle.
Contact Geoff Burns at gburns@theblade.com or 419-724-6054.
Guidelines: Please keep your comments smart and civil. Don't attack other readers personally, and keep your language decent. Comments that violate these standards, or our privacy statement or visitor's agreement, are subject to being removed and commenters are subject to being banned. To post comments, you must be a registered user on toledoblade.com. To find out more, please visit the FAQ.