Jazz is "in a good place" these days, according to one of America's most noted trumpet-flugelhorn players, six-time Grammy winner Randy Brecker, who performs at 8 p.m. March 10 at the Valentine Theatre with the Toledo Jazz Orchestra.
"Musically, it's really strong with the advent of jazz education, which came through in the late 1960s," Brecker, 72, said in a recent interview. "Countless universities throughout the world have great musicians. The music itself is strong as ever ... a lot of professors are great musicians. I never gravitated toward that. But I think it's in a good place."
Randy Brecker performs at Lincoln Center in New York in 2015. The Grammy-winning trumpeter will take the stage at the Valentine Theatre March 10.
Scott Roth/Invision/AP Enlarge
Brecker, who usually splits his time between jazz, rock, and rhythm-and-blues bands, has never taught jazz or any other musical genre full-time. But he is being featured at a tutorial for area high school and college students at Lourdes' Franciscan Center in Sylvania on Thursday.
He came from a musical family and said the urge to play music was in his family's bones from an early age.
"Music was all we wanted to do," he said. "I couldn't imagine doing anything else."
First, there are the obvious questions about life without his younger brother, Michael Brecker, who died of leukemia in 2007. Michael played saxophone, flute, and other instruments as another headliner in the popular jazz fusion group the Brecker Brothers, which first began playing together in the mid-'70s and reunited in 1992 after a 10-year hiatus.
The two brothers also played as session musicians for major pop acts, including Todd Rundgren, Frank Zappa, Quincy Jones, Parliament-Funkadelic, and Eric Clapton.
Randy Brecker himself has played with Bruce Springsteen, Lou Reed, Stevie Wonder, James Taylor, Frank Sinatra, Steely Dan, Aerosmith, Jaco Pastorius, Blue Oyster Cult, Spyro Gyra, Stanley Turrentine, Billy Cobham, Charles Mingus, and many more.
He was an original member of Blood, Sweat & Tears but left after the group's first album came out in 1968.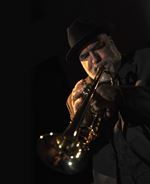 Six-time Grammy winner Randy Brecker will perform March 10 at the Valentine Theatre in Toledo.
Rob Shanahan Enlarge
Playing with Michael in the Brecker Brothers "was a large part of my life," Brecker said.
"I always come back to that when I want to come back to my roots," he said. "That's still an essential part of my life. You know, I miss my brother."
More recently, Brecker's attention has been focused on jazz guitarists Mike Stern and Larry Coryell.
Stern, a member of the Miles Davis band in the early 1980s, is coming back from a freak accident that occurred outside his Manhattan apartment on July 3, 2016.
While hailing a cab, he tripped over hidden construction debris, fell, and broke both of his arms. Considerable nerve damage in his right hand prevented him from doing simple tasks such as holding a guitar pick.
Stern has made a comeback by using a black glove outfitted with velcro that holds a velcro-fitted pick and gluing fingers together to hold the pick when necessary. Stern went back on tour and last fall put out an acclaimed album, Trip, which pokes fun at his mishap.
"He sounds great as ever," according to Brecker, who said he's going out on tour with Stern in September. "He's been really incredibly brave about it."
Musicians like Stern are "a special breed," Brecker said.
"It's love of music. It's fear of not being able to do it. It's fear of not being able to do your calling," he said.
Coryell, a fusion pioneer who broke on the music scene in 1965, died of a heart attack in New York at age 73 on Feb. 19, 2017, not long after finishing his second gig in two nights at the Iridium jazz Club in Manhattan.
Brecker said he was close to Coryell, whom he met in San Francisco at age 19, and has continued to stay in touch with family members.
"No one had played guitar with quite that much chops," Brecker said. "He was one of a kind. We miss him."
As for his upcoming show, this is believed to be Brecker's first time in Toledo, though he jokingly confesses he's "had a long career and some spotty moments."
It definitely will be his first time with the Toledo Jazz Orchestra after accepting an offer from bandleader-trombonist Ron Kischuk.
Brecker said he expects to do "a little of everything" during the show, from bebop to fusion to ballads and Brazilian tunes.
To him, music isn't so much a business as it is a necessary form of expression. He said he's been perfectly comfortable as a session musician or being in someone else's band on the road in places such as China and Eastern Europe when he's not running his own band.
"I've never been comfortable just being a bandleader," Brecker said.
Brecker is a staunch defender of his Philadelphia roots and takes pride in that city's contribution to music history.
He loves enlightening people with Philadelphia-based anecdotes of his own, such as how iconic American Bandstand host Dick Clark, who was born in Philadelphia, grew up a jazz buff and how Philadelphia-born singer-actor Frankie Avalon used to really be into jazz, too.
In addition to his six awards, Brecker's Grammy credentials include 18 nominations.
Tickets are $8 for students and $35 for adults. They may be purchased online through etix.com at bit.ly/2BQp9aS or from the Valentine Theatre box office.
Contact Tom Henry at thenry@theblade.com, 419-724-6079, or via Twitter @ecowriterohio.
Guidelines: Please keep your comments smart and civil. Don't attack other readers personally, and keep your language decent. Comments that violate these standards, or our privacy statement or visitor's agreement, are subject to being removed and commenters are subject to being banned. To post comments, you must be a registered user on toledoblade.com. To find out more, please visit the FAQ.