40.71455
-74.00713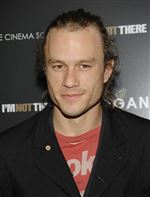 Heath Ledger
Evan Agostini / AP Enlarge
NEW YORK - The actor Heath Ledger died from an accidental overdose of six drugs - painkillers and sedatives - the medical examiner said yesterday, leading doctors to warn of the dangers of mixing prescription drugs.
The film star died "of acute intoxication" from the combination of two strong painkillers, two anti-anxiety medicines, and two sleeping aids, according to the medical examiner's office.
Among the drugs found in his body were oxycodone, a painkiller sold as OxyContin and used in other pain relievers such as Percodan and Percocet. Others included drugs sold as anti-anxiety pills Valium and Xanax, which are sedatives.
The examiner and police wouldn't identify the medications Mr. Ledger, 28, had in his Manhattan apartment when his body was found in bed on Jan. 22, nor would they discuss who had prescribed them.
The Drug Enforcement Administration is investigating how the actor obtained the medications and whether they were prescribed illegally. It's common for investigators to review prescriptions when so many drugs are involved in an overdose death, spokesman Rusty Payne said.
Doctors not connected with the case said it would be unlikely for one doctor to prescribe all the drugs. However, they said it's not unusual for people to be prescribed both painkillers and sedatives, and overdoses are not uncommon.
"This is not rock-star wretched excess," said Cindy Kuhn, a pharmacology professor at Duke University. "This is a situation that could happen to plenty of people with prescriptions for these kind of drugs."
Ms. Kuhn said some of the drugs are long-lasting and he could have taken them over several days. The medical examiner's office wouldn't say what concentrations of each drug were found in his blood.
Police had said they found six bottles of anti-anxiety medicines, sleeping pills, and other medicine in his apartment after the Oscar-nominated actor was found dead last month.
"This was not a deliberate attempt to kill himself. This was an accident," said Lawrence Kobilinsky, head of forensic science at New York's John Jay College. He had no role in the investigation. "He just took too many drugs having similar effects on the central nervous system."
Experts said the mix of sedatives and other medicines likely combined to suppress his brain function and his breathing.
Mr. Ledger, nominated for an Oscar for his role as a cowboy in Brokeback Mountain, had returned to New York from London, where he had been making a film, days before his death. He told the New York Times in November that his most recent roles in the Batman film The Dark Knight and the Bob Dylan biopic I'm Not There had taken a toll and he had lost sleep. "Last week I probably slept an average of two hours a night," he had said. "I couldn't stop thinking. My body was exhausted, and my mind was still going."
His publicist, Mara Buxbaum, didn't immediately respond to questions about the prescription drugs but released a statement from Mr. Ledger's father, Kim.
"While no medications were taken in excess, we learned today the combination of doctor-prescribed drugs proved lethal for our boy. Heath's accidental death serves as a caution to the hidden dangers of combining prescription medication, even at low dosage."
Guidelines: Please keep your comments smart and civil. Don't attack other readers personally, and keep your language decent. Comments that violate these standards, or our privacy statement or visitor's agreement, are subject to being removed and commenters are subject to being banned. To post comments, you must be a registered user on toledoblade.com. To find out more, please visit the FAQ.