About 20 homes flooded at site of Colo. wildfire
7/2/2013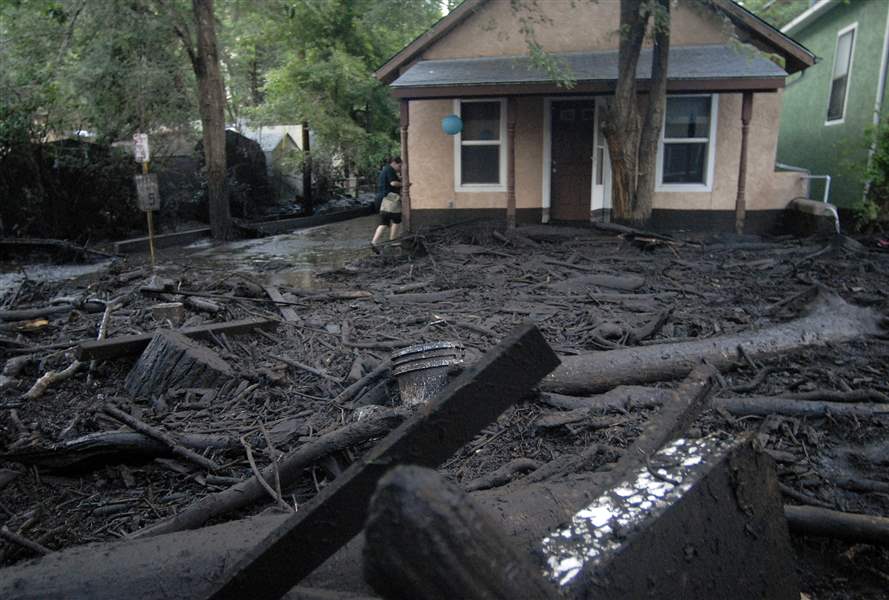 Fire-blackened debris from last year's Waldo Canyon Fire lies in front of a home in Manitou Springs, Colo. after a flood swept it down through a section of the historic Colorado town just west of Colorado Springs on Monday, July 1, 2013. The town is vulnerable to severe flooding after the foothills just west of the town were burned. (AP Photo/Bryan Oller)
ASSOCIATED PRESS
Sitting on his porch, a man looks over the mud and debris in Manitou Springs, Colo. after a flood swept through a section of the historic Colorado town just west of Colorado Springs Monday damaging several homes and leaving a black swath of mud across several streets.
MANITOU SPRINGS, Colo. — A storm that caused flash flooding in the area burned by Colorado's Waldo Canyon Fire last year damaged about 20 homes, roughly a half dozen of them significantly.
More than a half inch of rain fell in less than 20 minutes Monday, causing mud to flow into the houses in Manitou Springs and western Colorado Springs.
A woman told The Gazette the slide pushed her car about five feet and left the engine compartment filled with sticks, twigs and mud.
While the rainfall was intense, the storm moved quickly through the area. A meteorologist says the damage would have been much worse if the storm had settled over the area.
Colorado Springs officials say more than 160 people were relocated from a low-lying trailer park as a precaution.