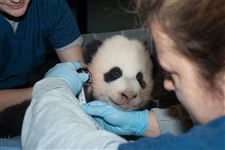 A newly named Giant Panda cub is measured Friday as it is about to turn 100 days old, at the Smithsonian National Zoo in Washington. The National Zoo announced today that it is naming its giant panda cub Bao Bao after receiving more than 123,000 votes from the public.
ASSOCIATED PRESS Enlarge
WASHINGTON — The Smithsonian's National Zoo is naming its female giant panda cub Bao Bao after receiving more than 123,000 votes online from the public to help give its new cub an identity.
Bao Bao, which means "treasure" or "precious," is only the second surviving cub born at the National Zoo since the first pandas arrived in 1972 to commemorate President Richard Nixon's historic visit to China. Pandas have remained a happy symbol of diplomacy between the two countries.
Panda mother Mei Xiang (may-SHONG) has been caring for her cub in the panda den since she was born Aug. 23. Bao Bao will have her public unveiling early in 2014. Mei Xiang's only other surviving cub, a male named Tai Shan, was born in 2005 and was returned to China in 2010 for breeding. Male panda Tian Tian (tee-YEN tee-YEN) is the father of both cubs.
The zoo asked the public to vote for one of five names for the new cub. The others were Bao Bao (bow-BOW), Ling Hua (ling-HWA), Long Yun (long-YOON), Mulan (moo-LAHN) and Zhen Bao (jen-BAO). The names were submitted by Chinese Ambassador Cui Tiankai, U.S. Ambassador to China Gary Locke, panda keepers at the National Zoo, the fundraising group Friends of the National Zoo and the China Conservation and Research Center for the Giant Panda.
The chosen name was submitted by Friends of the National Zoo.
In a videotaped message played at the zoo today, first lady Michelle Obama said it was first lady Pat Nixon who helped "jump-start panda diplomacy" after admiring the bears during the Nixons' visit to China in 1972.
"After decades of close collaboration with our Chinese partners, these remarkable animals stand as a symbol of the growing connections between our two countries," Obama said.
Peng Liyuan, the first lady of China, also sent a video message, saying giant pandas are China's "national treasure."
"Many people love baby pandas as they love their own children," she said in Mandarin.
Giant pandas are considered critically endangered in the wild, and breeding them in captivity has proved difficult, especially in Washington. Zoo scientists have made numerous attempts to artificially inseminate its female panda because the pair failed to breed naturally.
The new birth has given zoo scientists renewed confidence in the Washington pandas' ability to help grow the panda species.
Last year, Mei Xiang gave birth to a cub, but it died after six days because its lungs hadn't fully developed and weren't sending enough oxygen to its liver. The zoo's first panda couple, Ling Ling and Hsing Hsing, had five cubs during the 1980s, though none lived more than a few days.
Guidelines: Please keep your comments smart and civil. Don't attack other readers personally, and keep your language decent. Comments that violate these standards, or our privacy statement or visitor's agreement, are subject to being removed and commenters are subject to being banned. To post comments, you must be a registered user on toledoblade.com. To find out more, please visit the FAQ.